Weekend Wrap-Up
Crowe, DiCaprio Chihuahua Chow
By John Hamann
October 12, 2008
BoxOfficeProphets.com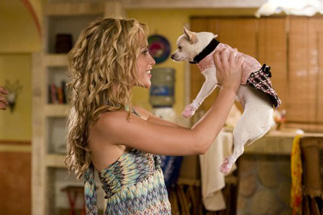 ---
It was supposed to be a big horse race this weekend. Columbus Day weekend in the US and Thanksgiving in Canada brought out a couple of big players, most notably the Russell Crowe/Leonardo DiCaprio thriller Body of Lies. Expected to dominate, Body of Lies was joined by the heavily advertised Quarantine and The Express, as well as the under-advertised City of Ember. However, even with all the heavy-handed marketing of the new films, the mighty Beverly Hills Chihuahua won the weekend box office for a second straight weekend.

Yes, our number one film of the weekend is Beverly Hills Chihuahua, last weekend's winner. After an opening frame of $29.3 million last weekend, the Disney purse dogs managed to hold onto to top spot again, earning $17.5 million. Beverly Hills Chihuahua dropped 40% this weekend, and is our fifth repeat winner for 2008. Beverly Hills Chihuahua is now becoming reflective of Eight Below, Disney's last big dog film. Eight Below opened to $20.2 million in February 2006 and finished with $82 million domestic. It earned another $39 million overseas, all against a budget of $40 million. While no budget data is available for Beverly Hills Chihuahua, we can assume the budget figure is somewhat similar to that of Eight Below. The 43% fresh Chihuahua flick now has a total of $52.5 million, and could earn as much as $100 million, if it holds well next weekend and doesn't get too trashed by High School Musical 3 in the following frame. Let's just say it is, and will be, a good month for Disney.

Second goes to Screen Gems' wonderfully advertised horror flick Quarantine. It outgrossed the star-laden Body of Lies, earning $14.2 million from 2,461 venues. It had the best venue average in the top ten at $5,770. As BOP's Kim Hollis reported yesterday, Quarantine was actually the number one film on Friday, with a first day gross of $5.4 million, but couldn't keep up with the family friendly Chihuahuas over the rest of the weekend (as is always the way). Quarantine ended the weekend with an internal multiplier of 2.6, where the second weekend Chihuahuas finished with a much stronger multiplier of 4.0.

This is another huge home run for Sony and Screen Gems, the subgroup of Sony that has had some seriously good performances on low budgets. A couple of examples include the recently released and former number one flick Lakeview Terrace, which opened to $15 million against a budget of $20 million. With a first weekend where the gross comes close to or outperforms the production budget, a film is almost sure to be profitable. Sure, Lakeview tumbled seriously in its follow-up weekends, but Screen Gems and Sony would have seen that coming prior to greenlight. Lakeview currently sits with $36.2 million against that $20 million budget, and will earn even more overseas. Another example is The Exorcism of Emily Rose, which also starred Quarantine's Jennifer Carpenter. That one was made for less than $20 million, opened to $30 million, had a domestic total of $75 million, and went on to earn a similar amount overseas. Quarantine was made for $12 million, and will most likely earn at least $40 million. Not a bad investment if you ask me.

Why do Screen Gems films work? Marketing. I had a friend bugging me to see Quarantine more than ten days ago, due to an effective trailer and TV ad. I had people asking me in the office if Quarantine was the movie to see this weekend. Its viral marketing campaign became a discussion point, which is exactly what Screen Gems was looking for. While the movie was held from critics until opening weekend (which is usually a sign of trouble), early reviews for Quarantine are actually quite good. At the time of this writing, 20 reviews had been counted and only six were negative. It has a horror-free weekend next frame (unless you count W., the George Bush biopic) before Saw V opens on October 27th.

Finishing a disappointing third is Body of Lies, the Ridley Scott-directed film that stars Russell Crowe and Leonardo DiCaprio. Body of Lies is another international thriller that has under-whelmed at the box office. Body took in a slim $13.1 million from 2,710 venues and finished the weekend with an average of $4,841. The film opened at the lower end of tracking estimates, which left a $6 million spread for most of the openers (Quarantine opened at the high end of tracking, Body of Lies the low end). Warner Bros. must have thought they had an easy win with Body of Lies, as it has two supposed superstars in lead roles. Yes, DiCaprio was in Titanic ($600 million domestic), and has three other $100 million films - Catch Me If You Can ($164 million domestic), The Aviator ($102 million domestic) and The Departed ($133 million domestic). However, his last, Blood Diamond, might be the most telling. Blood Diamond was a film where Leo was really the only big name, and it finished with $57 million despite a 67% fresh rating at RottenTomatoes and a December release date.

Russell Crowe has done a good job resurrecting his career following numerous run-ins with police, hotel clerks and telephones. After hitting rock bottom with Cinderella Man ($61 million domestic) and A Good Life ($7 million domestic), he made some better choices, co-starring in 3:10 to Yuma ($54 million) with The Dark Knight, and then American Gangster ($130 million) with Denzel. Obviously, he hasn't built up enough goodwill with North American audiences just yet. Espionage thriller may have also been the wrong choice, as Body of Lies joins a crop of international thrillers that have failed, like Bangkok Dangerous, Stop Loss, and of course, Blood Diamond.

Eagle Eye, the Paramount/DreamWorks thriller that debuted at number one a few weekends ago and had an excellent hold last weekend (39% drop) finishes fourth this weekend. The Shia LaBeouf starrer earned $11 million and had another good hold, dropping 38% compared to last weekend. With a budget of $80 million and a gross so far of $70.5 million, this will end up a win for the studio following international returns and home video. Look for it to finish with $90-95 million.

Nick and Norah's Infinite Playlist drops from third last weekend to fifth this weekend. Nick and Norah earned $6.5 million in its sophomore frame, off 43% from its opening weekend. This one is a win for Sony, as it cost only $10 million to make, and made $11.3 million over opening weekend. With this weekend's totals added, Nick and Norah have a total so far of $20.8 million.

Sadly in sixth is The Express, the Ernie Davis story. The Express, despite its effective ad campaign and release in the heart of football season, could only muster an opening weekend of $4.7 million from 2,808 venues. Have there been too many football/sports movies over the last few years? We've had some serious misses from the football genre in the last year, including Ice Cube's The Longshots ($11.3 million) and Leatherheads ($31 million), and 2006's We Are Marshall could only find a $6 million opening. Reviews were fair, coming in at 64% fresh, and as I mentioned above, it seemed to have a good ad campaign. Has the Dennis Quaid curse returned?

Nights in Rodanthe finishes seventh after a fourth place finish a weekend earlier. The Richard Gere/Diane Lane romance earned $4.6 million, and was off a fair 37%. Nights has a gross so far of $32.4 million.

Finishing eighth is Apaloosa, the Ed Harris oater. After finishing a surprising fifth last weekend with a $5 million take, Apaloosa holds well, earning $3.3 million and dropping 34%. It has a total so far of $10.9 million against a $20 million budget.

Ninth spot goes to The Duchess from Paramount Vantage. Starring Keira Knightley, The Duchess earned $3.3 million from 1,207 venues, after earning about $2 million in limited release. It has a gross so far of $5.6 million.

New release City of Ember ends up in tenth, and 20th Century Fox's lack of support put the writing on the wall for this one. Despite starring Bill Murray and Tim Robbins, City of Ember could only come up with $3.2 million this weekend from 2,022 venues. Reviews were mixed; RottenTomatoes had 86 reviews at the time of this writing, and 40 were fresh, leaving it with a RT rating of 47%. If it wasn't truly horrible, why did Fox wait so long to trot out the TV ads and kick-start the marketing campaign?

Overall, the box office is up over last year. The top 12 films this weekend earned a solid $87.4 million, ahead of last year's take of $83.9 million, when Tyler Perry's Why Did I Get Married came out on top with $21 million. Next weekend is going to be another interesting frame at the box office as a number of new openers could perform strongly. Openers include W. (the Bush biopic from Oliver Stone), Max Payne with Mark Wahlberg, The Secret Life of Bees with Alicia Keys and a very strong cast, and Sex Drive from Summit Entertainment.