Weekend Forecast for October 10-12, 2008
By Reagen Sulewski
October 10, 2008
BoxOfficeProphets.com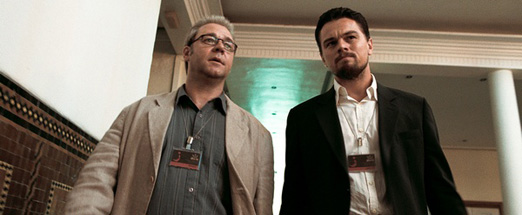 ---
It's not as crazy as last weekend (how could it be?), but we've still got a huge number of new options at the theater this weekend as Hollywood works through a fall glut of films. Four new films go wide with one receiving an expansion in a very competitive weekend.

One of the three or four films with a shot at winning the weekend is Quarantine, a horror film that's part Blair Witch, part 28 Days Later. Jennifer Campbell (of Dexter) stars as a Los Angeles TV reporter on a ride-along with a fire crew, when a strange call sends them out to an apartment building. After a couple of the residents display some strange symptoms and attack the fire crew, the building is sealed off...but with a few people left behind, like the reporter and her cameraman.

Outside the building, the public is told that everyone has been evacuated, leaving those left behind to wonder just why they would lie about that, and what exactly is in that building? And those people they came to rescue don't look so good...

The film is made up of "found footage" from the news camera, lending immediacy and a "you are there" feeling to the action. This is a trick that's worked well, sparingly, most recently with Cloverfield. This obviously doesn't have nearly the same promotion as either Cloverfield or Blair Witch, but it's got some pretty effective and spooky ads. It's been a little while for a horror film in the cineplexes, and I think this has the right hook to break out a little. Opening in 2,400 or so venues, it should see about $16 million this weekend.

Body of Lies pairs up Leonardo DiCaprio and Russell Crowe in a technological spy thriller, though of a somewhat curious sort. DiCaprio plays a spy hunting for a Jordian terrorist with the help of that country's spy agency, while Crowe, as his CIA handler manipulates events from Washington, and possibly not always to DiCaprio's benefit.

Directed by Ridley Scott, it's got a solid pedigree both in front of and behind the camera, but an unfortunately muddled ad campaign that doesn't seem to make the most of its stars. There are a fair number of explosions to entice people, but the actual intrigue of the plot seems fairly opaque. This might be a film that has to build based on reputation, much like DiCaprio's own Blood Diamond. I look for about $14 million for this on its debut weekend.

The inspirational sports movie is about as formulaic as things get and about as classic a story as there is. As such, they're nearly impossible to screw up, but also nearly impossible to turn into fantastic movies. They're sort of just...there. The Express is the latest example of this kind of movie, telling the story of Ernie Davis, the first black Heisman Trophy winner. Rob Brown (most famously of Finding Forrester) stars as Davis, with Dennis Quaid as his pragmatic coach.


Hollywood has slowly been moving through the sports stories of the civil rights era, with films like Remember the Titans and Glory Road. Those two were Disney productions, and they've been the gold standard for both production and box office. The Express was done by Universal, but shouldn't be counted out for that reason – it's a solid looking if unremarkable project about a well-liked and remembered figure. I give this about $15 million for the weekend, in line with what all these sports movies have done before.

City of Ember is the kids film for the weekend, though this is one of those films that is more properly termed a "family" film (compare and contrast with Beverly Hills Chihuahua). Set in an underground city that is slowly dying, Ember tells the story of two teenagers who must journey to discover the secret of their world while evading cannibals and giant moles that continually terrorize the populace.

I encourage weirdness in all its forms, especially directed at those in their formative years, so this sounds exactly like the must-see kids film of the year to me. Of course, mileage may vary, and there are no shiny colors (quite the opposite) or talking rat-dogs, so it's probably somewhat doomed. A cast that includes Tim Robbins, Bill Murray and Saorise Ronan gives a certain amount of hope for box office, but I'm not holding my breath. I give it about $5 million on the weekend.

The Duchess, starring Keira Knightley, expands to over 1,200 venues this weekend. This one's flown largely under the radar seeing as it's a BBC production of a film about someone largely forgotten or unknown on this side of the Atlantic. Knightley's title character, the Duchess of Devonshire, was one of the first outspoken women of politics in the UK in the 18th century, during a time when women, especially royal women, were pretty much just property or breeding stock. Comparisons are often between her life and Lady Di, of whom she was an ancestor, which might be a good hook for the box office. It'll likely have to build based on awards buzz, though, and I see about $3 million for it this weekend.

This means that the odds on favorite for the top of the box office this weekend is those damn dogs again. Beverly Hills Chihuahua thrilled and horrified audiences (that trailer haunts my dreams), perhaps simultaneously, last weekend, earning $29 million. I fear that we've given a dozen hack producers an awful idea for their next films. Reviews were surprisingly not terrible for it, though we're talking Palin-vice-presidential debate expectations here. Congratulations for not being as bad as Baby Geniuses! I'll pencil this in for $17 million this weekend and a narrow win.

Following that was Eagle Eye, with just under $18 million, a strong showing after its own $29 million opening weekend. Though Shia LaBeouf's strongest demo is young teens, this film has helped him cross over as a credible lead for adults (yeah, yeah, Indiana Jones... he was playing second fiddle to Grandpa Ford there). Look for about $12 million this weekend, as it makes its way to about $100 million overall.

Nick and Norah's Infinite Playlist came in for third with $11 million, which while about right for a teen comedy with little focus on grossout and dick jokes, still seems a little disappointing. It's hard to imagine a better candidate for a teen date movie out of what we've got, and Cera is a rising star. I would like to see some legs here, though its demographic is notoriously fickle. Give it about $6 million.

Below that, we've got Nights in Rodanthe, which we can safely write off as not following in The Notebook's footsteps, and should see $4 million this weekend on the way to about $45 million overall. Ed Harris' western Appaloosa is going to get every chance it can get, expanding by a few hundred theaters and also should see about $4 million. Anything else should end up under $3 million on the weekend, and despite all that quantity thrown at us in the last month, there's really not much that people have actually wanted to see.