Max Braden's October 2008 Forecast
By Max Braden
October 3, 2008
BoxOfficeProphets.com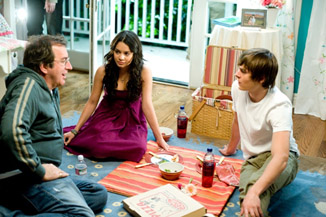 ---
It's October already? I'm still thinking about the end of summer. October tends to be a precursor month leading into the holiday season: one or two box office hits and one or two significant award contenders. For award watchers, there's Body of Lies, Changeling, and Synecdoche, New York. For the rest of you: singing and dancing!

Weekend Starting October 3rd

Beverly Hills Chihuahua
Whoever said 'never work with children and animals' must not have wanted to make money. I wouldn't call a bug-eyed, jittery, rat-like canine 'cute,' but lots of kids would, which is why this movie is going to win the weekend. Experience has taught me never to bet against talking and singing animals, especially when it's a product of Disney. It may not become the classic The Increbile Journey was, or cash in as well as Alvin and the Chipmunks, but these little pups offer something for the family until Bolt arrives at Thanksgiving.
Forecast: $28-32 million.

Nick and Norah's Infinite Playlist
It's true, Michael Cera looks like he's just repeating characters he played in Juno and Superbad. You could call him a young version of Hugh Grant. But it's not a one-note performance. This type of material allows him to be subtly funny and more importantly serve as the tether for Kat Dennings to let loose and stay grounded at the same time. This kind of bumbling, crazy night romance will appeal to high school, college, and 30-something crowds who see the trailer and think "I went through that."
Forecast: $21-23 million.

Awards Season Alert! Oscar-nominated Greg Kinnear stars in the underdog drama Flash of Genius, which will start critics and audiences thinking about award season, but will be too early and unadventurous to gain him any nominations in January.

Weekend Starting October 10th

Body of Lies
This time last year we got the fast paced terrorism actioner The Kingdom, which came in second at the box office. I think Body of Lies should take the top spot this weekend. Director Ridley Scott previously has worked with Russell Crowe twice before (Oscar-winning Gladiator, and A Good Year) and delivered the Oscar-winning war film Black Hawk Down, as well as last year's foray into corruption, American Gangster. Leonardo DiCaprio is playing the same type of deceptive characters he did in The Departed and Blood Diamond. The whole combination should pull audiences in, looking for a thinking man's action movie.
Forecast: $24-26 million.

Quarantine
It's getting into Halloween season and audiences are looking for a scare. Quarantine takes the as-it-happened approach of Cloverfield and applies it the zombie genre. This time the outbreak is rabies. No big stars here, but the genre is what matters. Last year at this time we had the vampire horror 30 Days of Night, which was awful, and won its weekend with almost $16 million. I predict moderate frothing at the mouth.
Forecast: $18-22 million.

Awards Season Alert! Body of Lies has plenty of bait, the most promising probably being Ridley Scott himself. The Express is one of those race-relations-slash-underdog-coaching-dramas that seems award worthy on paper, gets good reviews, but is ultimately passed over when nominations are handed out (except maybe at the Golden Globes. Remember The Great Debaters?).

Weekend Starting October 17th

Max Payne
I've never played the videogame, but I had the impression it was a fairly straightforward first person shooter. I mean, the title pretty much imples guns and violence, right? So what's with this supernatural stuff in the movie's trailer? The nifty cinematography will probably be a draw along with Mark Wahlberg. I like him, but he suffers when his thug persona leaves no room for snarky dialogue. The slow motion artistry will probably be seen as true the series by its fans, but it just strikes me as drudgery each time I see it. Expect a Hitman-like box office, though I wouldn't really call that a hit.
Forecast: $19-23 million.

W.
Right at the peak of election season, here comes Oliver Stone shining a light on the last decade in George W. Bush's life. Josh Brolin, who had a critically acclaimed 2007 with No Country for Old Men and American Gangster, is transformed by makeup to look like the president. James Cromwell plays the senior Bush, Elizabeth Banks looks less convincing as Laura Bush, Richard Dreyfuss plays Cheney, and Thandie Newton plays Condi. Gawkers may come out to see what Stone is up to, but I think most audiences will have had too much politics already.
Forecast: $12-14 million.

Awards Season Alert! Stone didn't get any recognition for World Trade Center but he may help Brolin gain recognition again this year. But the political element may be a poison pill.

Weekend Starting October 24th

High School Musical 3: Senior Year
I admit it, I had to see what this phenomenon was about, so I watched the first movie (and half of the second. Peer pressure.) If I'd been in the development meeting where someone said, "Remember those beach party movies Annette Funicello and Frankie Avalon did 40 years ago? Let's remake them!" I would have said, "Holy cheese, Batman, you're crazy." And then I would have been fired, because that idea turned out to be a huge moneymaker. If Disney releases this movie wider than the Hannah Montana movie, Harry Potter may become a distant memory.
Forecast: $50 million.

Saw V
Another Halloween, another Saw movie. The series seems to have survived the negative label of "torture porn" and become more of a tradition along the lines of long running horror franchises like Friday the 13th and Halloween. The producers have wisely kept on Tobin Bell and Shawnee Smith to maintain a sense of continuity rather than an installment in name only. But the horror series has hit a plateau in opening box office, and last year's Saw total box office fell short of the previous two.
Forecast: $27-29 million.

Awards Season Alert! The amount of Oscar experience in Synecdoche, New York is almost ridiculous: Philip Seymour Hoffman, Catherine Keener, Samantha Morton, Emily Watson, Michelle Williams, Diane Wiest, and writer-director Charlie Kaufman. The talent saturation alone suggests something will come out of it, no doubt for Hoffman. Again.

Weekend Starting October 31th

Zack and Miri Make a Porno
Audiences who see the trailer for this will naturally think it's another Judd Apatow production, which is probably good news for Kevin Smith. Apatow go-to Seth Rogen stars with Elizabeth Banks as a couple of average achievers who do what the title suggests. Hot tip: we're not very likely to see Banks in the type of money shots the title suggests.
Forecast: $16-18 million.

Awards Season Alert! This season's Clint Eastwood project stars Angelina Jolie in Changeling, set in 1920s Los Angeles around the abduction of a child. Amy Ryan and John Malkovich cocompete for Oscar attention.