Weekend Forecast for October 3-5, 2008
By Reagen Sulewski
October 3, 2008
BoxOfficeProphets.com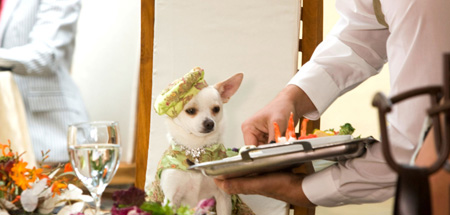 ---
For some reason, studios have circled this weekend on their calendar in red pen, drew some stars on it and covered it in glitter. An incredible eight new films open or go wide this weekend with another in sneaks and an Oscar contender in limited release. If you can't find a movie to see this weekend, you're not trying very hard.

It's definitely a case of quantity and not quality, as evidenced by the odds-on favorite to win the weekend, Beverly Hills Chihuahua. A script vomited forth from the bowels of hell, this trailer has been horrifying unsuspecting audiences for several months. A quasi-animated children's film starring a bunch of talking Chihuahuas, it follows one of the little dogs as she...oh, I can't even pretend to care, and I know you don't.

Really, there's not a lot to say about this from an adult's perspective – if you have a kid, they've likely been pestering you about the cute doggy movie for some time, and if you don't you're staying far, far away from this one. I suppose it's possible this is some hidden gem akin to Babe, but the odds are pretty slim coming from the director of Big Momma's House and Scooby-Doo. Unfortunately, kids are going to eat this up in a big way, making this probably the next Baby Geniuses or something.

There are a few names providing voices for adults to latch onto, like Drew Barrymore and George Lopez (and every other Hispanic actor in Hollywood, apparently), but that's unlikely to make a difference to the audience they're going after. With the widest release of the week, in over 3,000 venues, look for about $26 million for the dogs this weekend.

All the cool kids will be seeing Nick and Norah's Infinite Playlist this weekend. Starring Michael Cera and Kat Dennings, it's one of those "and that was the night that changed everything" movies, somewhat akin to Superbad, but with less dick jokes. Cera stars as the socially awkward (you don't say!) Nick, who after being dumped by his girlfriend stumbles into an "insta-boyfriend" situation with Dennings, who's looking for a non-threatening option to avoid embarrassment at being alone. Ah, sweet pity dates.

The rest of the movie follows the pair around Manhattan for the rest of the night as they find random adventure tracking down lost friends and getting involved in hijinks, while a soundtrack of hip, now music plays in the background. It's kind of like High Fidelity: The Early Years.

Cera has had a lot of success essentially playing himself, and who can blame him for carrying on with that when it's clearly working with films like Superbad and Juno and of course Arrested Development. Much of the rest of the cast is an unknown quantity, though Alexis Dziena is probably familiar to you, and Jay Baruchel makes an appearance. This one's going to grab just about every teenager this weekend as the date movie for fall, and spillover heavily into the 20-something demo as well. In the able hands of director Peter Sollett (whose Raising Victor Vargas is a must-see. Seriously, if you haven't seen it, go rent it now. I'm not kidding. Why are you still here?), this should see about $14 million this weekend.

There's a big drop off after this point, and with this many new films in the marketplace, some of them are bound to just completely bomb. It's not that there's not enough people out there – the total box office this weekend won't even be half of The Dark Knight's opening weekend – but you just can't put this much new product out in one weekend.

How To Lose Friends and Alienate People is a film based on the memoir of a British writer's failed attempts to break into Hollywood through Vanity Fair magazine. Simon Pegg plays the writer, whose boorish antics and utterly clueless behavior endear him to no one, including the sexbomb starlet (Megan Fox, clearly unconcerned about typecasting) he's chasing and his co-worker Kirsten Dunst.

Those antics pretty much are it when it comes to the movie, so a lot of your opinion of this movie is going to be based on whether you find Simon Pegg funny (and if you don't, what's wrong with you?) and how much solid obnoxiousness you can handle. Pegg is still struggling to breakout of his core audience of supporters and this year's Run Fatboy Run didn't end up being a huge step in that direction. The inside-baseballishness of this one means it won't be his breakout either, and I look for about $6 million for its opening weekend.

Blindness starts off with one of the more intriguing premises in sometime for a movie – a mysterious disease runs rampant and striking everyone it touches blind, while leaving them otherwise healthy. A group of victims is quarantined in an old abandoned hospital while the world tries to figure out what caused the disease. We follow this group through Julianne Moore, who plays a single sighted person in the "colony", protecting her husband (Mark Ruffalo) as a Lord-of-the-Flies-esque pecking order and society springs up.

Directed by Fernando Meirelles of City of God fame, this is a film that sounds like it has tremendous promise just from its "what if?" factor. Early reviews, however, indicate that he's kind of botched it, laying on the metaphor very heavy handedly. Pretension alert: no characters in the film have names. A Cannes audience notably nearly hooted this one off the screen in May. Releasing on just under 1,700 screens, it should still manage about $5 million based on the neat premise, but if you were hoping for awards buzz to push this along, you probably have to look elsewhere.

The fall has seemingly become a good time of year to release westerns, with this year's edition being Appaloosa, starring Ed Harris, Viggo Mortensen, Jeremy Irons and Renee Zellweger. Directed by Harris, he and Mortensen play marshals who team up to fight a domineering rancher (Irons) but find themselves at odds over an old love (Zellweger). Sneaking in mostly under the radar, this is a film that's long on good reviews, but short on marquee appeal. It's run a couple of weekends in limited release and makes the move to about 1,000 screens this weekend, which should bump it up to about $4 million.

Flash of Genius is an unlikely biopic if there ever was one. Greg Kinnear stars as the inventor of the intermittent windshield wiper, which is a bit like making a film about the guy who invented the bendy straw (maybe there's a fascinating story there too. If there is, I claim story credit).

After coming up with the idea, Kinnear finds it stolen by the big Detroit automakers and goes on a decades-long quest to claim his rightful reward. It's a curious case of obsession and determination, and apparently quite well made, but the banality of the subject material would seem to turn a lot of people off, I think. Someone either won or lost a bet to make this movie, is my guess. Give it about $3 million this weekend.

We don't talk politics often here, and for good reason. However, it's thrust upon us this weekend with two films – An American Carol and Religulous. Both would probably blanch at being lumped with each other, but both cover hot button issues. Carol is a quasi-parody of A Christmas Carol run through an American right-wing political prism and seems to be attempting to diffuse the notion that right-wingers can't be funny. Mission Not Accomplished seems to be the verdict, and David Zucker's (Airplane! was so long ago now...) strawman-fest hasn't even been submitted for reviews (presumably because he thinks he can't get a fair shake).

The film seems to posit that if Michael Moore could just be beaten up a few times, all the world's problems would be solved. Ah, if only that made sense or were easy. Right-wing filmmakers have often struggled with and puzzled about the idea that their political satires never catches on like the way shows like The Daily Show or The Colbert Report do, and this film seems to suffer from the same problem as other failed projects – it comes from a perspective of mocking the little guy, and having utterly no sense of humor about its protagonists. Direct-targeted films have had a decent amount of success lately (see: last weekend's Fireproof), but this tepid punching-bag fest seems to fail the entertainment test. It's also difficult to imagine a worse political climate for this to come out in given the events of the last two weeks. On about 1,600 screens, I see this earning about $3 million.

Religulous is Bill Maher's sort-of documentary about religion, and how ridiculous he finds so much of the concept. He's not likely to make himself too many friends by calling phooey on the whole lot of them. As one of Hollywood's resident idea bomb-throwers, Maher has a pretty good following, but it feels like he's whiffed on this one (yelling out Scientology beliefs in the middle of the street like a crazy person is pretty funny, though). I could see about $2 million, maybe, for this on its 500 or so screens.

Returning films have to fight their way through this glut, with Eagle Eye being the most significant. Shia LaBeouf's thriller won last weekend with $29 million, a very solid figure for a fall thriller. It's gotten middling reviews, so I don't see this being too much in the way of a challenger for a second straight weekend at the top of the box office, but then LaBeouf's last thriller, Disturbia, spent three weekends at the top, so anything is possible. I see about $18 million for its second weekend.

Nights in Rodanthe took second place with $13 million, following in the footsteps of The Notebook almost exactly. That film rather dramatically picked up steam in its third weekend to become a major buzz romantic film, and that audience is often a slow burner, but I don't see that really happening to that extent here. I see about an $8 million figure for this weekend – respectable, but not world beating.

Below this, four films will be battling out to remain in the top ten versus the clamoring hordes of new films this weekend – Lakeview Terrace, Fireproof, Burn After Reading and Igor, all of which should be in the $3-4 million range. It'll be interesting to see if the surprising Fireproof has any staying power, or if it proves to be a one-week wonder buoyed by a grassroots campaign. My guess is somewhere in the middle, but it's probably the returning film with the performance most worth watching.