Weekend Forecast for September 26-28, 2008
By Reagen Sulewski
September 26, 2008
BoxOfficeProphets.com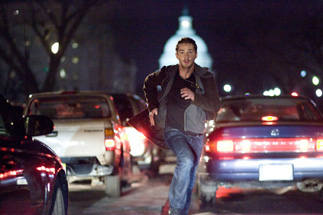 ---
There's a subtle shift in this weekend's new releases, with a lot more limited and prestige-type runs entering the market, along with some films that pass for what we'd call an early fall blockbuster. Oscar is on his way, and helping to boot us out of one of the worst Septembers in recent memory.

First up is the techno-thriller Eagle Eye, starring Shia LaBeouf, voted most punchable celebrity of 2008, and Michelle "I'm not married to Tom Cruise" Monaghan as two strangers thrown together by a mysterious conspiracy and forced to commit a series of crazy crimes, with the conspirators always seemingly one step ahead of them. Meanwhile, two federal agents (Billy Bob Thornton and Rosario Dawson) chasing them down start to suspect these sudden terrorists might not be all they appear.

The premise for Eagle Eye is quietly brilliant, like something Hitchcock might have come up with, which makes sense considering director DJ Caruso aped him last year with Disturbia (and calm down, cineastes, I am not comparing DJ Caruso to Alfred Hitchcock). The idea of being manipulated by an omniscient conspiracy is a rich one in film, and the ads use it to a wonderfully creepy effect. Add in some big explosions and destroyed buildings, and in Hollywood mash-up speak, it's The Game meets Enemy of the State.

LaBeouf's profile has never been higher, following up last summer's Transformers with this year's Indiana Jones and the Kingdom of the Crystal Skull, albeit in a sidekick role. While no one is expecting this to come even remotely close to those films in terms of box office, they did both legitimize him as this generation's Matthew Broderick. Asked again to carry a thriller as a lead, he should easily be able to use those films to build on Disturbia and make this a decent-sized fall hit. Opening in over 3,500 venues, it should make a big impact with a $27 million opening weekend.

We now have a clubhouse leader for this year's Worst Film Title award, namely, Nights in Rodanthe. Based on a novel (it would have to be) by the author of The Notebook (oh, the other shoe drops now...), it stars Diane Lane as a woman in a troubled marriage who meets up with a doctor, played by Richard Gere, who has demons of his own, in a beach house on the coast of North Carolina during the middle of a hurricane. Oh, I get metaphors.

While The Notebook is the obvious analog here, The Bridges of Madison County comes a little bit more to mind with the ages of the main characters. With Ryan Gosling and Rachel McAdams, Notebook was able to pull in younger romantics, where they may not relate as strongly to the nearly-60 Gere. It'll be primarily an older audience here. Still, with its direct connection to one of the most successful pure romance films of this decade, it should find a pretty easy path to at least mild success. I see a weekend of $12 million in the cards here.

Miracle at St. Anna is one of the first films of the year to take direct aim at the Oscars. Directed by Spike Lee, it tells the story of a troop of black soldiers during World War II in the Italian Campaign. Four soldiers are left trapped behind enemy lines after advancing farther than expected, and putting them in the way of both an advancing German attack and local partisans. Into this mix comes a young Italian boy that the soldiers decide to save, and the head of marble statue – important for some reason that's not entirely clear. The film flips back and forth between the present day and the war, with a wraparound murder mystery serving as our connection between the two times.

The leads are relative unknowns, with Derek Luke probably the most famous of the bunch (the supporting cast is more solid, with John Leguizamo, John Turturro and Joseph Gordon-Levitt being standouts there), so it's going to have to driven by word-of-mouth if it wants to make big box office, and therefore be in line for Oscars. The unfortunate thing for all involved is that reviews are terrible. The slight good news is that it's something of an infamous film, being Spike Lee's quasi-answer to Clint Eastwood's two films about Iwo Jima – you may judge the necessity of that yourself – so people do at least know about it. Opening at a little over 1,100 venues, it should manage an opening weekend of about $6 million.

A cornucopia of smaller films rounds out the new releases, and if you're looking to blow your mind with cognitive dissonance, may I suggest a double feature of Fireproof, the Kirk Cameron religious romance movie, and Choke, the cheerfully nihilistic Chuck Palahniuk sex comedy starring Sam Rockwell? If you survive this ordeal with neurons intact, please let me know. Fireproof might actually make the top 10, driven by church groups, though we're talking $3 million max for it this weekend. Choke starts on 434 screens, and might clear a cool million.

There's also The Lucky Ones, starring Tim Robbins, Rachel McAdams and Michael Pena as Iraq War veterans (...did they draw three names out of a hat?) on a road trip across America after returning from duty. Opening on just 425 screens, it'll do about as well as a scaled down version of Stop-Loss, which is to say not well at all.

Lakeview Terrace will yield its top spot at the box office after earning an almost even $15 million for the Sam Jackson suburban-tension thriller, which is about all a movie this hackneyed and generic deserves. Look for a little over $8 million for it this weekend.

The Coen Brothers' spy farce, Burn After Reading, survived into its second weekend with $11 million, good enough for second spot, and it sits close to $40 million at this point. That's pretty good for the Coens, who don't make exceedingly commercial movies even at the best of times, and usually need some Oscar prestige to get their films earning. This one won't get that, but then Clooney, Pitt, et. al have already given them a nice boost. Give this another $6 million, with about $60 million being this film's final total.

Dane Cook's reign of terror is coming to an end, as My Best Friend's Girl opened to just $8 million, well down from Good Luck Chuck's first weekend. Perhaps that one was more about Jessica Alba than Cook, but we'll see with the next comedy Cook makes about being an ass to women. It should drop to around $4 million and be never heard from again. Ever, you hear me?

There are about five other films that will be sitting in the $3-5 million range this weekend, with none of them really being significant in the broader sense, other than to maybe serve as cautionary examples of projects gone wrong. Of them, Ricky Gervais' Ghost Town has received some astonishingly positive reviews and word-of-mouth for a ghost comedy, but it's probably too late for it to recover.

Also, notably, The Dark Knight will disappear from the Top 10 for the first time since its release this weekend, but not until it's earned almost $525 million, which is somewhat astonishing, and over twice what Batman Begins earned.