Weekend Wrap-Up
Lakeview Terrace leads dull weekend
By John Hamann
September 21, 2008
BoxOfficeProphets.com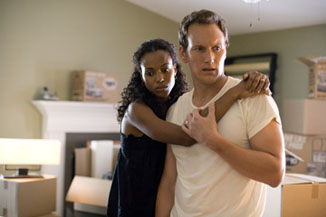 ---
Last weekend, moviegoers were treated to four new releases, and dutifully crowned Burn After Reading their top choice via ticket sales. Nothing was really hot, and nothing flopped badly. We just saw a whole bunch of new product released into movie theaters. This weekend, things don't change at all, and moviegoers have another four new releases to choose from, as studios are using the 'see what sticks' approach to releasing movies. The problem we end up with is an average RottenTomatoes score of 41% for the eight films released in the last two weekends - which is particularly bad when you consider that Burn After Reading sits at 79% fresh, and Ghost Town at 87%.

Our number one film of the weekend is a title that doesn't even sound like a movie title - it sounds more like an open house advertisement. The winner is Lakeview Terrace, the thriller from Sony and Neil LaBute. It stars Samuel L. Jackson as a nasty neighbor and cop who torments the nice folks next door. Somehow, with only a TV ad that has Jackson looking threatening, this one won the weekend with a gross of $15.6 million (how bored are we?). Released to 2,464 venues, Lakeview Terrace had a venue average of $6,331.

Does Jackson like to work or what? Since Star Wars Episode III: Revenge of the Sith in May 2005, Jackson has appeared in or lent his voice to a dozen films in a little over three years. Some were excellent performances and did very well, like 1408 ($20.6 million opening, $72 million finish); some were excellent performances that did very poorly, like Black Snake Moan ($4 million opening, $9.3 million finish); and some were just plain awful on many levels, like The Man ($4 million opening, $8.3 million finish) and Home of the Brave ($50,000 finish against a $12 million budget). By my count, since appearing in 1990's Goodfellas as Stacks Edwards, Jackson has been featured in 65 films. He has appeared in 11 films that have grossed more than $100 million, and five that have surpassed $200 million (thanks to George Lucas and Steven Spielberg). You can usually count on Jackson to open a film on his own between $10 and $15 million, and Lakeview Terrace carries a tight budget of only $22 million, which is going to make this one a decent win for Sony and Screen Gems.

Finishing a solid second is Burn After Reading, last weekend's number one film, which was a first for the Coen Brothers. With so much new product being flung at screens, Burn didn't have a lot of traction, and earned $11.3 million this weekend. It was off 41% from its debut frame, but sets another historic mark for the Coens, as this is their first film to have back to back $10 million plus weekends. Burn After Reading has a budget of about $40 million and a gross so far of $36.4 million, so this is going to be an excellent entry for Focus Features. Next up for the Coens is A Serious Man, which has zero big names, unlike Burn After Reading.

Finishing third is the second Lionsgate flick in two weekends, the completely forgettable My Best Friend's Girl. The Dane Cook comedy earned a slow $8,3 million, and is a downtick from his usual $10-14 million openings (hopefully this will end his career). Cook's last comedy, Good Luck Chuck opened to $13.7 million before fading into the woodwork with a $35 million finish. My Best Friend's Girl also stars Kate Hudson, who usually has more luck at the box office. Her last film, the truly awful Fool's Gold, managed a $21.6 million opening and finished above $70 million. This one will be lucky to earn $25 million, and deserves less, as it is only 7% fresh at RottenTomatoes.

Igor, a computer animated kids flick, opens in fourth. Distributed by MGM, Igor mostly missed, opening to only $8 million from 2,339 venues. This one is a bit of a disappointment for me, as I thought the animation looked excellent and ala Tim Burton, with the lead voiced by the always amiable John Cusack. How bad could it be (despite its release date?). I guess in the end, pretty bad. At RT, 39 critics took Igor in, and only 12 liked it, leaving it with a not so fresh rating of 31%. Maybe it will have a better time of it on DVD, but for now, this one is dead.

Fifth goes to Righteous Kill, the De Niro/Pacino team up. After debuting to $16.3 million last weekend, Righteous Kill proved to be not quite so righteous in its second weekend, as it earned $7.7 million and fell a hurtful 53%. Despite the fair opening, this $60 million production is going to struggle to reach $40 million - it has a total so far of $28.8 million.

Tyler Perry's The Family That Preys falls from second last weekend to sixth this weekend, a fairly normal occurrence for a Perry title. After it debuted to $17.4 million, TFTP fell 57% and earned only $7.5 million in its second frame. At least this second weekend hold is better than Perry's last, as Meet The Browns, his February 2008 film, fell 63% in its second weekend, moving from a $20.1 million opening to a $7.5 million second weekend. The Family That Preys has a running total of $28.4 million, and will finish around $40 million.

The Women is seventh, and despite being the worst reviewed film to open last weekend, it has a better hold than half of last weekend's new titles. The Women earned $5.3 million and was off 48%. After two weekends, the PictureHouse release has earned $19.2 million against a production budget of only $16 million.

Sadly, way down in eighth is Ghost Town, the extremely well-reviewed comedy from Paramount. Starring UK-phenom Ricky Gervais, Ghost Town opened to a slim $5.2 million, albeit from only 1,505 venues. With the low venue count, Ghost Town ended up with a decent venue average, coming in at $3,436. Gervais isn't as well known as he should be in North America, as he starred in the UK version of The Office, and was the lead in Extras, another award winning British TV series. Ghost Town reviewed very well mostly due to the performance of Gervais. At RottenTomatoes, Ghost Town received better reviews than Burn After Reading, garnering an 87% fresh rating at RottenTomatoes. Hopefully word-of-mouth spreads for this one, and Paramount can get it out to more venues in the next few weekends.

Finishing ninth and tenth are our summer holdovers, The Dark Knight and The House Bunny. TDK finishes ninth, and odds are that this will be its last weekend in the top ten. Now in its tenth weekend, The Dark Knight earned $3 million, and was off 29%. Its total has now reached $521.9 million. We might get a return visit from Batman later in the year, as Warner Bros. is planning an Oscar push for the Chris Nolan flick. Tenth spot, of course, goes to The House Bunny, the star making turn from Anna Faris. The $25 million Sony film earned $2.8 million in its fifth weekend. The House Bunny was off 33% and now has a running total of $45.7 million.

Overall, we've really seen it all this September. The month started with an atrocious top 12 score of only $50 million, bounced back nicely last weekend to $86 million, and then falters again this weekend with a combined score of $78.3 million. Compared to last year, the score isn't too bad, as the same weekend in 2007 earned $80 million, thanks to a $20 million plus opening from one-weekend-wonder Resident Evil: Extinction.