Friday Box Office Analysis
By Tim Briody
September 20, 2008
BoxOfficeProphets.com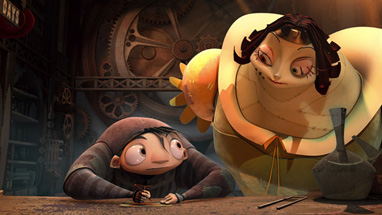 ---
[tm:3813_]Lakeview Terrace[/tm]

The [bp:17_]Samuel L. Jackson[/bp] thriller with a title that really sounds more like a movie that should star [bp:2194_]Sandra Bullock[/bp] is the top performer on Friday, earning $5.1 million. There's nothing that indicates a spectacular or lousy weekend multiplier, so we're going to split it down the middle and say that Lakeview Terrace (that's just one block over from Mulholland Drive, no?) will win the weekend fairly easily with $14.3 million.

[tm:4471_]My Best Friend's Girl[/tm]

Third place brings the next of the four openers, My Best Friend's Girl. It earned $3.1 million on Friday, which is a step back from last year's Good Luck Chuck which opened with $5.1 million. Dane Cook haters, rejoice! The alleged romantic comedy (also starring [bp:8_]Kate Hudson[/bp] and Jason Biggs) will likely end up with $8.3 million for the weekend.

[tm:1746_]Igor[/tm]

The animated Igor takes sixth place on Friday with $2 million. It's the only option out there for kids and families, but that's not going to help all that much over the rest of the weekend. Call it $6.3 million and out on DVD by Christmas.

[tm:2303_]Ghost Town[/tm]

Finally, Ghost Town with Ricky Gervais earns $1.5 million on Friday, which is mainly attributed to the fact that it was on only 1,500 screens and also that nobody really knows who Ricky Gervais is. Expect about $4.3 million for the heavily marketed comedy.

Notable Holdovers

It wasn't the best week to be a holdover, as the smallest drop goes to the Coen Brothers [tm:3728_]Burn After Reading[/tm], down 46% from last Friday to $3.5 million. This is actually pretty well in line with the closest comparisons to Burn After Reading, Intolerable Cruelty and The Ladykillers. A second weekend of about $10.8 million looks to be in store.

[tm:1920_]The Women[/tm] manages to not fall 50% from last Friday, but will see a weekend of $5.6 million. Elsewhere, The Family that Preys takes a predictible Tyler Perry Plunge, off 66% and [tm:3987_]Righteous Kill[/tm] drops 60%.