Weekend Forecast for September 19-21, 2008
By Reagen Sulewski
September 19, 2008
BoxOfficeProphets.com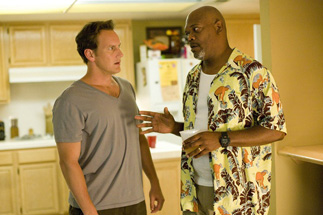 ---
September is throwing new movies at us at an alarming rate, with four new movies this weekend bringing it to eight new films in wide release (I'm not counting films that echo in the theater from a lack of audience) so far this month and 12 since Labor Day weekend. They all fire away at different demographics, but we're still dealing with a lot of new titles to push out the summer dead wood.

Leading the way (probably) is Lakeview Terrace, a homeowner thriller starring Samuel L. Jackson, Patrick Wilson and Kerry Washington. Wilson and Washington star as a married couple who move into an upscale Los Angeles suburb, finding themselves next door to a prickly neighbor, played by Jackson. As the ads so provocatively point out, this is a confrontation based on color. And since Neil LaBute is directing the film, it's going to push some boundaries, right? Because, you see, the color is (ooh wait for it)... blue. Oh. Cop thing. Okey dokey, then...

Now, I imagine the film does actually enter into a bit of the idea of racial tension in the suburbs (I mean, how could it not?), preying on white liberal guilt™, but what looks to be more the case here is that this is just another "cops abusing their power" movie.

With LaBute busy trying to make us forget everything we liked about him by directing absolute crap like the Wicker Man remake and Jackson still appearing in any movie where they'll pay him in cash, you'd think that prospects for the generically-titled Lakeview Terrace would be limited. Of course, they are, to a large extent, in that no one involved in this film regularly has big hits (at least, not as a lead). For that reason, this gets the standard generic thriller opening weekend number, of about $13 million.

The romantic comedy option this weekend is My Best Friend's Girl, in which Dane Cook acts like a jerk to sleep with women. You might ask yourself, "Wait, didn't we just see this movie?" to which I would say, no, that was the other Dane Cook movie where he acted like a jerk to sleep with women (which is not to be confused with the real-life Dane Cook being a...well, you get it already).

In it, Cook plays a date "cooler", a hired gun to drive women back to their boyfriends, making them realize how good they had it. A problem arises when his intended victim, Kate Hudson, ex- of Jason Biggs, isn't turned off by the "act", and he decides he might go after her for real. This doesn't appear to be quite as misogynistic and gross-out oriented as Cook's last starring vehicle, Good Luck Chuck, but that's not a great scale to be measured on.

Chuck managed $13 million on its opening weekend last fall, but I don't see this matching that for a couple of reasons, in that Hudson isn't as much of a draw as Jessica Alba (and hey, remember when Jason Biggs mattered? Me either), and this hasn't gotten as much promotion as the film that launched Cook's leading man career. Then again, it's largely him doing the same stupid stuff, so it won't be that much worse. I give this one about $11 million for its debut.

Ghost Town marks the start of The Office (BBC) star Ricky Gervais' attempt to become a comedic leading man, with the kind of movie that seemed to go out of style in 1985. Odd choice. Gervais stars as a misanthrope (that's a stretch) dentist who, after dying very briefly during surgery, starts to see dead people. Seeing as how he's one of the few people they can talk to, of course they want things, with one in particular, played by Greg Kinnear, asking him to talk to his former fiancée (Tea Leoni) in order to stop her from marrying a total jerkbag.

It's essentially Ghost in reverse crossed with The Sixth Sense plus some All of Me thrown in there for good measure, and it looks about as hackneyed as any studio comedy could be. Reviews have taken a general tone of "it's better than it looks, honest!" which, I suppose, it'd have to be. With this being Gervais' first real role, it's tough to judge just how popular he'll be – he's made his name for playing mostly unlikable characters, which play well on TV but are often hard to deal with on the big screen. This doesn't appear to be too far away from those, so you wonder a little who's going to show up, other than the built in Gervais fans, of which there aren't going to be that many.

Paramount has had the same thoughts, opening the film in just 1,500 theaters despite promoting the hell out of it, which is practically a limited release these days. I'd look for about $7 million this weekend for Ghost Town.

Lastly, we have Igor, the kids' option for the weekend. Starring John Cusack as a put-upon henchman in a world of mad scientists yearning to create some mad science of his own. Lessons are learned, monsters are created, yada yada yada, and a good time is had by all.

You don't need me to tell you that animation is no longer the magic bullet of the cinema that it once was. Something like Fly Me To the Moon shows that only too well (what, kids aren't into animated maggots?). At this point, it's Pixar + every other DreamWorks + Ice Age, or nothing. MGM is giving it a valiant try, however. Although their animation looks sharp and interesting, they just don't have the buzz and the crossover appeal with adults to get this film moving. I predict a dismal $5 million or so this weekend.

The big question will be if the new films can surpass last weekend's surprisingly strong slate, led by Burn After Reading's $19 million. The quirky Coen Brothers spy-film didn't make a lot of friends in theaters because of its decidedly non-conventional plotting and odd humor, so while we're applauding Brad Pitt and George Clooney for taking this decidedly strange film to the top of the charts, let's not start gold plating Mercedes just yet. I'd look for a weekend take of around $10.5 million for its second frame.

Tyler Perry did it yet again with The Family That Preys, which earned a very predictable $17 million in its opening weekend. While there doesn't seem to be a law of diminishing returns kicking in on his films just yet, his family dramas do tend to be one weekend wonders. That's the benefit and a curse of a built in audience, I suppose. I'll give this $9 million this weekend.

Righteous Kill earned an almost shocking $16 million, after teaming up Al Pacino and Robert DeNiro in a cop movie about serial killers. I know, I know, such an innovative premise deserves to be rewarded with commercial success, but really, did this look like anything that special? Apparently we were just dying to see these two act in more than one scene together in a movie. We'll see if the novelty holds, but I'll give it $9 million as well for this weekend.

The Women was the fourth opener to break double digits, earning $10 million despite abysmal reviews and a cast of women who have seen better days. This is probably enough to call Diane English's directorial debut a winner financially, considering it cost just barely more than that to make. I don't see any legs whatsoever, though, and it should add about $6 million to its total.