Friday Box Office Analysis
By Tim Briody
September 13, 2008
BoxOfficeProphets.com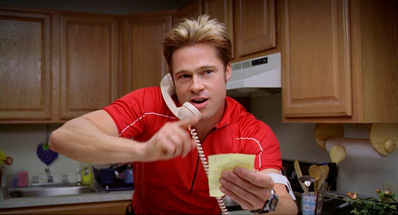 ---
This is just what the box office needed last week. Let's not talk about that again, by the way.

[tm:3728_]Burn After Reading[/tm]

The Coen Brothers' follow-up to Best Picture No Country For Old Men should do something that film never did - reach the top spot at the box office. Burn After Reading earned $6.4 million on Friday, just a bit under the largest weekend No Country For Old Men ever earned, which was $7.7 million over Thanksgiving weekend last year. The opening number for Burn After Reading comes in solidly ahead of the Coen's recent comedy attempts, The Ladykillers ($12.6 million in 2004) and Intolerable Cruelty ($12.5 million in 2003). Clearly benefiting from their Oscar win (and yes, the star power involved here), Burn After reading will easily be the Coen Brothers' largest opening ever with $18.6 million.

The Family That Preys

Tyler Perry does it again with The Family That Preys, though at $6.3 million on Friday it's down a tick from his recent efforts such as March's Meet the Browns ($8.1 million) and last year's Why Did I Get Married ($7.4 million). Perry's films also tend to be quite frontloaded, and The Family That Preys should be no different here, though it's solidly in second place this weekend with $16.5 million.

[tm:3987_]Righteous Kill[/tm]

Righteous Kill earned $5.8 million on Friday, clearly duping a lot of moviegoers who thought a Robert De Niro/[bp:456_]Al Pacino[/bp] pairing was still a novelty. This will probably fool a few more viewers over the remainder of the weekend, so the crime thriller will come in with $16.2 million.

[tm:1920_]The Women[/tm]

Sex and the City this is...not. The Women earned $3.6 million Friday, and we really feel sorry for any male that had to sit through this. I'm expecting a completely abysmal weekend multiplier here, so The Women should come in with around $9 million.

Notable Holdovers

It's really not notable, but we have to point out that [tm:4237_]Bangkok Dangerous[/tm] fell 74% from last Friday and goes from number one at the box office to number eight, quite possibly the largest position fall from the top spot ever.