Weekend Forecast for September 12-14, 2008
By Reagen Sulewski
September 12, 2008
BoxOfficeProphets.com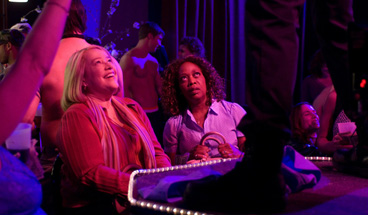 ---
Now this is (potentially) more like it. With the dregs of summer finally dribbling out of the way, four new films hit theaters, with as many as three of them having aspirations of at least (gasp) double digit millions. Listen, I'll never mention the last two weeks again if you won't.

Tyler Perry simply won't stop. The Family That Preys is his approximately 18 bajillionth film in the last three years about kooky yet heartwarming black families in conflict, this time blending in some conflict with a white family (though not, I hope and assume, of the nasty variety). Alfre Woodard and Kathy Bates play lifelong friends and matriarchs of the respective families, who find the paths of their children intertwining in surprising and bitter-sweetly comical ways. Stop me if you've heard this one before.

There's very little to say about Perry's leg-hold on his audience – with the notable exception of Daddy's Little Girls, he's been one of the most consistent director/writers of the last few years. The formula seems simple – get at least one top line actor, a whole truck load of character actors, stew in family drama and simmer to a $20 million opening (he does seem to be getting bored of the whole transvestite plot device for himself, which is probably a good thing). Until his audiences get tired of this or he runs out of charming anecdotes about modern black life, we can pencil these films in for $20 million plus or minus a few. Let's give this one $18 million just to be interesting.

After finally getting their due with an Oscar, the Coen Brothers are switching back to lighter fare with Burn After Reading, an espionage farce starring Brad Pitt, George Clooney, Frances McDormand and John Malkovich. Pitt plays a none-too-bright gym instructor who stumbles onto a CD of classified information, mistakenly left behind by Malkovich's CIA agent. His genius idea: blackmail the agent for a reward, and when that doesn't work, try and sell it to the Russians, with the help of another gym instructor, played by McDormand. Clooney plays a Federal Marshall who's sleeping with Malkovich's wife (played by Tilda Swinton) and who winds up crossing paths with the attempted extortionists.

This feels like a trip back to the Coens' Raising Arizona days, where they blended zaniness with dark humor and a body count. Everyone seems pretty content to ham it up, with Pitt's good-natured dumb guy portrayal being a centerpiece here, and potentially busting it open for the film commercially. The question becomes if the Coens really do have mainstream box office pull.

The answer is probably "no", meaning the Burn After Reading should sit in the range of The Ladykillers and Intolerable Cruelty, their most recent forays into comedy. Reviews are only middling, which probably kills it to some degree with the art house crowd, but that's never a big factor anyway. Look for $13 million for this on the weekend.

Righteous Kill may be the third film to start both Al Pacino and Robert De Niro, but it's the first film to feature these two legends of the screen together for significant periods. I don't know if that's a great gimmick to hang your film on at this point, but it's sure worth a shot.

Jon Avnet (who recently tried to kill Pacino's career with the dreadful 88 Minutes) directs the pair as a couple of New York City cops (what a leap in casting!) who find that a series of murders might be related to an old case of theirs, and that a serial killer might still be on the loose.

It's about ten years past the point where teaming De Niro and Pacino (now 65- and 68-years-old respectively – you feel old now, right?) would still be a novelty, and both have spent that period making a bunch of thrillers that have done a great deal towards making us forget why we thought they were such legendary actors in the first place, with the occasional rep-destroying comedy thrown in for good measure. There's very little in this to elevate it beyond being generic, through I expect that we'll have a number of rubber-neckers out there for the pairing. I'll give it $10 million for its opening weekend.

The Women is Diane English's directorial debut after years of fame on TV. A remake of a 1939 film, it stars, literally, an all female cast (not a single male speaking role) in a story about contemporary female relationships. Starring Meg Ryan, Annette Bening, Eva Mendes, Debra Messing, Bette Midler... well, it goes on. Let's just say it's a deep cast. Sort of a Sex and the City without the bed hopping and raunchy sex talk, The Women seems to be going after that Women Power aesthetic about how women can be confident and sexy and world-beating ... at least if it wasn't for other women stabbing them in the back all the time.

If you thought Sex and the City had the heaviest concentration of women in its audience ever, wait for this film's audience, with most men not being caught dead within sight of a theater where it's playing (note: I'm not saying this is necessarily fair, considering the movies men drag women to, just reality. Don't shoot the messenger). This isn't helped by the fact that reviews are abysmal, with the sense that this film has been turned into a lengthy sitcom. And with no romantic possibilities (unless... you know), this has zero date movie potential. I see an out and out bomb of about $4 million for the opening weekend.

After one of the lowest total grossing weekends this decade, the returning slate isn't much to speak of. Bangkok Dangerous "won" the weekend with just $7.7 million and should be the second straight film with an Asian city in its title to fall off the face of the Earth in its second weekend, after Babylon A.D. Nic Cage's recent track record in movies that don't involve treasure remains pretty dismal. It'll end up with about $4 million, give or take a few hundred thousand.

That'll let Tropic Thunder slip ahead of it in the rankings with about $5 million, to bring its total to about $104 million, on the way to $120 million. The war/Hollywood satire has fared a lot better than other films about Tinseltown, which is to be commended, though it's tough to overlook that pricey nine-figure budget (for what, I ask?). The Dark Knight will pull in a little less than $4 million on the way to $530 million, and then we're about at the end of the line for significance. You might throw Mamma Mia! in there if you're being charitable, since its legs are driving it close to the $150 million mark, but it's only earning in dribs and drabs at this point. We just have to wait a few more weeks for the detritus of the summer to get entirely washed away.