Weekend Wrap-Up
Box Office Labors through Holiday
By Kim Hollis and David Mumpower
August 31, 2008
BoxOfficeProphets.com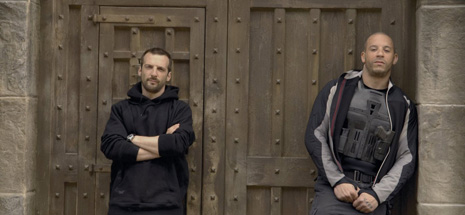 ---
Labor Day historically marks the end of the summer box office campaign. It is also noteworthy for being one of the slowest movie periods on the calendar. Never has that been more accurate than this weekend, however, as the combined box office total for the top twelve was the lowest in the 2000s. Being the worst Labor Day is like being the least talented member of N'Sync.

Speaking of Lance Bass, Tropic Thunder was the number one film again this weekend with an estimated $11.5 million over the Friday-to-Sunday period. Combined with The Dark Knight, we have had the same two films in first place for seven consecutive weekends, a rare semblance of box office consistency in an era of the one-and-done temporary blockbuster. Tropic Thunder fell only 29% from last weekend, although all of the titles in release have artificially inflated holdovers due to the holiday. After 19 days in theaters, the $100+ million production has earned $83,834,000. While this is not going to be the most profitable of movies during its domestic run, it appears likely to earn $100 million, which is an impressive feat for a Hollywood satire. Three weeks spent in first place will also boost its credentials on the home video market.

Babylon A.D. debuts in second place this weekend amidst a sea of negative press. The $60 million disaster of a Vin Diesel vehicle earned only $9.7 million during its first three days in release. Along the way, it was critically reviled to a level generally reserved for the Uwe Boll oeuvre. Only a pair of the 44 Rotten Tomatoes critics who watched the film gave it a thumbs up, a gloriously heinous fresh rating of 5%. More amazingly, the movie's director, Mathieu Kassovitz, washed his hands of it during an incendiary interview with a blogger at AMC TV. The auteur (?) stated that Fox took the film away from him and cut a movie so heinous that "parts of the movie are like a bad episode of 24". Given these parameters, an opening weekend of almost $10 million doesn't seem that horrible, but then again, it's not our $60 million.

The story of the weekend oddly occurs with the third place entrant. The Dark Knight achieves something only Titanic had accomplished previously. An $8,750,000 Friday-to-Sunday performance is not impressive on its own (My Big Fat Greek Wedding earned $11.1 million in its 20th weekend, after all), but what does stand out is its running total. $502,421,000 gives it the extraordinary honor of being only the second $500 million domestic earner in box office history. Yes, the picture changes somewhat once we adjust for ticket price inflation, but in terms of actual dollars accrued, Titanic and now The Dark Knight are two of a kind. BOP speculated in its Daily Numbers Analysis a few weeks ago that the film would wind up in the $520-$530 million range, and that latter number is now being endorsed by Warner Bros. They are, however, allowing for the possibility that it might wind up with as much as $550 million if it runs indefinitely in IMAX, bringing in a few million a week sans decline. That's probably ambitious but we are reticent to rule out anything about this title's historic box office run.

The House Bunny and Traitor round out the top five for this weekend. Anna Faris' latest ditzy blonde comedy falls two spots to fourth place with another $8.3 million. The stiff 43% decline from last weekend is alarming for a holiday weekend, but Sony still has earned $28,851,000 from this $25 million production. For a title only ten days into release, that's pretty strong. As for Traitor, the Don Cheadle/Guy Pierce drama, it started slowly on Wednesday and Thursday with only $1.5 million over its first two days. Then, the taut political spy thriller recovered nicely over the weekend by earning $7.9 million, giving it a total of $9.4 million over its first five days. Traitor is already the second most successful film for upstart distributor Overture Films, and it should wind up beating Mad Money's $20.7 million to become their best performer to date.

It wasn't a good weekend for Death Race, as it suffered a 51% drop - pathetic on a holiday-inflated weekend - on its way to $6.2 million and sixth place. The Jason Statham/Tyrese/Joan Allen has a total so far of $23.1 million, and it would be exiting the Top 12 quickly if anything good were hitting theaters over the next few weeks. As it is, it might manage to hang around for a little while. There are conflicting reports on its budget amount, but whether you believe the $45 million number or the $65 million number, this is not a positive result for Universal. It's one of the studios few missteps of 2008.

We see some small smidgen of hope for the human race down in seventh place. Disaster Movie, the latest in a frighteningly long line of "Movie Movies", made a mere $6.2 million over the three-day portion of the weekend. For awhile there, we had to weep for the intelligence of movie-going society as unfunny spoof films managed to bring in enough money to justify another one a few months later. Scary Movie and its sequels started the trend, with $42.3 million, $20.5 million, $48.1 million, and $40.2 million debuts as the series progressed. We also had Date Movie ($19.1 million opening), Epic Movie ($18.6 million opening), Meet the Spartans ($18.5 million) to continue making us sad, but cracks started to show in the genre with the release of Superhero Movie, which started with only $9.5 million. With its $6.2 million opening, Disaster Movie will struggle to match its $25 million budget, which means that studios like 20th Century Fox can stop counting on these as cash cows. Congratulations, North America!

Eighth place brings more good news for Mamma Mia!, as it actually increases 2.4% from last week to have a $4.4 million three-day portion of the weekend. The reason for this is that a "sing-a-long" version of the film hit theaters this weekend, giving people even more incentive to go out and enjoy the glorious musical based on ABBA's songs. Of course, Mamma Mia! was already going gangbusters with regard to its holdover capability, but this weekend is a simply stellar result. It has an impressive grand total of $131.5 million domestic, with worldwide totals of more than $365 million.

Rounding out the top ten are Pineapple Express and Vicky Cristina Barcelona, though the story on how each one achieved its spot is different. Pineapple Express had a 36% drop from last weekend as it earned $3.5 million. The stoner comedy has a running total of $80 million and is nearing the end of its run. Vicky Cristina Barcelona, on the other hand, had virtually no change in its weekend-to-weekend result, earning $3 million. The Woody Allen flick has a solid total of $12.8 million but does still have a little ways to go before it recoups its $22 million budget.

The other two "big" openers this weekend finished outside the top 12. College opened to $2.1 million despite opening in 2,123 venues. This is a nightmarish per-location average of $992. Any exhibitor that booked College this weekend regretted it completely. Joining it in ignominy is Hamlet 2, which brought in $1.7 million from 1,597 playdates. Its per-venue average of $1,064 is only an eyelash better, meaning that 3,720 movie theaters were virtually empty this weekend. Hamlet 2 has a running total of $2.75 million and neither title is going to be a box office factor from this moment on.

Receipts for the top 12 combined for receipts of $75,204,495, down 22.7% from last year's $97.3 million when Rob Zombie's Halloween led the box office. The estimated revenue for the summer is $4.13 billion, and 2008 has a current total of $6.85 billion, down 1.2% from last year's $6.93 billion. Attendance is down just under 4.5%. The Dark Knight can do only so much.