Weekend Wrap-Up
Summer Is Over at the Box Office
By John Hamann
August 24, 2008
BoxOfficeProphets.com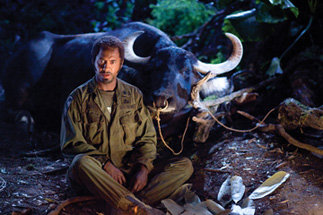 ---
It was great while it lasted, but the big business side of the summer movie season is officially over, and we are left in the dumping ground of August. Four new entries entered the fray this weekend, including The House Bunny from Sony, Death Race from Universal, MGM's The Longshots, and The Rocker from Fox, which opened on Wednesday (or did it?). Only two of these were able to surpass five-week-old The Dark Knight, and none got by last weekend's champ, Tropic Thunder. With softer wide releases, films with limited runs have a chance to shine, and Hamlet 2 did just that this weekend.

Our number one film of the weekend is Tropic Thunder, and after a questionable opening weekend in the last frame, the Ben Stiller-directed comedy held fairly well. Tropic Thunder earned $16.1 million and dropped an okay 38%. Any drop below 50% was going to be good news for Tropic Thunder and Paramount, as the action/comedy carries a production budget of $95 million (or higher as some report). With a $25.8 million opening, Thunder had to avoid concurrent 50% plus drops, and it did, beating out a pack of soft openers to take the crown for the second straight weekend. All of a sudden, Tropic Thunder has an outside chance of earning $100 million domestically. After two weekends of release, Thunder has a domestic cume of $65.7 million, and with its 84% fresh rating at RottenTomatoes and good word-of-mouth, could continue to play strongly over the next few weekends.

Finishing a somewhat surprising second this weekend is The House Bunny, the new comedy with Scary Movie's Anna Faris. While not a breakout success, The House Bunny did earn a solid $15.1 million from 2,714 venues. It had a venue average of $5,564 - the best in the top twelve. This is Faris's first above-the-title role, as she is probably best known for her roles as Cindy Campbell in the Scary Movie franchise. The Scary Movie series had four films open to a combined $150 million, making Faris a known quantity to The House Bunny audience. Away from the Scary Movie franchise, Faris has made big splashes with smaller parts in lesser-seen movies like Lost in Translation ($44.5 million domestic total) and Just Friends ($9.2 million open, $32.6 million domestic total). The House Bunny isn't going to conquer the box office world, but it does provide a good star turn for Anna Faris. While The House Bunny came in at only 40% fresh at RottenTomatoes, Faris got good reviews, and despite the low score, it ties Death Race as the best reviewed opener of the weekend.

Finishing third is Death Race, which continues a tradition of having a Jason Statham flick open in late August/early September. With a lot of action already in the top ten, Death Race lost out to The House Bunny, finding only $12.3 million over opening weekend. Statham has now had seven films open in either August or September, the strongest being The Transporter 2, which opened to $16.5 million in 2006. Death Race does open slightly better than last year's late August release from Statham, War, which opened in fifth with $9.8 million. Death Race cost $45 million to make, and will likely find only $25 million in domestic sales. International grosses should easily make up for the difference, though.

Fourth goes to The Dark Knight, as the Chris Nolan flick finds one more weekend with its nose above $10 million, its sixth consecutive. The Dark Knight earned $10.3 million and was off a slim 37% as word-of-mouth continues to propel the caped crusader toward box office glory. After getting by Star Wars: A New Hope last weekend in the grand total department, there are no more worlds for The Dark Knight to conquer, as it sits in second place all time, and has no chance of catching Titanic. Its cume has now reached $489.2 million domestic, and it has $330 million and counting from overseas grosses. I'm looking for The Dark Knight to finish with about $515 million in domestic earnings.

There's good news in fifth place, as the George Lucas cash grab gets pummeled. Star Wars: The Clone Wars dropped a massive-for-animation 61% and earned only $5.7 million. The fanboys have seen this cheap knockoff of Star Wars, and the rest of the country is abandoning it as it heads off to the DVD bin at Walmart. Good riddance - give it a cume so far of $25 million.

The Pineapple Express finds itself in sixth spot, as we are seeing surprisingly large tumbles for this Judd Apatow comedy. Pineapple earned only $5.6 million in its third weekend, and was off 43%. The good news for Sony is that Pineapple had matched its production budget after five days, and its total now of $73.9 million is almost three times better than its $25 million production budget.

You know the box office is slow when last weekend's poorly accepted horror flick slides only three spots from fourth to seventh. That was the story for Mirrors, Kiefer Sutherland's shot at the horror genre, as it earned $4.9 million and fell a predictable 56%. IMDb lists a production budget of $35 million for this one, an amount this one isn't going to find on the domestic front. Mirrors has a total so far of $20.1 million.

Eighth goes to The Longshots, Ice Cube's latest feature. Directed by Fred Durst of Limp Bizkit fame, The Longshots failed miserably this weekend, earning only $4.3 million. MGM failed to market this one whatsoever, and this is the result. It showed up as only 38% fresh at RottenTomatoes, and seems to be August filler at best.

The leggy Mamma Mia is in the number nine spot this weekend. The Meryl Streep musical earned another $4.3 million in its sixth weekend, and was off only 29%. Mamma Mia! Has become a phenomenon both domestically, where it's earned $124.5 million, and overseas, where it has taken in more than $200 million. Mamma Mia! Cost Universal, Playtone (Tom Hanks' production company) and Littlestar Productions only $50 million to make, and has earned $325 million worldwide.

The Mummy: Tomb of the Dragon Emperor manages to hold onto a top ten spot (thanks to some extremely weak openers). Tomb earned $4.1 million and was off 50%. The domestic total has only reached $93.8 million, but Universal doesn't care. It has grossed over $200 million from overseas theatres, and will finish with over $300 million in worldwide sales.

Finishing outside of the top ten is Rainn Wilson's The Rocker, which completely caved in over the last five days. It opened on Wednesday with a sad opening day total of $577,000, and that spelled out how the weekend was going to be. The Rocker had a three-day total of $2.8 million, and has earned $3.8 million since opening on Wednesday.

In limited release this weekend, Hamlet 2 got off to a so-so start, earning $435,294 from 103 venues. That gives it a venue average of $4,226, which means it might not get a chance for much further expansion.

Overall, the box office was where it usually is for a late August weekend. The top 12 films this weekend earned $88.3 million, which is about equal to where we were last year over the same weekend. A year ago, the top 12 was led by Superbad's second weekend, and earned $88.9 million.