Weekend Forecast for August 22-24, 2008
By Reagen Sulewski
August 22, 2008
BoxOfficeProphets.com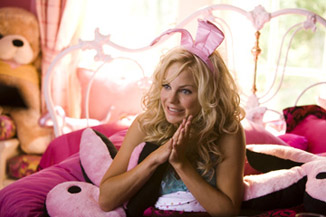 ---
It's about that time of year when you look at the slate of new movies end and think, "Holy hell, where did the summer go?" We've left any pretense of blockbusterhood behind with four new films that will struggle for notability. Occasionally, one the summer's leggiest films can come out of this weekend, but I wouldn't count on it this year.

Leading the way, likely, is Death Race, starring Jason Statham. A remake of the infamous nihilistic 1975 film starring Sylvester Stallone and David Carradine, this film takes a slightly different tone. Instead of revolving around a race where moving down pedestrians scores extra points, we now have a bloody four-wheeled cage match between convicts for TV viewing pleasure in a dystopic future.

Statham stars as a champion racecar driver framed for his wife's murder, and sent to prison specifically to compete in the race, which features one rule: kill or be killed. With the reward of his freedom held out in front of him if he wins, Statham proceeds to murder and maim his way to freedom.

With the change in focus, Death Race have become a little less biting social satire and much more bloody action film - The Longest Yard crossed with The Running Man. The director is Paul W. Anderson, who is known for his testosterone-filled flicks like Soldier and Alien vs. Predator, a group that this seems to fit right into. Also featuring Ian McShane and a clearly slumming Joan Allen as the manipulative TV executive, Death Race could satisfy an action jones for people as we exit the summer. I look for it to win the weekend with about $13 million.

The House Bunny is this week's "oh dear God, why?" film, the film that looks like complete garbage but becomes inexplicably successful. Anna Faris stars as a Playboy Bunny tossed from the Playboy Mansion for getting too old (she really should have thought of that beforehand), who then stumbles into a college sorority for help. As it turns out, it's the sorority of the losers and rejects of other, more popular sororities, which in Faris's mind, simply won't do.

Of course, what these nerds really need is some slut lessons, which Faris is happy to provide, in a combination of Revenge of the Nerds and Legally Blonde. Meanwhile, Faris's bunny also attempts to develop a real relationship with a slightly nerdish Colin Hanks, with the hopes of becoming a real person.

The big hope that this movie might actually be something worthwhile is Faris, who plays stupid "smartly" (see: Lost in Translation and Just Friends, two movies she out and out stole). Supporting roles from Hanks and Emma Stone might be worth a little towards the quality of the film, but at the same time, they're not going to add much to the box office, at least not yet. Dumb girl comedies play poorer than dumb guy comedies in general, and I look for a modest $8 million for The Hosue Bunny this weekend.


The Longshots is the second film directed by Fred Durst, and if that phrase doesn't send chills down your spine, I don't know what will. Durst directs Ice Cube as a coach of a Pop Warner football team who brings on the first-ever female player in the history of that level of football. That this is the film that Durst would come up with would likely shock anyone that was a fan of Limp Bizkit from back in the brief period where they ruled rock music, but there you have it.

Keke Palmer of Akeelah and the Bee stars as Ice Cube's niece, recruited as the team's quarterback, which probably means this movie has a little bit of charm, but this is looking about as formulaic as any sports movie, with lessons to be learned, plucky underdogs triumphing, etc. etc. Ice Cube has even started to have a nice career in these family-friendly films (and you may judge sellout status as you will), but this one's largely been buried. I look for about $6 million from this film's debut.

The Rocker debuted on Wednesday to hostile indifference, earning just $500,000. Starring Rainn Wilson, The Rocker tells of a 1980s rock drummer booted from his band just before they reached superstardom. Twenty years later, he's given a second shot at fame - via his nephew's high school band.

This is really an indie film getting a major release, and while Wilson is a tremendously funny guy, he's kind of the anti-leading man, and the box office bears that out. Despite opening on 2,600-plus screens, this is only looking to make about $3 million.

Tropic Thunder underwhelmed slightly on its opening weekend with a $25.8 million opening weekend for its war movie satire, especially taking into account the star power of the film, with Ben Stiller and two of the hottest stars of the summer, Jack Black and Robert Downey Jr. Perhaps it was the sapping Wednesday opening, perhaps it was over-saturation, or perhaps it was just that audiences really don't care that much for movies about Hollywood. The 50% drop has become more or less standard for weekend-winning films of late, and I don't see Tropic Thunder breaking this trend. It's a difficult comedy to get into, and it needed that initial bump to get going. I give it about $12 million for its second weekend.

Tropic Thunder still knocked off The Dark Knight from the top spot after four weeks, which is something special in itself. Now the second-highest grossing film of all time, The Dark Knight will get within spitting distance of the $500 million mark, which would make it the second member of this club. Titanic is basically out of reach at this point, but $525 million is pretty realistic for it as a total. Give it about $11 million to stay in third place overall.

Two other of last week's debuts, Star Wars: The Clone Wars and Mirrors, had box office in the low double digits at $14.6 and $11.1 million each. There's not a lot to say about these two results other than that they're typical late summer results, except for the fact that one of them has "Star Wars" in its title. Viewers simply were not buying the animated version of Star Wars, even though the concrete differences between this and the CGI of the recent trilogy is slight. Give Star Wars about $7 million and the horror film Mirrors about $6 million.