Daily Box Office Analysis for August 20, 2008
By David Mumpower
August 21, 2008
BoxOfficeProphets.com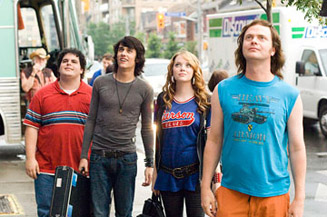 ---
There was a new opener in theaters yesterday. You may want to tell all your friends this news, because they clearly were not aware of it. The Rocker was pushed back a couple of weeks from its original July 30th release date in order to give it a better chance at success. So much for that. The Fox release debuted in tenth place with $577,343 and appears to have roughly the same demand as a new season of Farmer Wants a Wife.

The fallout from this is felt across the top ten. I'm going to skip to the end first for a change in order to make this point. Top ten box office had combined revenue of $11,880,614 yesterday on the heels of $13,814,339 on Tuesday and $13,690,081 on Monday. If you're scoring at home (you anal-retentive freak), that's a drop of 14% from Tuesday to Wednesday as well as a decline in actual dollars of almost $2 million. When new openers enter the mid-week marketplace, common sense dictates that the numbers go up instead of down. Simply recall last week's numbers to see how much of an impact a Wednesday opener should have. Last Tuesday's top ten revenue was $15,689,415 while Wednesday saw an increase of 21.3% to $19,026,341.

I realize that The Rocker is obviously no Tropic Thunder. Common sense dictates that the creepy guy on The Office is not going to be quite the same draw that Ben Stiller, Jack Black and Robert Downey Jr. are. Even so, this film's abject failure is having an impact on the overall box office landscape and will do so with today's market as well.

A by-product of The Rocker's shortcomings is that Tropic Thunder begins its second week in theaters the same way it did the first one. The hysterical satire finishes in first place with $2,905,228. This is a decline of 55.3% from last Wednesday's debut, but we won't worry about that just yet. As I discussed yesterday, I do believe the title is frontloaded, but comparing its second Wednesday to its first day in release is going to lead to artificial concerns about depreciation. A 55.3% Wednesday over Wednesday decline is night and day better than Pineapple Express' 80% drop from $12,085,679 to $2,382,163 on its first and second Wednesdays. It also smokes Sisterhood of the Traveling Pants 2's 73% drop on the same two days. As you can see, 55.3% sounds worse than it is.

The 10.8% Tuesday-to-Wednesday drop is the same deal. Yesterday was simply a terrible, terrible day at the box office. Mamma Mia! was the only top ten title to avoid a double digits decline at 5.9%. Tropic Thunder had the second best hold out of the group with its 10.8% fall. The next best depreciation was Step Brothers, which fell 15.6%. So, Tropic Thunder's number sounds terrible under ordinary circumstances, but it's what passes for a good decline for August 20, 2008.

With regards to the rest of the top ten, I'd point out something newsworthy if I could. The closest title to a milestone is Step Brothers, whose $609,289 places it a bit closer to $100 million. It currently stands at $92,718,220. The film right above it in the top ten, The Mummy: Tomb of the Dragon Emperor, is in the same boat. $807,120 yesterday gives it a running total of $88,969,805. I think both titles are going to eke over that mark, but neither one is a mortal lock. Other than them, the biggest upcoming milestone is The Rocker, which will probably need all of today's box office plus a bit of tomorrow's to...break a million.

As for The Dark Knight, the number two film of all time had a steep decline by its standards at 16.0%. Note that this was still the third best holdover in the top ten, but it failed to be impervious to whatever mystical force kept consumers out of movie theaters yesterday. Another $1,805,312 gives it a tidy running total of $477,148,000. It is currently 79.4% of the way to Titanic's record mark of $600,788,188.