Daily Box Office Analysis for August 19, 2008
By David Mumpower
August 20, 2008
BoxOfficeProphets.com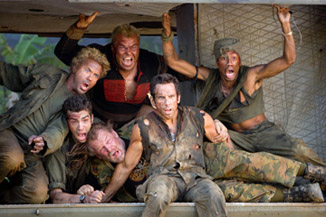 ---
For the seventh consecutive day, Tropic Thunder is the number one film at the box office. Another $3,257,597 on Tuesday represents a 9.3% decline from Monday's $3,590,742. This is not a large drop relative to most first Tuesday performances; however, there is a bit of cause for concern.

Yesterday was a sensational day at the box office overall. Only three films in the top ten had lesser box office on Tuesday than Monday. The other two titles in decline were Star Wars: The Clone Wars, down 2.1% to $1,338,022, and Mirrors, down 3.7% to $1,128,295. Clearly, all three major new releases this week performed in similar fashion. The only anomaly was Vicky Cristina Barcelona, which was up a spectacular 9.4% from Monday's $450,857 to Tuesday's $493,410. Yes, it's only $43 thousand but every little bit counts on small indie releases like this. For the major studio titles out last week, a Tuesday decline was a given. The problem with Tropic Thunder is that it had by far the steepest decline at 9.3% when nothing else fell more than 3.7%. There is the difference in scale between a $3.3 million performer and a pair of performers in the $1.1-$1.3 million range to consider, but Tropic Thunder is showing signs of deterioration.

Before you come in with both guns blazing on BOP Feedback, hear me out on this. Pineapple Express is a title I think you would agree is not showing the usual longevity for a title of its pedigree. Comedies run indefinitely, but its $1,579,790 Tuesday is only 13% of its opening day performance. It's also reflective of only 6.8% of the title's opening weekend. For comparison, Knocked Up's 14th day in theaters reflected 24.3% of its first day of revenue as well as 7.7% of its opening weekend. If you want to use Superbad as a comparison since it was later in the summer, that title's 14th day represented 14.1% of its first day and 5.5% of its opening weekend. So, Pineapple Express isn't doing as well as either one relative to first day revenue and the only reason it's beating Superbad on 14th day to opening weekend holdover is because its biggest day of box office isn't included in its first Friday-Sunday tally. Given that Superbad made roughly $42.6 million from its 15th day on and that Pineapple Express isn't holding up as well, it may not make $100 as it currently stands at $65,880,810. Don't get me wrong. It's still a massive hit. It just isn't the leggiest of films from Team Apatow.

Now let's bring Tropic Thunder back into the picture. Its $3,257,597 yesterday is 12.6% of its opening weekend. Pineapple Express made more money on its seventh day at $3,281,459. That number also represents a 14.1% holdover from its opening weekend. You may be saying, "Yes, but what about Pineapple Express' Wednesday opening?" That shouldn't matter here since Tropic Thunder is also a Wednesday opener. Pineapple Express did a lot better on its Wednesday, but their opening weekends are similar enough for the comparison to hold. I know that there is a lot of jargon and calculations being tossed around here, so I am striving to keep the main purpose of all of this in view. At this moment, I don't believe Tropic Thunder is going to have legs. It appears to be doing ever so slightly worse than Pineapple Express did under the same market conditions. That title had $48.4 million after seven days and looks to end up in the $85-90 million range. Tropic Thunder is at $43,963,927 after a week, putting it $4.5 million behind in the short term and probably about $12 million behind over the long haul. I think that Tropic Thunder's best case scenario at this point is about $80 million. The only thing that would change my mind and force significant re-evaluation would be a decline of less than 40% this weekend.

Since you people are still showing up in droves to read about The Dark Knight, here is today's update. Another $2,148,332 million on Tuesday is an increase of 1.7% from Monday's $2,112,203. Its running total of $475,342,688. That puts it 79.1% of the way to Titanic's record mark of $600,788,188. BOP's comic books expert, Pete Kilmer (who lies and claims he reads this column), was giving me a hard time yesterday over my indication that the run is over. I think he speaks for a small but vocal ground of obsessive fans of the series who believe that the movie is about to experience some sort of radical recovery wherein it experiences 0% declines from now until 2013.

Folks, I refuse to rule anything out on a movie that can earn $473 million in a month, but until some of this theoretical stuff starts happening, it's a non-story. At the moment, The Dark Knight is a movie that earned $16.4 million over the weekend and has had a pair of $2 million weekdays. It needs $126 million from here on out to break Titanic's mark. Would you expect a film that has earned less than $21 million in five days to earn another $105 million from here on out? Journey to the Center of the Earth earned $21 million in three days and we're absolutely amazed by the fact that it's making a run at $100 million (currently around $89 million as I type this). What Happens in Vegas is roughly the same situation, earning $20.2 million on opening weekend on the way to $80.2 million in domestic receipts. That's the type of range under discussion for The Dark Knight now and we are placing unrealistic expectations on it to hope for.

Similarly, the Academy Awards re-release strategy being bandied around doesn't make a lick of sense since the title will be available on DVD and Blu-Ray this December. In fact, as I have been telling my sitemates, the far more interesting question right now about the film is whether it can do for Blu-Ray's viability what The Matrix did for DVD. Transformers gave a brief but impressive amount of attention to the now defunct HD-DVD market upon its release. The new Batman film is roughly double that title in scale and thanks to IMAX technology, it may offer the first true justification for the state of the art technology of the 1080p movie projection the format affords. Forget about The Dark Knight beating Titanic now. Barring something unforeseen, it has made its run and gotten closer than anyone would have ever expected. It's now time to start looking ahead to the other ancillary markets wherein it can make further financial killings.

Box office for the top ten saw combined receipts of $13,814,339. This is up almost 1% from Monday's total of $13,690,081. Then again, that's less than The Dark Knight made on its own on any of its first ten days in theaters. The only thing worse than late August box office is...September box office.