Weekend Wrap-Up
Dark Knight Dethroned
By John Hamann
August 17, 2008
BoxOfficeProphets.com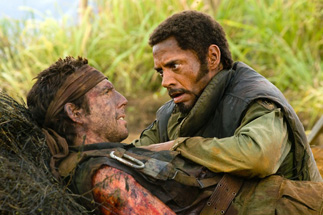 ---
It had to happen. After five weekends of record breaking ticket sales and complete dominance of the box office top 12, The Dark Knight was relegated to second this weekend, but still managed a fantastic hold, considering it had already earned $454 million heading into the weekend. This weekend's openers, Tropic Thunder, Star Wars: The Clone Wars, Mirrors and Vicky Cristina Barcelona, faced off against the caped crusader and the Olympics, as the Beijing spectacle is gobbling up prime time hours.

Our number one film of the weekend, new for the first time in more than a month, is Ben Stiller's Tropic Thunder, a comedy that deserved to be bigger than it is. The movie within a movie chose a Rush Hour-esque release date, and it didn't pay off, as its Wednesday opening found only $6.5 million, almost $6 million LESS than what The Pineapple Express opened to a week earlier. The Thursday gross was respectable compared to opening day, as Tropic Thunder found $4.5 million, a drop from Wednesday of only 30% - Pineapple dropped 50% after its first day.

Tropic Thunder should get a marketing grade of F for its Wednesday opening, as the Friday gross eclipsed it easily, earning $8.3 million. Usually with mid-week openers, films will find their top grosses for five days on the Wednesday and the Friday, with a dip in the middle. Take War of the Worlds with Tom Cruise, for example. That one opened on a Wednesday, earning $21.3 million. It dipped 31% on Thursday before earning $21.9 million on its first Friday. Another example is this summer's Hancock - it earned $17.4 million on Wednesday, and earned $18.5 million on its first Friday. Most likely due to the Olympics and the odd time shift we are in due to the Games being played in China, we haven't seen the usual trend for Wednesday openers in consecutive weekends. The Pineapple Express had a $7.9 million Friday compared to its $12 million Wednesday, and now we have the complete opposite with Tropic Thunder.

For the three-day weekend, Tropic Thunder had a take of $26 million, which is neither really good or really bad. It has earned $37 million since opening on Wednesday. Tropic Thunder debuted on 3,319 venues and had an average of $7,834. August was once notoriously tough to open a film. Prior to 2000, the highest opener in August was The Sixth Sense, which found $26.7 million over its opening frame in August, 1999. Then the Rush Hour, American Pie and Bourne franchises changed all that, proving that big films could open large in the month of August. Tropic Thunder sported a fantastic cast, which included Stiller, Robert Downey Jr., and Jack Black. Iron Man, Night at the Museum and Kung Fu Panda combined to gross $780 million domestically, so obviously these three could draw an audience. Reviews were good - 84% fresh at RottenTomatoes - and it had some protests which gave it some free advertising as well. its biggest problem is the bloated budget - some estimates have Thunder costing more than $100 million, but I'm more apt to believe that this one came in just below. It's going to be tough for this one to recoup that much domestically, and I'm not entirely sure how this one will play overseas. Comedies notoriously don't work in those venues, but the action angle and star power may propel it. I think word-of-mouth is going to be good, and we should see at least some decent holds in the weekends to come.

The Knight finally falls to second place, and despite the fact that it doesn't manage to hold the number one spot for a fifth straight weekend, Batman does punish George Lucas. In its fifth historic frame, The Dark Knight earned $16.8 million. It was off 36%, and has now seen drops of 53%, 43% and 39% leading up to this weekend. Let's get to the good news: The Dark Knight now has a cume of $471.5 million, which makes it the second biggest domestic grosser of all time, ahead of the first Star Wars, A New Hope. That one has earned $461 million since 1977, and was the biggest grosser for many years until Titanic came along. It sat in second for 11 years, seemingly untouchable until today. It now appears all but certain that The Dark Knight will earn $500 million plus. Where it finishes after that is somewhat unclear, as I wouldn't be surprised to see this one get a re-release for the Oscars, if they don't try to get in onto DVD in time for Christmas.

Third this weekend is George Lucas hitting the cash machine, as he pimps out history's greatest franchise once again. Star Wars: The Clone Wars opened to $15.5 million (on the backs of children), despite looking awful and being abused by critics. Lucas went on the cheap with this one, casting only a few of the actors from the latest series, and using borrowed animation from the upcoming animated Star Wars TV series. After being a fan of Lucas for many years, this one has now pushed me to the dark side towards the bearded one (Sith Lord Lucas?), as I have nothing but glee that Clone Wars earned a disgusting 19% fresh rating at RottenTomatoes. The only thing this one has going for it is that it didn't star Hayden Christensen. May its death be slow and painful.

New release Mirrors is our number four finisher, despite looking like a film that should have opened in the dumping grounds of September. Mirrors, which stars Kiefer Sutherland, opened to an okay $11.1 million from a "the-writing-is-on-the-wall" venue count of 2,664 theatres. IMDb reports a production budget of $35 million, an amount this one won't come close to domestically. The good news for Mirrors is that its not the worst reviewed film of the weekend, despite finishing at 29% - thanks be to George Lucas.

Finishing fifth is last frame's number two flick, The Pineapple Express. The stoners forgot to spread word-of-mouth heading into the weekend, and the Pineapple got crushed, earning only $10 million. It was off a surprisingly large 57%, and I'm amazed that it earned less in its second weekend than it did opening day ($12.1 million). Tropic Thunder stole the comedy audience, and Star Wars: The Clone Wars stole the idiot audience, and I would say that The Pineapple Express got caught in the middle. Judd Apatow comedies aren't used to these big drops, and this may hurt Seth Rogen's shot at being the new Mr. Everything. The good news for Apatow Productions and Columbia is that this one was made on the cheap, costing only $25 million to make, a figure it had matched after five days of release. The domestic total for The Pineapple Express has now reached $62.9 million, and it should finish with as much as $90 million.

The ickiness continues in sixth, as that spot is reserved for The Mummy: Tomb of the Dragon Emperor. After dropping 59% last weekend, from its $40.5 million opening to a $16.5 million sophomore session, The Mummy plunged again, earning a slim $8.6 million and dropping 48%. With its $145 million budget, and $86.6 million gross so far, some might think Universal is in for some financial trouble with this one, but Tomb has already grossed more than $165 million overseas, so it could still hit $300 million worldwide.

Seventh goes to Mamma Mia!, which has another great weekend, its fifth. Mamma Mia! earned $6.5 million this weekend, and drops a mere 21%. The Meryl Streep musical has had weekend drops of 36%, 29%, and 35%, on its way to its $125 million plus finish. Currently, this one has earned $116.4 million against a $50 million production budget. Did I mention it's almost doubled that gross overseas? It has, and has now passed $300 million in worldwide sales.

Finishing eighth is The Sisterhood of the Traveling Pants 2, a movie about a group of nuns who track a traveling pair of pants to exotic world locations. Okay, that might not be it, but I can tell you that Pants 2 earned $5.9 million and drops a rough 44% in its second weekend. Pants 2, with its $25 million production budget, has now earned $32.1 million.

Ninth is the other Apatow in the top ten, Step Brothers. The Sony comedy earned $5 million this weekend, bringing the total for this one up to $90.9 million.

Woody Allen actually makes a top 12 appearance for the first time since Anything Else opened in September 2003 in 12th with a gross of $1.7 million. His last top ten finish was with Small Time Crooks in May of 2000. Vicky Cristina Barcelona brings him back this weekend, as the Scarlett Johansson/Penelope Cruz drama earned $3.7 million from 692 venues (per venue average: $5,361). Simply put, women kissing equals box office.

Overall, the box office is on a similar pace with last year's totals. This weekend, the top 12 films at the box office combined to earn an estimated $114.5 million, almost exactly equal to the $114 million that Superbad and friends earned last year. Next weekend opens dumping season at the box office, as we get The Rocker, The House Bunny, Death Race, and The Longshots. Huzzah.