Friday Box Office Analysis
By Tim Briody
August 16, 2008
BoxOfficeProphets.com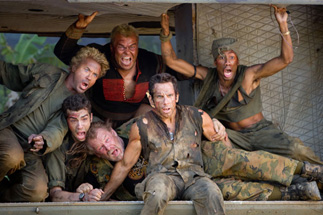 ---
[tm:4462_]Tropic Thunder[/tm]

After a somewhat disappointing Wednesday opening, Tropic Thunder bounces back a bit on Friday with $8.3 million. This beats Wednesday handily, which is something last week's Wednesday opener, Pineapple Express, didn't do. That also potentially bodes well for the remainder of the weekend, which had people second-guessing themselves after the Wednesday tally of $6.5 million rolled in. I expect a very strong Saturday which would give it a three-day weekend of $24 million. With $11 million earned Wednesday and Thursday, that's a respectable $35 million over five days.

[tm:4461_]Star Wars: The Clone Wars[/tm]

The animated bastard child of the Star Wars franchise, The Clone Wars only drew the die-hards Friday, bringing in $6.2 million. I fully expect this to be on the front-loaded side, but it could be salvaged by the fact that it's animated and therefore the most family-friendly option of the films in the top ten. I'm going to split the difference here and call it a weekend of $16.7 million.

[tm:3833_]Mirrors[/tm]

Mirrors earned $4.2 million on Friday and places in the middle of the pack. This isn't a bad figure at all, it's probably aided by those who have not had their horror fix in several weeks. $11 million for the weekend seems about right for the Kiefer Sutherland vehicle.

Vicky Christina Barcelona

Sneaking into the top ten with $1.1 million on just 693 theaters is [bp:1342_]Woody Allen[/bp]'s latest, Vicky Christina Barcelona. We all know why this did what it did, so I'll just say that this is Woody Allen's first appearance in the top ten since Hollywood Ending's opening day in May of 2002. It finished 11th for the weekend, and his last top ten weekend was Small Time Crooks in May of 2000. Vicky Christina Barcelona looks to end that drought with $3.2 million.

Notable Holdovers

After five weeks, we have finally relegated [tm:3640_]The Dark Knight[/tm] to the Notable Holdovers section. Its march to history still continues, as it's down just 34% from last Friday and as you read this has overtaken Star Wars as the #2 grossing film of all time. Look for a weekend of $17.2, still good for second place.

Pineapple Express drops 60% from last Friday to $3.2 million. This was seen as pretty likely after its Wednesday take was the largest day of its five-day opening. The weekend should come in around $9.5 million.