Weekend Forecast for August 15-17, 2008
By Reagen Sulewski
August 15, 2008
BoxOfficeProphets.com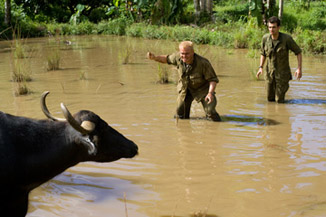 ---
After getting off to a lackluster midweek start, the weekend is set to begin properly, with three more new films in wide release, and another handful in a limited fashion. And while The Dark Knight is still set to fall, the chances of it holding onto the top spot for an amazing fifth weekend in a row are stronger than they were just two days ago.

Tropic Thunder's Wednesday was an underwhelming $6.5 million, not much more than half of last weekend's Pineapple Express's opening day, and just a little more than Sisterhood of the Traveling Pants 2's opening. I'm sure that last statement gave some DreamWorks executives chills.

All isn't lost, but things are looking considerably more grim for the Hollywood/war movie satire. The hope is that with this top-notch cast, things will pick up on the weekend with the idea that it couldn't possibly be this much of a bomb given how much star power there is here. In the best-case scenario, opening on Wednesday was just a poorly planned, poorly advertised idea (Pineapple Express was much more vocal about its unusual opening). I'm revising strongly downwards to about a $26 million opening weekend to add to its $10 million pre weekend.

That would be enough to beat The Dark Knight, but the weekend has a backup plan, that of a new Star Wars film. All other things being equal, this news would be enough to sends geeks all aflutter. However, the mere fact that this is a Star Wars film opening in August is revealing. Star Wars: The Clone Wars is an animated film that covers the period between Episodes II and III, with open warfare going on between the Galactic Republic and a group of independent planets. After Jabba the Hutt's son is kidnapped (with a forklift?) Obi-Wan Kenobi, Anakin Skywalker and Anakin's new apprentice are sent on a rescue mission to prevent the conflict from growing wider.

Supposedly this film will fill in holes from the main films, but it's really planned as a lead-in towards a TV series. Also, at this point, anti-climactic can really be the only way to describe it, since the full story of Anakin/Darth has been told. Still, you would think that any Star Wars product would still capture imaginations. That is, unless you haven't actually seen a frame of this. Although the animation is somewhat eye-popping, it just looks wrong for the series. Then there's the acting and writing, which looks horrid, proving that someone other than George Lucas can screw up dialogue in a Star Wars movie.

It's like everything that was wrong about the prequels has been concentrated into one movie, although that won't scare away every Star Wars fan. With a heavy hype machine in full effect, look for a $21 million opening weekend for Clone Wars, with a strong focus on youngsters in the audience.

With the August slate, horror films start to appear a little more on the release schedule, like this week's Mirrors. Starring Kiefer Sutherland, and Amy Smart, the film focuses on an evil spirit that exists in reflections that tries to take over a family. Surprisingly this is not a remake of a Japanese horror film, though it has that feel. Written and directed by Alexander Aja, of High Tension and The Hills Have Eyes fame, it's sure to be a little ridiculous but extremely stylish.

There are some undeniably creepy shots in the commercials, but this feels very much like an also ran in the box office sweepstakes. Promotion for it has been pretty limited, and it's on just 2,600 screens, meaning Fox isn't throwing much hope behind it. I expect a modest $9 million weekend for it.

Just on the edge of wide release is Vicky Cristina Barcelona, Woody Allen's latest film. Starring Javier Bardem, Scarlett Johansson and Penelope Cruz, it's about two friends who travel to Spain and become obsessed with the same painter, whose ex-wife is about to re-enter his life. The film is heavy on the romance, with a trailer that consists of nothing but different couples in the film kissing, including the most hyped pairing of the film, Johansson and Cruz.

Allen has had another of his career resurgences with the discovery of his new muse Johansson, who has been in three of his last four films. Commercial success has still been a little bit elusive, with about $10 million total being the standard for him lately. Opening on 692 screens and with a fair amount of notice because of the same-sex kiss, Vicky Cristina Barcelona could make a small impact with around $5 million.

Against most odds, The Dark Knight has taken top spot at the box office for four straight weekends, the first film in over four years to do so. A fifth isn't impossible if both Tropic Thunder and Clone Wars fail, and the streak has to end sometime. Right? Right?

By Saturday at the absolute latest, The Dark Knight should be the second highest grossing film of all time, surpassing the original Star Wars. Titanic's all-time record is out of reach at this point, but becoming the second film to break the $500 million barrier is still a very strong possibility. Watch for a weekend of about $14 million this time around.

Pineapple Express wasn't quite up to the task of taking down Batman � it was going to take first place in the box office, but then it got high. Still, $23 million for a stoner caper film is a pretty good result, especially with a lot of its audience taking it in on Wednesday. There was a lot of front-loading going on, and I expect that to continue, with about a $12 million take for this weekend.

Rounding out significant films in the box office are The Mummy 3, which took a huge tumble from its $40 million opening weekend and should see around $8 million in its third frame, and The Sisterhood of the Traveling Pants 2, which built a little on the first film in the series but should fall to around $6 million this weekend.