Daily Box Office Analysis for August 12, 2008
By David Mumpower
August 13, 2008
BoxOfficeProphets.com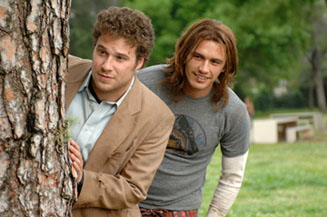 ---
The Dark Knight finished in first place for the 21st and possibly final time yesterday, earning $3,515,389. With Tropic Thunder entering the marketplace tomorrow, its most recent stay at the top is presumably short lived, but the fact that the movie has been the number one film on 21 out of 26 days in theaters speaks volumes about its dominance. A running total of $448,886,084 puts the movie on schedule to surpass Star Wars by Saturday to become the second biggest domestic performer of all time.

The above news means that Pineapple Express fell out of the top spot. As I said yesterday, any behavior it demonstrated yesterday would not have surprised me, and I indicated it may well have the biggest drop within the top ten. As fate would have it, this is exactly what happened. The 4:20 celebration fell 14.7% to $3,281,459, giving it a grand total of $48,449,167 after a week in theaters. The drop is troubling given that The Dark Knight's 6.1% decline from Monday-to-Tuesday was the next steepest decline in the top ten. But let's focus on the positive instead.

The last (and first) two hits Seth Rogen had were Knocked Up and Superbad. Yes, I realize he was in The 40-Year-Old-Virgin, but he certainly wasn't the draw there. Knocked Up, an eventual $148.8 million performer, was at $46,223,940 after seven days in theaters. Meanwhile, Superbad was at $50,572,274 in that same time frame on its way to $121.5 million domestically. No, I am not guaranteeing that Pineapple Express will outperform either of Rogen's other titles long term, but it has done better than Knocked Up in its first week. It's also only $2 million behind Superbad. Even with the slippage, the title appears certain to wind up north of $80 million, an impressive feat for a $27 million production, and $100 million is currently within the realm of possibility. Whether the modern day Cheech and Chong get there depends upon whether yesterday's slippage was another odd hiccup in its erratic box office pattern or an indication that the short attention span of its target audience is a factor.

With regards to the rest of the top ten, The Sisterhood of the Traveling Pants 2 fell 6.0% to $1,782,417. The running total of $23,297,910 means the title should be around $32 million by the start of next week. It should do in about 17 days what its predecessor managed in its entire domestic run, $39.1 million. I'm not ready to say it does a lot beyond that, however.

The other relatively new title still in the top ten is The Mummy: Tomb of the Dragon Emperor. The third place entrant yesterday, it fell only 1.8% from Monday to $1,947,500. This is 48.2% from last Tuesday to this one, however, the worst among returning top ten performers. With a running total of just under $75 million, Brendan Fraser's return to his best known role has been a worst case scenario performer domestically. As I had mentioned last week, however, international receipts were always the appeal of this title. And given the fact that it's already made $140 million abroad, it's hard to call this one a loser. $215 million worldwide after 12 days against a production budget of $175 million sounds nice in theory. It's just that overseas receipts are less profitable due to various accounting issues. The third Mummy needs to wind up around $350 million for me to move it over to the winner's column. I think it may yet get there, but almost all of that remaining money will not come from North America.

With regards to the rest of the top ten, there isn't a whole lot going on. Step Brothers had the second biggest week over week drop from last Tuesday at 44.3%. Another $1,371,580 puts it at $83,944,269, though. It should be at $90 million after Sunday, putting it in position to slowly creep toward the $100 million milestone. I ran the calculations earlier today, and I think it's just going to get there but it's not a mortal lock by any stretch.

Similarly walking that fine line is Journey to the Center of the Earth, a film whose post-opening weekend success is truly remarkable in this day and age. $788,482 yesterday is an increase of 5.7% from Monday, second best among the top ten. It is also the best week over week holdover of any top ten title. With a running tally of $83,310,107, it has earned almost as much as Step Brothers despite the fact that the latter film opened roughly $10 million higher on opening weekend. We discussed final multipliers last week with an explanation that they are a film's final box office tally divided by its opening weekend performance. In this day and age, films aspire to have 3.5 final multipliers. That's a sign of good legs. Journey to the Center of the Earth passes 4.0 tomorrow and still has a lot of life in it. Is it possible that word-of-mouth is carrying this thing? Probably not. Instead, it's a strong indication that the novelty of Real D's 3-D technology is appealing to a lot of people willing to sit through a mediocre movie to experience it. That's a good sign for the dozen or so upcoming releases that will also utilize this style of filmmaking.

The other storyline in play is that WALL•E earned $564,512 yesterday. That's a 0.6% increase from Monday and a decline of only 28.3% from last Tuesday's $786,793, second best among the top ten. What's most important, however, is that a similar performance today will put it around $211.8 million. That will be good enough to surpass Kung Fu Panda, currently at $211.5 million, to become the most successful animated film of the year. Simultaneously, it will supplant the Panda in the top five for the year in terms of domestic box office. Next up would be Hancock, which is currently sitting at $222,625,918, but given that there is only about $90,000 difference between them right now, Pixar won't be winning that battle.

Box office receipts for the top ten combined for $15,689,415, down 4.7% from Monday's $16,460,262. Tomorrow, we will see a spike with the introduction of Tropic Thunder into the marketplace. We will, however, still be down from last week since there were two solid Wednesday openers then. Now, let us all celebrate the glory that is: "What do you mean by 'you people'?"