Daily Box Office Analysis for August 11, 2008
By David Mumpower
August 12, 2008
BoxOfficeProphets.com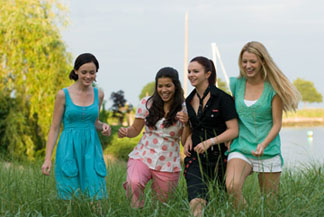 ---
Anyone who knows one will verify that there is nobody more erratic than a stoner. As such, Pineapple Express' box office performance to date has been rather fitting. After debuting in first place last Wednesday with a record-shattering $12,085,679, the film then offered some of the strangest box office behavior in recent memory. Clearly frontloaded, the title fell 50.5% on Thursday to $5,988,032, which is not unheard of. What was odd is that the Seth Rogen/James Franco comedy then demonstrated additional frontloading on Friday. Then, it completely counteracted that by Sunday. All of that is…rare.

Friday's revenue of $7,913,360 represented 34% of its weekend total. I know what you are thinking right now. No, that number does not reflect frontloading on its own. What happened with Pineapple Express is that after Friday's performance, it fell 3.1% on Saturday to $7,670,967. So, the 4:20 comedy should have been in trouble. At least that is what box office analysts thought prior to Sunday actuals wherein we realized the film had fallen only $10,000 from Saturday to $7,660,698. A 0.1% decline on Sunday is all sorts of spectacular. For comparison, nothing else in the top ten fell less than 14.3%. In fact, the first Sunday performance of The Dark Knight that was so impressive was an 8.5% decline. Reviewing, Pineapple Express opened to a shocking amount then appeared frontloaded on Thursday, recovered a bit on Friday, again appeared frontloaded on Saturday and finally demonstrated signs of massive legs on Sunday. What a mess.

Coming into yesterday, the honest evaluation is that anyone who told you they knew what Pineapple Express was going to do during the rest of its run was lying. It has been a complete wild card to date. That trend continued on Monday as the film once again overtook The Dark Knight for first place with $3,848,972 as opposed to Batman's $3,742,198. The cannabis experience has now beaten the comic book action flick on four out of the last six days. Since Pineapple Express entered theaters, it has a grand total of $45,167,708. In that same time frame, the number one film of the year has earned $39,670,961. Pineapple Express may not have been the best performer of the weekend but it will wind up being the best performer of its first week. Given the competition, that's a striking accomplishment.

With regards to the legs of Pineapple Express, we only know a bit more today than we did yesterday. Monday's total of $3,848,972 is a 49.8% drop from Sunday's $7,660,698. Those of you who have been reading the column all summer know by now that anything under 55% for a Sunday/Monday decline is solid. Under 50% like Pineapple Express has done is pretty damned good. Even more impressively, the film is only off the same 49.8% from Saturday's number, which is a strong indication that word of mouth is boosting the film's box office. At least I think it is. There is every chance in the world that given how inscrutable this title has been thus far, it may very well experience the stiffest drop in the top ten the next couple of days. Nothing can be ruled out with this one.

As The Dark Knight inches toward becoming the second biggest movie of all-time as well as the second film to $500 million domestically, I am running out of things to say about it. As Tim Briody eloquently opined in Monday Morning Quarterback, it's a good thing I wasn't writing this column when Titanic was dominating all comers. I might have wound up in a clock tower, adjusting for wind resistance. That leaves us with only one other topic for this week, The Sisterhood of the Traveling Pants 2, a film whose porn take-offs should be much more exciting for members of my sex. After all, we completely ignored the film in theaters as 90% of all people in attendance were female. If they had wanted to make a lot more money, the producers of this one should have gone the Vicky Cristina Barcelona route if you know what I mean and I think you do. But I digress.

Finishing in fourth place yesterday with $1,895,365, the second Sisterhood has a running total of $21,515,493 after six days. There is good news and there is bad news in this. The good news is that it has already earned over half of the original film's $39,053,061 after less than a week in release. The even better news is that the film fell only 36.8% from Sunday's $3,001,124. These are signs of solid legs as discussed above. The bad news is that I am left with the pesky feeling that a lot of money was left on the table here. With recognizable faces such as Blake Lively and America Ferrera, this title should have been much more of a success. As things stand, it is probably going to creep past the original's take, but it doesn't appear likely to earn a lot more. That's disappointing from my perspective.

Given the title's $26.5 million budget, it will be a money maker for Warner Bros., but it won't be anything more than that. Had there been more of an attempt to either capitalize on the nascent popularity of Lively thanks to Gossip Girl or any attempt whatsoever to lure men into theaters (just call it Ladies Night, for God's sake…that alone would bring in a fair amount of dudes), this could have been bigger. The current total of $21,515,493 indicates that 26.6% of the movie's revenue to date came on its first day. For comparison, Pineapple Express is at 26.8% despite dealing in numbers almost twice as big. That's not a good sign. The good news is that it is down only 49.5% from Saturday's $3,751,045, but even with good legs, we are still only talking about a $50 million performer. And less than that wouldn't surprise me. Movies have a hard time making money if no dudes show up. What Sisterhood of the Traveling Pants 2 demonstrates quite well is just how novel Sex and the City's box office was.

Combined box office for the top ten was a respectable $16,460,262. This is down 15.9% from last Monday's $19,568,620. As summer winds down, we are going to see lower and lower numbers. I've been meaning to compile a demonstration of this. I'll try do that later on this week or next week. Until then, enjoy the Olympics, everybody.