Weekend Wrap-Up
Dark Knight Rules Over Fourth Consecutive Weekend
By John Hamann
August 10, 2008
BoxOfficeProphets.com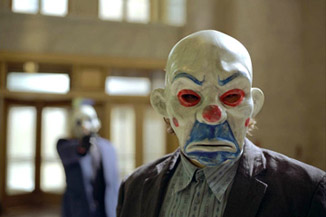 ---
While its totals may not be close to the $158 million The Dark Knight opened to four weekends ago, the Caped Crusader still remains the king of box office Gotham. Despite slipping to third when newcomers The Pineapple Express and Sisterhood of the Travelling Pants 2 opened on Wednesday, Chris Nolan's masterpiece stormed back, taking the crown for the fourth consecutive weekend, something that is extremely rare at today's box office. In other news, great legs are still on display for Mamma Mia!, and the third incarnation of the Mummy franchise did a faceplant in its second weekend. Who said August is boring at the box office?

Four weekends at the top of the box office is a very rare occurrence these days. The last time a movie ruled the chart for four consecutive frames was in 2003/2004, when The Lord of the Rings: The Return of the King earned $14.2 million in its fourth frame to stay on top. It beat out Time Burton's Big Fish by mere thousands to retain the crown, after memorable openers like My Baby's Daddy and Chasing Liberty failed to shine. The Christmas season is somewhat easier than summer to have a film stay on top for multiple weekends, as tentpole films tend to rule the Christmas season and then have little competition in the early weekends of January. In summer, especially today's summer, blockbuster after blockbuster is released, giving little time for staying power. For example, the first Spider-Man was only on top for two consecutive weekends, but still has the second biggest fourth weekend ever at $28.5 million (behind Titanic's $28.7 million). The Sixth Sense managed five consecutive weekends at number one in August and September of 1999, as that one earned $20 million in its fourth frame while the summer dwindled. As I said above, today's box office and movie release schedule doesn't often allow for consecutive weekends on top, which again shows the power of The Dark Knight. With Tropic Thunder and Star Wars: The Clone Wars opening next weekend, it will most likely not see a fifth consecutive weekend at the head of the pack.

The Dark Knight is our number one film again, as the caped crusader continues to show decent legs and its amazing run continues. The Dark Knight earned $26 million and was off 39% from its previous frame, when it earned $42.7 million and was off 43%. The Warner Bros. monster just missed the record for the biggest fourth weekend, as it finishes third behind Titanic's $28.7 million and Spider-Man's $28.5 million (Black Hawk Down made $28.6 million in its fourth weekend, but that was its first weekend in wide release). The Dark Knight crossed the $400 million mark last Monday, its 18th day, getting there 25 days faster than former record holder Shrek 2, which did it in 43 days. The Dark Knight has also earned over $200 million overseas (despite being out to only a handful of markets) as it drives its worldwide total towards $1 billion, something that only three other films have been able to do, Titanic ($1.84 billion worldwide), The Lord of the Rings: The Return of the King ($1.12 billion), and Pirates of the Caribbean: Dead Man's Chest ($1.07 billion). So where is The Dark Knight going to finish domestically? My current estimate has it finishing with just over $500 million on the domestic front, which will make it the second film ever to earn $500 million behind only Titanic, which finished with $600.8 million. It currently sits in third place all time, behind Titanic and Star Wars: A New Hope, which earned $461 million over several releases.

Our number two movie is the stoner action flick, The Pineapple Express, from the current king of comedy, producer Judd Apatow. The Pineapple Express, which stars Seth Rogen and James Franco, opened powerfully on Wednesday with $12.1 million. It was at that point we thought The Dark Knight's days on top of the weekend chart were over. However, on Thursday, the comedy fell 50% to $6 million, and on Friday couldn't get it back up (blame the pot), as it earned $7.8 million. Its weekend estimate (Friday-to-Sunday) came in at $22.4 million, giving it a five-day cume of $40.5 million. Despite not finishing in top spot, the five-day opening is a big win for Apatow and distributor Sony, as the production cost for Pineapple came in at only $25 million (source: IMDb), and whenever a film can outgross its production budget over opening weekend, it's a BIG WIN for the studio.

The Pineapple Express is somewhat different than the usual for producer Apatow, as this is his first semi-action flick, and his first Wednesday opening, but it does continue a long line of successes for the current King of Comedy. While the three-day total resembles The 40 Year-Old Virgin's $21.4 million opening, the five-day number is similar to where Knocked Up and Superbad were after their first five days. Knocked Up opened to $30.7 million over a normal weekend in June last year, and had earned $39.2 million after five days. Superbad, also a mid-August release, opened to $33 million and had accumulated $43.3 million after five days. Simply put, this is not a good or bad score for The Pineapple Express - it's right in the usual wheelhouse for this comedy team.

Reviews for Pineapple were much like the opening weekend take, neither really good or really bad. Of the 137 reviewers that took this one in, 69% gave it a positive score, and I think it would have been higher if marijuana was more accepted in the US. Community members of RottenTomatoes have it at 84% fresh, which means that legs may follow this one. The biggest lesson learned from The Pineapple Express is that the stoner comedy seems to be one of the most front-loaded genres at the movies today. Harold and Kumar never beat their opening day grosses (in both instances), and both films left theatres quickly. We'll have to wait and see if the same thing happens to The Pineapple Express.

Finishing third is The Mummy: Tomb of the Dragon Emperor, after finishing within $2.2 million and almost dethroning The Dark Knight last weekend. The difference this weekend is almost $10 million, as Tomb of the Dragon Emperor earned $16.1 million and fell a hurtful 60%. It will be a close race now to $100 million for this incarnation of The Mummy, as it currently sits with $70.7 million, but has already grossed more than that overseas, so this one won't hurt Universal too much, despite the bloated $145 million budget.

Fourth spot goes to The Sisterhood of the Traveling Pants 2, a new favorite of mine in the unnecessary sequel department, and the "I just don't get it" department (the pants travel?). Whatever the case, much like The Pineapple Express, Pants 2 enjoyed its biggest success prior to the meat of the weekend. It earned $5.7 million on Wednesday, as teen girls made the opening day the biggest of its run. It sunk to $3.2 million on Thursday, and only bounced back to $3.9 million on Friday. It ended the weekend with a Friday-to-Sunday take of $10.8 million and a five-day total of $19.7 million. The first Traveling Pants movie earned $9.8 million over its opening weekend, so this has to be considered a success for the folks at Warner Bros. The original finished its run just below $40 million (that screams for a sequel, eh?), and this one should have no problem outgrossing the original.

Step Brothers finishes fifth, as the Will Ferrell, John C Reilly flick faces some stiff competition from The Pineapple Express (both of which were produced by Judd Apatow). This comedy earned $8.9 million and was off 46% from the previous frame. It has a total so far of $80.9 million, and it should reach the $100 million mark before leaving theatres.

Sixth spot goes to Mamma Mia!, as it enjoys another solid frame in its fourth weekend of release. The Meryl Streep musical earned $8.1 million this weekend, and was off 36%. Add that to previous drops of 36% and 29%, Universal has a nice little hit on its hands. Mamma Mia! Crossed the $100 million mark on Saturday, its 23rd day of release, and now has a total of $104 million. This is Meryl Streep's third $100 million movie. It follows The Devil Wears Prada ($124 million), Lemony Snicket ($118 million) and Kramer vs. Kramer ($106 million in 1979 dollars).

Seventh goes to the extremely leggy Journey to the Center of the Earth, Brendan Fraser's second film in the top ten. Journey earned $4.9 million this weekend, and was off a tiny 27% compared to the previous frame. Journey has now amassed $81.8 million.

The bottom rungs of the top ten include Hancock in eighth, as it earned $3.3 million and now has $221.7 million as a domestic total; Swing Vote in ninth with a gross of $3.1 million and a pathetic total of $12 million so far; and WALL-E in ninth with a weekend gross of $3 million and a cumulative total of $210.1 million.

Overall, the box office has cooled off from its blistering pace set throughout July. The top 12 this weekend brought in a not bad, but not great total of $109.5 million. Last year, with Rush Hour 3 on top, the top 12 brought in $139.9 million. In 2006, however, the top 12 earned $109.4 million with Talladega Nights on top for the second consecutive weekend.