Weekend Forecast for August 8-10, 2008
By David Mumpower
August 6, 2008
BoxOfficeProphets.com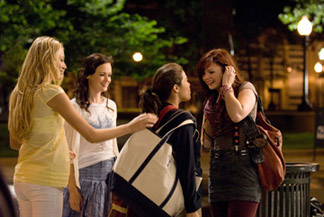 ---
This weekend marks the beginning of the period every couple of years that theater owners fear. That's what the mainstream media would have you believe of the start of The Olympics. Alas, neither of the two major openers this week is going to be impacted by this, no matter what Sony and/or Warner Bros. may be saying on Sunday if they need an excuse.

Now that the Winter Olympics and the Summer Olympics are no longer held during the same year, this is an issue that comes up in all even-numbered years. The last time the Summer Olympics were poised to impact box office was August of 2004. In that time frame, the weekends of August 13th-15th, August 20th-22nd and August 27th-29th. What happened was simple. We had a pair of $18 million openers in Jet Li's Hero and The Exorcist: The Beginning, a $38 million opener in AVP: Alien Vs. Predator and a $37 million five-day performer in The Princess Diaries 2: Royal Engagement. What do these four titles have in common? They all skew young. And there is a reason for that. Over the past couple of decades, the Olympics have evolved from being must-watch programming for all involved into being a popular distraction for the 25+ crowd. In short, titles that appeal to the younger demographic are not particularly impacted by the Olympics.

If there is any debate on the point, the Winter Olympics of 2006 should settle the matter. February is well established as a mediocre period for box office results. Somehow, the three weekends during the Olympics that February managed to have seven (!) titles open to $13.6 million or higher. Five of those opened to at least $19 million, with Tyler Perry's Madea's Family Reunion managing one of the ten best February openings ever to that date (it's currently still 13th best).

The weekend of February 17th-19th in particular is indicative of strong overall box office. Two films, Eight Below and Date Movie, opened to $20 and $19 million, respectively. Meanwhile, all four of the previous weekend's releases - The Pink Panther, Final Destination 3, Curious George and Firewall - all fell less than 50% with Curious George and The Pink Panther both under 20% declines. Yes, these totals were all a bit holiday-inflated due to the fact that the following Monday was President's day.

Even so, there were five films that earned at least $10 million that weekend and eight films that earned at least $5 million. As a point of reference, this past weekend saw only four releases - The Dark Knight (natch), The Mummy: Tomb of the Emperor, Step Brothers and Mamma Mia! - earn at least $10 million. There were only seven films that earned at least $5 million. And the #10 film from 2006, Nanny McPhee, earned $3,761,885 while this past weekend's #10, Space Chimps, brought in over a million less at $2,720,177. Sure, the overall top ten for this past weekend brought in $140,934,095 while that February weekend in 2006 managed only $105,938,077. If we isolate the titles in release to get rid of the skew created by The Dark Knight and The Mummy, however, films 3-10 in 2008 managed $57,812,106 while films 3-10 in 2006 accrued $66,673,640.


Clearly, the 2006 Winter Olympics did not disrupt the box office much if at all and the 2004 Summer Olympics didn't seem to do so, either. Keeping this in mind, the real subject matter here is not what else is happening in the world, but what is going on at theaters. The answer is that two new releases are entering the marketplace and each of them appears to poised to reach one of those demographics who believes The Olympics are no X-Games.

The slightly higher profile release is Pineapple Express, the stoner celebration that reunites Freaks and Geeks co-stars James Franco and Seth Rogen. Franco, who played a brooding heartthrob on mega-successful producer Judd Apatow's first show, has been famous since 2002 for his work as Harry Osborn in the Spider-Man franchise. The least successful of these three films is the (no longer) final entry, Spider-Man 3, which earned $336.5 million domestically, meaning Franco has been one of the three leads in three of the top 16 releases of all-time. He's a star.

Seth Rogen, the Canadian doughboy who was only 17 during the Freaks and Geeks run, has taken a more circuitous route to celebrity status. Not born with the same Hollywood looks of his buddy, Franco, Rogen relied upon his brain and sense of humor to make him famous. After a couple of minor roles including a part on Dawson's Creek (no, really), Rogen was hired to be on the writing staff of Undeclared. He also became a co-star on the short-lived program, proving his stripes enough to earn further work as a comedy writer for Da Ali G Show, the show that would birth the now-infamous character of Borat.

After co-producing and co-starring in the surprise hit, The 40 Year-Old Virgin, Rogen was bumped up to star status for the first time with Knocked Up, a film whose blockbuster success we chronicled last year. Opening to a surprising $30.7 million, the Judd Apatow release stunned the industry by demostrating old school Hollywood legs on its way to $148.7 million domestically. Not stopping there, Rogen's dream project since his formative years, Superbad, was released two months later. Celebrating the beauty of penile art, the sophomoric comedy provided just the right note of slapstick schtick to engage teen audiences. Made on a budget of only $17.5 million, the title earned a magnificent $121.5 million domestically, making it one of the most productive earners of 2007. Seth Rogen, a goofy looking guy (to be polite) with a sense of humor that would make Red Foxx blush, had made a pair of movies that combined for $270 million worth of revenue.

While Franco had a brief cameo in Knocked Up as a man who watches Katherine Heigl vomit (ordinarily, it's the other way around as men vomit when watching Katherine Heigl), this is the first time he and Rogen have paired up on screen since Freaks and Geeks. What's shocking here is that Franco has never had a $10+ million opener on his own that didn't involve Spider-Man. His biggest starring role to date in terms of opening weekend is Annapolis, which earned $7,681,171. Most of his titles fall in the $20 million or less category, indicating that as odd and counter-intuitive as it may seem, Rogen is the draw here.

Their reunion is a film that celebrates Reefer Madness in a way that must make the also reunited duo of Cheech and Chong (come on, I had to mention them) proud. I strongly suspect that the same people who made Superbad such a sleeper sensation are going to line up en masse for this release. I expect the title to make around $40.4 million between now and Sunday while also becoming the unlikeliest of titles to usurp The Dark Knight's throne.

The other major opener is The Sisterhood of the Traveling Pants 2: The Pants Strike Back (or something like that). Upon release in June of 2005, the first title was an unheralded title that earned $13,575,149 over its first five days on the way to domestic revenue of just over $39 million. For a title with a $25 million production budget, it performed well enough and the title's ancillary revenue, particularly DVD sales, was solid. The reason for the greenlighting of the sequel, however, involves the reconfiguration of the celebrity status of each co-star.

At the time, Ambler Tamblyn had finished up her run as the star of Joan of Arcadia on CBS, giving her the most recognizable face of the group. A close second was Alexis Bledel, well known for her role as Rory Gilmore on my beloved Gilmore Girls as well being a treacherous hooker in the then-recently released hit, Sin City. Since then, Tamblyn's biggest role was The Grudge 2 (a $39.1 million performer while Bledel has been almost completely absent. So, the title should be in trouble, right? Its biggest two names are losing their celebrity.

You know where I'm going with this.

The shows are Ugly Betty and Gossip Girl. Unless you haven't had access to a television, entertainment magazine or the Internet over the past couple of years, you know what these shows are. Their lead actresses are America Ferrera and Blake Lively, respectively. Previously, they were the heavy set girl dealing with the ramifications of her father's impending marriage and the soccer playing tomboy who seduces her much older coach and convinces him to deflower her. So, they were an ugly duckling with daddy issues and a promiscuous teen. These roles should sound familiar to you by now. All that has happened since The Sisterhood of the Traveling Pants was released is that they have become two of the trendiest women on television. Ferrera has won an Emmy and a Golden Globe for her work on Ugly Betty while Lively has become fodder for Page Six and Us Weekly due to her real-life romance with Gossip Girls co-star Penn Badgley. There is perhaps no young actress in the industry with the popularity among teens that Lively has.

The presence of her as well as Ugly Betty on this project is the game changer here. Whereas the first project was comprised of lesser known actresses in a cute story for teen girls, The Sisterhood of the Traveling Pants 2 is a much bigger story now. The timing with Lively's ascension is enough to double its predecessor's opening weekend performance if not more. I think this title is going to make about $29 million over five days, making it a huge win for Warner Bros.

In terms of returning releases, there isn't much to say here. Swing Vote was as popular a candidate as Pat Buchanan (pre-Butterfly Ballot) . The Mummy: Tomb of the Dragon Emperor is showing signs of flaming out the same way that Hellboy II: The Golden Army did last month. I don't think it will fall over 70%, but I do think it's looking at a drop in the 63% range. That would mean a second weekend of right at $15 million. Overseas revenue is going to have to carry this one to respectability. North American audiences have made it clear that they wish this mummy had stayed buried (sorry).