Weekend Wrap-Up
The Dark Knight Three-Peats (Probably)
By John Hamann
August 3, 2008
BoxOfficeProphets.com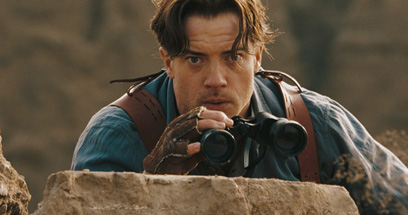 ---
It was a close race between newcomer The Mummy: Tomb of the Dragon Emperor and box office behemoth The Dark Knight, as weekend estimates have them finishing within $1.3 million of each other. The Mummy started on Friday with an almost $3 million lead, but The Dark Knight climbed back into the action as the weekend progressed.

As a result, The Dark Knight has another weekend of power, as the bat flexes his box office muscle and lands in first place for the third straight weekend. After weekends of $158.4 million and $75.2 million, and a total heading into the weekend of $351.1 million (after only 14 days of release), one might think The Dark Knight was headed for a large dip, but that isn't the case. The Dark Knight earned an impressive $43.8 million from a still awesome venue count of 4,266. The weekend-to-weekend percentage drop comes in at 42%, an amazing score considering the amount of business The Dark Knight has already done. Its gross-to-date of $394.9 million means that The Dark Knight will most likely surpass the $400 million mark by Tuesday, its 19th day, which is less than half the time it took Shrek 2 to reach the same mark (43 days).

With its depreciation over the last couple of weekends, beating Titanic is finally out of the question (it never had a chance). Eyes now should be on Star Wars: A New Hope, which grossed $461 million domestically, and sits second on the all-time grosser list. The Dark Knight will have accumulated this by the end of August, and if it does earn $500 million, it will do so come September.

Our number two film of the weekend is The Mummy: Tomb of the Dragon Emperor (aka Mummy 3). Tomb of the Dragon Emperor earned a solid but not spectacular $42.5 million from its opening weekend. Out to 3,760 venues, The Mummy 3 garnered a venue average of $11,290. Opening in the shadow of The Dark Knight, Tomb of the Dragon Emperor is a snore, grossing less over opening weekend than the mighty bat did on opening day.

Compared to its Mummy brethren, this version opened on the downside, but that is most likely due more to a release date change and a multi-year layoff for the Mummy franchise. The Brendan Fraser-led Mummy movie series opened its first effects laden extravaganza to $43.4 million on May 7, 1999, and changed the summer movie industry forever. A year after Deep Impact scooped up $41 million on May 8, 1998, Universal's strategy of opening an even bigger summer blockbuster so early in May worked, which paved the way for two Spider-Man films breaking box office records over the same date, and the X-Men franchise cashed in as well. The second Mummy movie, The Mummy Returns, opened even earlier in May, on May 4, 2001, and grossed $68.1 million over opening weekend, thanks mostly to an extremely quiet April (Stallone's Driven was second over Mummy 2's debut weekend with $6 million).

This year, with Iron Man parked in the early May slot and Indiana Jones set up later in May, Universal moved Rick-what's-his-name and his Mummy friends to the first weekend in August, where films like The Bourne Ultimatum ($69.3 million opening), Rush Hour 2 ($67.4 million opening), Talladega Nights ($47 million opening) and Signs ($60 million opening) had found success. With the Mummy franchise in the dark for the last seven years, and this entry carrying a price tag of at least $145 million, this one is going to have to work very hard to match its production budget domestically; however, international grosses and DVD sales will eventually put this one over the top for Universal.

Reviews this time out were even more awful than the first two films. This came in at a terrible 10% fresh at RottenTomatoes, while the first two came in at 53% and 47% respectively. Will there be a Mummy 4? We can all hope that this franchise stays buried, but if it makes $250 million worldwide, we could be in for another ride, maybe next time in 3-D.

Finishing third is Sony's Step Brothers, which had a so-so second weekend. The Will Ferrell/John C.Reilly comedy earned another $16.3 million and was off a not bad 47%. I say not bad because Will Ferrell can certainly open a film, but has serious trouble in second weekends. Past performances have seen second weekend drops of 53% for Talladega Nights: The Ballad of Ricky Bobby and 62% for Semi-Pro, while Bewitched fell 55% in its second frame and Anchorman fell 51%. Step Brothers is doing okay with a running total of $63 million. It's got a shot at earning $100 million, and will certainly be at least close to reaching that figure.

Fourth is Mamma Mia!, which is showing some of the nicest legs of the summer. Mamma Mia! earned another $13.1 million and was off a solid 26%. Last weekend it was off 36% from its $27.8 million opening, so it is nice to see a film buck the trend of hefty losses. Last year's summer musical, Hairspray earned $9.2 million in its third weekend (off 42%), so Mamma Mia! has a leg up. Hairspray had earned $78.9 million after three weekends, Mamma Mia! has earned $88 million. Look for the Meryl Streep musical to cross the $100 million mark some time in the next couple of weekends.

Fifth spot goes to our next Brendan Fraser entry into the top ten, Journey to the Center of the Earth. Thanks to 3-D availability at some theatres, Journey is proving to be a leggy beast. The New Line/Warner Bros. release earned another $6.9 million from 2,285 venues, and is off a not bad 29%. So far, Journey to the Center of the Earth has earned $73.1 million, and it should finish with about $90 million.

That puts Swing Vote, the Kevin Costner/Disney production in an unlucky sixth spot this weekend, as the political comedy failed to take hold. Swing Vote, self-financed by Costner before being picked up by Disney, earned a slow $6.3 million from 2,213 venues. Costner produced Swing Vote for $21 million, before selling the domestic rights (and a couple of foreign rights) to Disney for $22 million, a figure it will be extremely lucky to match stateside. With ugly reviews (38% fresh at RottenTomatoes), Disney should have stayed away from this mess.

Hancock finishes seventh, as Will Smith's anti-superhero flick continues to grind down. In its fifth weekend, Hancock earned $5.2 million and was off 37% compared to the last weekend's gross, and now has a still impressive cume of $216 million.

Eighth goes to WALL-E, Pixar's latest creation. Pixar and Disney celebrated on Thursday, as WALL-E became Pixar's seventh film (out of a possible nine) to crack the $200 million mark. This weekend it earned $4.7 million, was off 26%, and has now earned $204.2 million.

Ninth goes to the second biggest disaster of the year (next to Speed Racer), X-Files: I Want To Believe. After a not so good opening of $10 million, Mulder and Scully got punished again this weekend, earning only $3.4 million, and finding a searing drop of 66%. I'd say nobody believes any longer, or gives a rat's ass. The total for this one has now reached $17.1 million against a budget of $30 million.

In tenth is Space Chimps, a film few thought would outgross The X-Files, but who knew? Space Chimps grossed $2.8 million this weekend, and was off 37%. It now has a cume of $22.1 million.

With a more normal weekend for The Dark Knight and a less-than-impressive weekend for The Mummy, the box office failed to exceed last year's totals, which were led by The Bourne Ultimatum. The top 12 last year earned $164.7 million, thanks to the almost $70 million earned by Jason Bourne. This year, the top 12 managed $148.8 million. Next weekend brings The Pineapple Express, the latest Seth Rogen/Judd Apatow adventure.