Weekend Wrap-Up
The Dark Knight in a League of His Own
By John Hamann
July 27, 2008
BoxOfficeProphets.com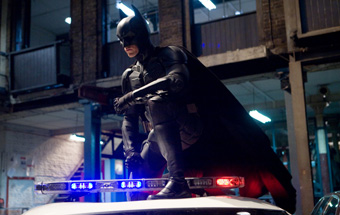 ---
The last seven days have been a historic time at the box office, with The Dark Knight crushing records on an almost daily basis. The Dark Knight's assault on the box office continued this weekend as a new flurry of records fell, most notably largest second weekend ever and fastest film to reach $300 million. In just ten days, The Dark Knight has earned a seemingly impossible $314.2 million - already making it the number 23 film of all time - and will most likely hold these records for many years to come. Two other films opened in the shadow of The Dark Knight - Step Brothers with Will Ferrell and John C. Reilly, and X-Files: I Want To Believe, with one hitting and one flailing, but neither is the real story this weekend.

Before getting into how The Dark Knight performed over its second frame, let's have another look at its awesome performance over the last ten days, and try to understand the staggering show that's at play here. Last weekend, big box office records were set for opening day at $67.2 million, and opening weekend, which came in at $158.4 million, a full $3 million higher than the $155.3 million weekend estimate I reported on last weekend. The fact that it beat the estimate by such a large margin really defines what a box office behemoth The Dark Knight is, as all too often, estimates at opening weekend are over-inflated, not under-inflated. Despite the inflated estimate, I still thought The Dark Knight would settle down and behave like some of the other mega-earners we've seen in the past. As David Mumpower reported all this week, The Dark Knight barely flagged over its first weekdays. It had the fourth biggest Monday ever, and second biggest Tuesday ever (behind only the opening day of $300 million plus earner Transformers). TDK's Tuesday gross of $20.9 million pushed it over the $200 million mark, a feat accomplished in only five days. That's a full three days faster than the former triumvirate of box office gods (Star Wars Episode III: Revenge of the Sith, Pirates of the Caribbean: Dead Man's Chest, Spider-Man 2). The Dark Knight had the biggest Wednesday for a film not enjoying its opening or second day of release, and its Thursday gross was the same.

Heading into this weekend, The Dark Knight had already earned $238.6 million, and would need a weekend total of only $61.4 million to have earned $300 million in ten days. The current record holder for fastest to $300 million is Pirates of the Caribbean: Dead Man's Chest, which earned the fabled amount in 16 days, which would put this incarnation of Batman almost a full week ahead of history's fastest earner. This should literally be impossible.

Our number one film for the second straight weekend is The Dark Knight, the best thing that has happened to the movies since the first Spider-Man film, Titanic, or Tim Burton's first imagining of Batman. The Dark Knight set the record for biggest second weekend ever, earning a colossal $75.6 million from 4,366 venues (which set a record last weekend for breadth of release). The second weekend take for this version of The Dark Knight makes it the fastest film ever to reach $300 million, as it did it in ten days, a full six days faster than Jack Sparrow and his crew. The record for fastest to $400 million will also fall to The Dark Knight; that record is currently held by Shrek 2, which did it in 43 days, and that number will be shaved by at least ten days by the man in bat.

The weekend-to-weekend percentage drop for The Dark Knight comes in at 52%, a figure Warner Bros. and friends will be extremely pleased with. Usually, the rule when it comes to the second weekend drop is the bigger they are, the harder they fall. With The Dark Knight being the biggest opening ever, a drop over 65% would not have completely surprised me. Last weekend, it set a record for the amount earned from midnight screenings, a luxury Warner Bros. didn't have this weekend, which worked in favor of a higher drop. Spider-Man 3, the former title with the biggest weekend ever, fell 61% in its second frame, and had $240 million after ten days; PotC: Dead Man's Chest fell 54%; and kid friendly Shrek the Third fell 56% despite being propped up by Memorial Day weekend. The hold for The Dark Knight is almost as dramatic as the gross, and unbelievably propels The Dark Knight into first place for the entire year, despite being in release for only ten days (the current leader is Iron Man at $314 million). The total for The Dark Knight has reached $314.2 million; it should barge through the $400 million plateau as early as the end of next weekend; and could see a $500 million domestic gross by the end of its run. This is truly history. I see NOTHING on the movie-going horizon that could possibly touch these records.

Step Brothers is our number two film this weekend, and it's almost too bad it lives in the shadow of The Dark Knight, as it is a very strong comeback for Will Ferrell and John C. Reilly, who are coming off mal-achievers like Semi-Pro and Walk Hard: The Dewey Cox Story. Step Brothers, another comedy in what's become a long line of successes from uber-producer Judd Apatow, earned a larger-than-expected $30 million this weekend from 3,094 venues. It had an average of $9,696. For Apatow, this is an equivalent opening than last June's Knocked Up. For Will Ferrell, it's not close to his (and Reilly's) biggest, Talladega Nights, which opened to $47 million in 2006, but is at the high end of his average, which comes in around $25-30 million.

Reviews for Step Brothers came in right around expectations. As an idiot brother comedy, we knew it wouldn't see Dark Knight type of reviews, but it is an Apatow production, so we also knew they wouldn't be completely awful. RottenTomatoes found 112 reviews, out of which 58 were positive, leading to a slightly rotten score of 52%. This one should play well again next weekend, but then may find some competition form The Pineapple Express, another Apatow-related comedy the following weekend.

Third this weekend is not X-Files. It's Mamma Mia!, Meryl Streep's effective musical. Mamma Mia!, which earned a surprisingly strong $27.8 million in the face of The Dark Knight last weekend, took in another $17.9 million, dropping a not bad 36%. Based on a Broadway musical, Mamma Mia! had its own front-loaded base over opening weekend, and was apt to drop dramatically in its second weekend. Hairspray, the Broadway-based summer musical from 2007, also opened to $27 million, and fell a slightly larger 42% in its second weekend. It ended up with $119 million at the domestic box office. Despite weaker reviews, Mamma Mia should have similar success at the domestic box office, and even better scores overseas. So far, Mamma Mia! Has earned $62.7 million domestically, and over $80 million overseas - all against a production cost of only $52 million.

That leaves X-Files: I Want To Believe in a very disappointing fourth spot. Special Agents Fox Mulder and Dana Scully could only drum up $10.2 million from 3,185 venues, giving it a disappointing average of $3,203. In 1998, when X-Files: Fight the Future opened, it debuted to $30 million, a figure 20th Century Fox had to be looking for with this release. Too much time had passed, and without even syndicated reruns, the core audience had moved on to bigger things like The Dark Knight or Space Chimps. Personally, my cash was part of that $30 million that first X-Files film pulled in, and after that, I was pretty much done with anything X-Files. Why Fox decided to greenlight this is quite easy (it had a production budget of only $30 million), but they had to know they were setting themselves up for failure. Maybe this one will find an audience on DVD, but I have to doubt it, as it came in at 33% fresh at RottenTomatoes.

Fifth place goes to Journey to the Center of the Earth, which is enjoying a decent run, thanks to some theatres showing this one in 3-D. Journey earned $9.4 million in its third weekend, and was off an excellent 24% from its $12.3 million showing last weekend. From New Line, this flick stars no one except Brendan Fraser, and costs were kept down to $45 million, which means Journey is going to be a win in the end of the studio. So far, Journey to the Center of the Earth has earned $60.2 million.

Sixth goes to Sony and Will Smith's Hancock, which, unlike Hellboy II, is not getting hammered by The Dark Knight. Hancock earned $8.2 million in its fourth weekend and drops 42% after falling a severe 56% in the last frame. The good news for Sony is that Hancock drove through the $200 million mark on Thursday, and now has a cume of $206.4 million, against a production budget of $150 million.

Seventh goes to WALL-E, which is now in its fifth weekend. WALL-E earned $6.3 million and was off 37% compared to the previous frame. WALL-E has seen drops of 48%, 42%, 46% and now 37% - drops that are way too high for the usual Pixar film. Still, a current domestic gross of $195.2 million is great, and it will slightly surpass Ratatouille's final gross of $206 million, which is in the lower echelon of Pixar releases.

The basement spots include reservations for our eighth place finisher Hellboy II: The Golden Army ($4.9 million, 51% drop, $65.9 million total) Space Chimps in ninth ($4.4 million, 39% drop, $16 million total), and Wanted in tenth ($2.7 million, 46% drop, $128.6 million total). The saddest news here is the fall of Hellboy II, which opened to $34.5 million only two weekends ago.

Last year over the same weekend, the box office was very strong due to the release of The Simpsons Movie, which debuted to $74 million, as well as five other films earning $10 million or more. The top 12 films last year combined to earn a very strong $172 million. This year, with The Dark Knight on top, and Step Brothers providing strong support, the top 12 earned $173 million. Next weekend should be strong again. The Mummy: Tomb of the Dragon Emperor takes an early August date this time out instead of an early May date, but its success could be powerful. Check back next weekend to see how it all turns out.