Monday Morning Quarterback Part II
By BOP Staff
July 22, 2008
BoxOfficeProphets.com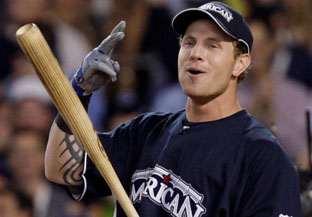 ---
And the Oscar goes to...

Kim Hollis: Do you think that The Dark Knight's record shattering performance gives it a chance at a Best Picture nomination and what odds do you give of Heath Ledger earning a posthumous nomination for his sublime performance as The Joker?

Pete Kilmer: I think a nomination is a lock for Ledger for Best Supporting Actor and the fact this movie made a gazillion dollars this weekend can only help people remember when it comes time for the nominations as they are a long way away. I do think Nolan might have a shot at Best Director and the movie for Best Picture.

Max Braden: Ledger is a likely nominee, but winning is questionable. I wonder if there will be any voter hesitation because he is deceased, as if survivor guilt might make them feel like a vote for him would be disrespectfully jumping on the bandwagon. I wouldn't be surprised if the Academy Awards had a special tribute segment. I'd be surprised if the movie gets a Best Picture nomination though it has the length but not quite the epic feel of the Lord of the Rings movies. Maybe once the third installment comes out, which may also be when Nolan gets his statue.

Shane Jenkins: I agree with Pete about Ledger, but I think the movie's phenomenal success will work against it in a race for Best Picture. The Academy, with a few exceptions, likes to nominate films that will benefit from their attention. The Dark Knight needs no such help, and besides, Wall-E has dibs on being the summer's Best Pic choice, at least if the Rotten Tomato-meter is any indication.

David Mumpower: Given how difficult predicting the Oscars nominees is the day before they're announced, making such a projection in July before dozens of contenders have been released is, well, dartboard analysis. Keeping that in mind, my darts say that Heath Ledger is 2:3 to get an Academy Awards nomination, becoming the seventh person to do so. Unfortunately, he will be mad as Hell about the fact that he will not join Peter Finch by becoming the second person posthumously awarded an Oscar for acting. With regards to The Dark Knight, I anecdotally pieced together the fact that The Bourne Ultimatum was in the running for a Best Picture nod last year. So, never say never on The Dark Knight, but I think the odds are about 30-1 right now. Those long odds grow more reasonable if a lot of the end-of-year contenders such as Revolutionary Road, The Curious Case of Benjamin Button, Changeling and Frost/Nixon all disappoint.

Tim Briody: Supporting actor is a considerably less obvious category than the lead acting awards especially this far out when we're all just guessing, but I'd feel confident putting money down on Ledger getting a nomination. I wouldn't go ahead and say he'd win, yet, though I reserve the right to change this opinion at any time.

Joel Corcoran: I think everyone will be surprised when both Heath Ledger and Robert Downey Jr. receive best actor nods in the Oscar nominations. But I don't think The Dark Knight will earn even a nomination for best picture. It's a fantastic film, but like Max said, it just doesn't have the epic feel to it (like Lord of the Rings, Gladiator, or Braveheart).

Brandon Scott: As for Ledger's performance earning a Supporting Actor nomination, "put it in the books and send him to the line." It's happening. As for a Best Picture nom, too early to tell, but its certainly got a shot. It would make the list if the Oscar race was over today.

Scott Lumley: He's absolutely going to get the Oscar for best Actor. He disappeared into the role of the Joker and completely made it his own. When you watch this movie, you don't think, Wow, Heath is doing a really good job, you watch and you think 'Jesus! That is one scary bastard!' and that's the point. He was beyond perfect, and the only shame is that Aaron Eckhardt was somewhat overshadowed as Harvey Dent. I think we may see both of them get nods for best actor, but Heath is absolutely going to win it. Nobody else is even close to what he did this year or even in recent memory.

Daron Aldridge: I really don't have faith in the Oscar voting body to give it a nomination for Best Picture. Aside from the death of one of its stars, it reminds of the Bourne Ultimatum as it was also a blockbuster summer movie with near universal praise but no Best Picture nod. I think that Heath Ledger will assuredly get a nomination as voters will view it as their last chance to recognize him.

Sean Collier: Despite the comic book albatross around it'll have around its neck come awards time, I think The Dark Knight should pull in a few high-profile nominations. The film is probably more "mainstream" than the Lord of the Rings films, and each of that trilogy managed a Best Picture nomination. Ledger for Supporting Actor is the better bet, but more is a definite possibility.

Jamie Ruccio: I think Heath Ledger will easily get a nomination. He took a roll most notably played by Jack Nicholson and Cesar Romero and obliterated their performances with his ultra realistic take on the character. He made all other film/tv versions seem like utter childish rubbish. I can't imagine anyone assuming the acting challenge of that character anytime soon after seeing Ledger's take on it.

I think given Ledgers passing and the fact that he did not win for "Brokeback Mountain" will mean that Hollywood will be tripping over themselves to nominate and award his performance. I won't speculate on the movie's chances on getting a nomination as there are far too many moving variables and it's far too out to even hazard a guess.

That's a lot of samolians

Kim Hollis: Seven movies have earned $400 million domestically in the past, while three movies have earned over a billion dollars worldwide. In your opinion, will The Dark Knight accomplish either of these extraordinary feats?

Max Braden: I think The Dark Knight can get $400 million without too much trouble. Batman Begins grossed over $200 million after opening just under $50 million, and The Dark Knight just opened three times that.

Pete Kilmer: I don't think there's even a slight doubt it can do that. I think Dark Knight has free run at the box office until Mummy 3.

Calvin Trager: The 400 club is pretty lofty territory but it has the tools to get there. Imagine rubbing elbows with Shrek 2!

Shane Jenkins: I don't know, guys. The Dark Knight is *dark*. I loved the movie, and even I don't know if I want to submerge myself in all that gloom and angst again anytime soon. I have a feeling its content is going to negatively affect the repeat business that a blockbuster needs to reach that stratosphere.

David Mumpower: I fall somewhere between Pete's "It's a slam dunk!" and Shane's "I dunno about *that* much money". The fact that only three movies have made a billion dollars worldwide is indicative of how difficult an achievement this is. What Batman has going for it is that the movies have always sold well internationally. In fact, it was one of the first true juggernaut franchises overseas. I suspect that what has happened in North America will enhance demand abroad, but keep in mind that no Spider-Man film has earned $900 million. So, Batman is going to have to go $115 million beyond that franchise to achieve the goal.

Domestically, I like its chances but it's far from a foregone conclusion. Spider-Man 3 fell $67 million short. Is The Dark Knight going to have that much staying power? It could, but I certainly would not guarantee it. The glowing reviews, A Cinemascore and word-of-mouth are huge, but it still needs $240 million from here on out. That's $35 million more than Batman Begins earned domestically.

Tim Briody: The box office just isn't that kind of animal anymore. As Max alluded to earlier, there was sort of a perfect storm here with Heath Ledger's death and absolutely sublime marketing, so we're probably looking at one of the most inflated box office weekends ever. Yes, it's already well over a third of the way there, but there are so many one and done films these days that it takes something truly special. $400 million ain't happening.

Pete Kilmer: Looking at the next two weeks we've got X-files2 and the week after that Mummy3. The week AFTER Mummy3 it's pretty free and clear of serious action movies (ok maybe Babylon AD). It can do it.

Daron Aldridge: Some people, me included, intentionally didn't see it this weekend to avoid the crowd. (Wednesday night can't get here quick enough.) So, there is still a fresh audience out there as well as the repeat viewers. It just needs this weekend's figure to be about 38% of its total to hit $400 million. In fact, America, prove that I low-balled this figure and see the Dark Knight multiple times, in order to dethrone Titanic's domestic record o $600 million.

A billion worldwide seems highly unlikely based on the international grosses for previous 5 Batman movies were 64%, 74%, 82%, 121%, and 80% respectively of the domestic grosses. Dark Knight would need over $450 million domestically as well as Batman and Robin's anomaly of 121% of its worldwide gross to come from overseas to hit the billion mark. Again, unlikely but awesome if it happens. Seriously, what were international audiences thinking with Batman and Robin?

Jamie Ruccio: Put me in the "Not Sure" category as well. It wouldn't surprise me to see traditional Summer and fantastically rabid fanbase type movie drop offs in the typical 50+ percent.

However, it does have some advantages. The critical reception is very positive. I think it's also very well received by the public. Throw in the not so quiet talk of Oscars (and if that happens would we get a release around Oscar time?) I think $400 million is achievable.

Sean Collier: I'm going to go ahead and say "Titanic is in trouble" just so I look like a genius if that actually turns out to be true. Hyperbole, sure, but then again - this is a film that could hit $200 Million in its fifth or sixth day of release, which makes anything possible in my book. $400 Million domestic and $1 Billion world are foregone conclusions - if Indiana Jones 4 can hit $310, The Dark Knight can hit $400 - and, with phenomenal word of mouth, incessant repeat viewings, and a huge demographic, who knows how far it can go.

Scott Lumley: Yes and Yes. At One Hundred Fifty Five million, it's already 40% of 400 million. I also think this has a shot at Titanic's record actually.

David Mumpower: Beat Titanic? Bartender, it's time to cut those two off.