Weekend Wrap-Up
Dark Knight Biggest Opener Ever
By John Hamann
July 20, 2008
BoxOfficeProphets.com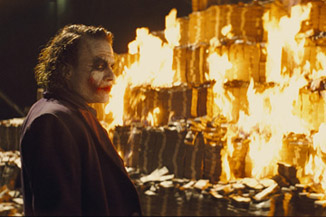 ---
What a weekend this has been. The successor of Batman Begins, The Dark Knight, took to the screens of a Gotham near you, and Heath Ledger's final flick ran roughshod over box office records, earning a never seen before $155.3 million over three days. Records fell like rain: biggest single day gross, largest amount of venues, biggest film for the month of July, biggest comic book adaptation, and the granddaddy of them all, biggest three-day opening. Whether you are a Bat-freak, a fan boy, or obsessed with box office, it was a truly awesome weekend.

The Dark Knight started its historic weekend in the dark, at midnight on Thursday, and ran successfully all night and into the sunrise at sold out 6 a.m. shows. It earned an insane $18.5 million from those overnight shows alone, eclipsing Star Wars Episode III: Revenge of the Sith's record of $16.9 million taken from the late, late, shows. The Christian Bale spectacular had just started mowing down records at that point, as it then claimed a Friday total of $66.4 million, obliterating fellow super-hero Spider-Man 3's opening day figure of $59.8 million by a full 11%. It was at this moment we knew that box office history was being re-written.

Spider-Man 3 held the three-day record opening gross of $151.1 million, earning $59.8 million on Friday, $51.3 million on Saturday, and $39.9 million on Sunday. That gave Spider-Man 3 an internal multiplier (weekend gross divided by Friday gross, and the barometer of weekend box office) of 2.53. If The Dark Knight were to achieve the same multiplier, the weekend gross would come in at $168 million. However, with the difference in the calendar (Spider-Man 3 opened in May when school was in, which hampered its Friday somewhat), the multiplier had to be dialed back. Pirates of the Caribbean: At World's End, with its $135.6 million opening in July, had an internal multiplier of 2.43, which, if repeated by The Dark Knight, would mean a weekend gross of $161 million. These two facts indicate that if the Friday estimate was solid, all Warner Bros. needed to break the three-day record was a multiplier of 2.27, a number it would have no problem beating.

Have I mentioned that this is a truly special weekend? The all-time three-day box office record is now owned by The Dark Knight, the Warner Bros. follow-up to Batman Begins. The new number to remember is $155.3 million, as The Dark Knight followed its $66.4 million Friday with $89 million on Saturday and Sunday. Actuals will be released on Monday, which should confirm these totals. Spider-Man and Pirates of the Caribbean can only look on in awe, as the Caped Crusader rewrites the record book. The Dark Knight also broke a record for size of release, opening at 4,366 venues, and earning an average of $35,579. The previous record holder was Pirates of the Caribbean: At World's End with 4,362 venues.

So, is Heath Ledger's death the reason why The Dark Knight is the biggest weekend earner ever? I would say it's a factor, but it's not the driving reason. It's important to remember that The Dark Knight had many of the same things going for it that Iron Man had, except for Ledger and one more big factor. Batman Begins reset the Batman franchise in such a way that it opened the door for uber-blockbuster status for its sequels. Batman Begins opened to $48.5 million in June 2005, and earned $72.9 million over its first five days. It earned $205 million at the domestic box office and $372 million worldwide. The DVD also had a phenomenal run, topping sales and rental charts in October 2005, and then re-ascending those charts this week with a DVD re-release. This latest version debuted at number one for Blu-Ray sales, and number two for regular DVD, which shone a light on the hype and anticipation for Friday's opening of The Dark Knight. Had Ledger not passed, this opening would still rival Iron Man and Indiana Jones for the best of the summer; however, Ledger's death brought out an even bigger audience for The Dark Knight, putting it over the top in terms of box office dollars.

Reviews were another big factor in The Dark Knight's opening weekend onslaught. Like Iron Man, The Dark Knight broke into a realm not usually seen for a superhero in terms of reviews. Iron Man managed to finish with a 93% fresh rating at RottenTomatoes, but like the opening weekend gross, The Dark Knight did even better. At RottenTomatoes, 194 reviews were counted, and of them, only 12 were negative. That gives The Dark Knight a 94% fresh rating, and it will easily be one of the best reviewed films of the year. Along with Iron Man and The Dark Knight, WALL-E was also 96% fresh - it's been a glorious summer for blockbusters.

Everything went right for The Dark Knight, except for the crushing loss of Heath Ledger. Leaving Oscar predictions by the wayside, Ledger, and the overall casting choices for The Dark Knight, make this franchise the cream of the crop in terms of superhero choices. Christopher Nolan's intention of surrounding Batman with fine actors has paid off brilliantly, as Michael Caine, Gary Oldman, and Morgan Freeman reprised their roles, and new additions included accomplished indie veterans like Ledger, Maggie Gyllenhaal, and Aaron Eckhart. For Ledger, this role would have turned him into one of the world's most bankable stars, as this gross is almost ten times bigger than his previous largest opening, A Knight's Tale (I'm counting The Patriot as a Mel Gibson movie), which opened to $16.5 million in 2001.

The Dark Knight, and films like it, give me hope for the future of movies. It is a good, solid story, and not afraid to show us the dark. Thanks to all of you for making this fable the biggest grosser of all time - you have redeemed my faith in the North American movie going public.

Does the rest of the top ten even matter? Surprisingly, Mamma Mia! was still very successfully counter-programmed against The Dark Knight, as those averse to dark morality tales found the light with Mamma Mia! The Meryl Streep musical (it's a strange weekend, isn't it?) earned a fantastic $27.6 million from 2,976 venues for Universal, proving once again the musical is alive and well. It had a very strong opening day, coming in just below $10 million, and is the second key reason why this is the biggest movie going weekend of all-time. Critics weren't overly impressed with this musical, as only half of the 121 critics at RottenTomatoes found something to like. It finished with a slightly negative rating of 54%. Mamma Mia! behaved a lot like Hairspray did last year, as that one opened to $27.7 million, also in late July. The cast, which includes Pierce Brosnan, Colin Firth, Julie Walters, Stellan Skaarsgard and Christine Baranski, and Mamma Mia! may find its way toward $100 million just like Hairspray did last year. Mamma Mia! will become the blueprint example of counter-programming, leaving Julia Robert's Notting Hill ($21.8 million versus the second weekend of Star Wars: The Phantom Menace) in the dust.

Third spot goes to Will Smith's Hancock, but holdovers can only do so much against The Dark Knight. Hancock earned $14 million and was off 56%, a tough follow-up to the 49% drop it saw last weekend. While the weekend declines have been big, they won't stop Hancock from being Smith's fourth $200 million plus domestic earner, a total it should earn by next weekend. So far, Hancock has a running total of $191.5 million against a production budget of $150 million.

Fourth spot goes to Journey to the Center of the Earth, New Line's attempt at the 3-D genre. Journey earned $11.9 million and was also down 43%, but was again propped up somewhat by 3-D showings at about 900 venues. So far, the $45 million film has already earned $43.1 million.

Plunging from the number one spot last weekend all the way down to fifth this weekend is Hellboy II: The Golden Army. Despite an 87% fresh rating at RottenTomatoes, Hellboy lost all his fan boys to The Dark Knight and the gross got hammered. After debuting to $34.5 million last weekend, the Guillermo del Toro flick could only manage a gross of $10 million, giving it an ugly percentage drop of 71%. Hellboy II now has a total of $56.4 million and is suddenly in danger of not reaching its $85 million production figure at the domestic box office.

Sixth spot goes to Pixar's WALL-E, as the computer animated kids flick got competition from not only Batman, but also Space Chimps this weekend. WALL-E earned $9.8 million and falls 48% compared to last weekend. WALL-E has seen some of the biggest drops in Pixar history, and has a current total so far of $182.5 million.

Fox's Space Chimps is our number seven flick this weekend. Looking like it was made on my Commodore 64, audiences caught on, and Space Chimps debuted to a meager $7.4 million. Fox was smart and put this one out to only 2,511 venues.

The also-rans fill out the last three spots on the chart. They include at number eight, Wanted, which earned $5.1 million and has a running total of $123.3 million; at number nine, Get Smart, which found $4.1 million and has a total of $119.6 million; and at number ten, Kung Fu Panda, which earned $1.8 million and moves its total up to $206.5 million.

Overall this weekend, we are again into record breaking territory. The top 12 films at the box office, thanks almost completely to The Dark Knight and Mamma Mia!, earned a massive $249,593,011, a new record by a country mile. This is up over last year's total of $146,739,263 by 70%. The previous record was held by the July 7, 2006 weekend (Pirates of the Caribbean: Dead Man's Chest), when the top 12 films earned $208 million. That total has been annihilated by 20%.