Weekend Forecast for July 18-20, 2008
By Reagen Sulewski
July 18, 2008
BoxOfficeProphets.com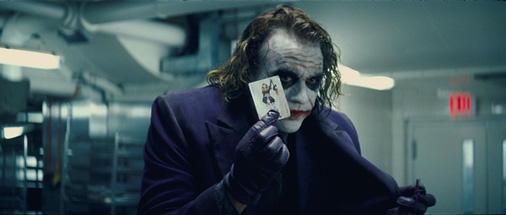 ---
There's technically still a lot of summer left to go, but you could forgiven for thinking that for most purposes, the summer movie season ends this weekend. It's got the final bona fide tentpole of the season, and the last chance at records, and one of the last chances for fanboys to experience that opening weekend rush feeling.

The Dark Knight is the second film in the reboot of the Batman franchise, following 2005's Batman Begins. In this outing, Batman faces his most notorious and dangerous villain, The Joker, played here as a psychotic anarchist hell-bent not on so much on killing the Batman as destroying him, turning him to his side. As realistic a movie can be about a billionaire crime fighting vigilante, it's the most realistic take on The Joker yet.

Almost all the principals return for this film, including Christian Bale as Bruce Wayne/Batman, Gary Oldman as James Gordon, Michael Caine as Alfred and Morgan Freeman as Lucius Fox, with Maggie Gyllenhall swapping in for Katie Holmes. Additions this time around include Aaron Eckhart as Harvey Dent and of course, Heath Ledger as The Joker.

As we're probably all aware, Ledger tragically died from a prescription medication overdose this winter, which some blamed on the intensity of his performance and the demands of the role. It's always seemed a bit fatuous as an explanation to me, but it does add some poignancy to the film, and has jump-started Oscar talk for his performance. As unusual as it would be for a comic book film to garner this kind of talk, it doesn't seem impossible. Even the makeup seems more appropriate, with the messy, unhinged look being perfect for the role..

As a continuation of Christopher Nolan's gritty take on the comic, The Dark Knight looks like it not only makes it to the fireworks factory, it takes place in it. Saving The Joker for the second film now takes on the appearance of a masterstroke, as after the debacle of the Schumacher movies, audiences needed at least one great film in the series to warm back up to it. Blowing the series' best villain on that film would have been a mistake. In another bit of gimmick, parts of the movie were filmed for IMAX theaters, 96 of which will host a special enhanced version of the film. The $48 million opening weekend of Begins looks to be obliterated, with the only real question being how high it can go.

In the lead up to the film's release, it's been assumed that younger demographics would be left in the cold by the intensity of the film. This is undoubtedly still true, but hype has gone to such ludicrous levels that almost any number is plausible. Midnight screenings are sold out, by and large, and the 4,366 venues it starts in is an all time record, besting the third Pirates of the Caribbean movie. For this release, I think we're looking at a monumental $122 million opening weekend.


Destined to be lost in the shuffle, yet astoundingly successful in its own right is Mamma Mia!, the adaptation of the Broadway musical based on ABBA songs. Forget the Joker, this, my friends, is what pure evil looks like.

Amanda Seyfried (most notable for Veronica Mars) stars as a young woman in Greece who is about to get married, with one problem - she doesn't know who who's going to walk her down the aisle. Her mother (Meryl Streep), you see, had a bit of fun back in the day, and her father could be any of three men - Pierce Brosnan, Colin Firth or Stellan Skaarsgard (who gets the "Professor and Maryanne" treatment in the advertising for this film). All three arrive for the wedding, as neither of them are too sure, either, with old wounds opened, and everyone breaking into ABBA songs for some reason.

Your enjoyment of Mamma Mia! will depend on whether you enjoy the music the Swedish '70s pop supergroup, or whether you consider the use of their songs to be a war crime. There's not a lot of middle ground here.

This musical has essentially become the new Grease and should be effective counter programming to Batman, the way My Best Friend's Wedding was to Batman & Robi.. wait, sorry, that movie never existed - anyway, counter-programming. Expect a predominantly female (and I'm not judging, but also gay) audience for this film, which can make a decent impact this weekend. A lot of people like ABBA, apparently, but then, a lot of people like mayonnaise too. Look for about $28 million this weekend.

Thirdly, we have a children's film to enter the marketplace, called Space Chimps. Really. Space. Chimps. I mean, my God. Andy Samberg (it just gets worse, doesn't it) stars as the voice of Ham III, the grandson of the original astronaut chimp, sent into space for some reason that I can't really imagine mattering. Poorly animated adventures ensue, and kids get dumber for having watched this. I'm a bit boggled that films like this pass for theatrical releases these days, but then the woman who laughed like a hyena at this trailer can't be the only one of her kind. It's too depressing to think about, really. I'll say $7 million for the film, and hope that people have better sense.

Hellboy II just eked out a victory at the box office last weekend with $34.5 million to Hancock's $32 million, but even without a first place finish, it would have been relatively impressive. As a sequel to a second-tier superhero film, $34.5 million is pretty impressive and basically ensures that Guillermo del Toro gets to make whatever films he wants for the next while. With Batman out there, this doesn't just fall off the cliff, it drives 90 miles an hour on fire off it, and should see a weekend of $15 million this weekend.

Hancock suffers a lot in comparison as well, though relying a bit more on humor than other super hero movies, and especially in comparison to The Dark Knight, it might stand a bit of a chance. Still, I see only $17 million in its cards for its third weekend, though that'll bring its overall total above $200 million.

Journey to the Center of the Earth loses its reign for the biggest spectacle of the weekend, with its 3-D effects losing out to IMAX Batman. However, it did manage $21 million last weekend with a pretty lame ad campaign, so that's something. Consider this a warm up for Brendan Fraser's next film this summer, The Mummy 3. Look for about $12 million this weekend.

For a Pixar film, Wall-E has curiously not been able to use word-of-mouth to its advantage, dropping from $63 million to $18.8 million in two weeks. It's surprising, in that other Pixar films have been able to ride for weeks and weeks on it, but in this case, it may just be that word got out quickly and caused an equivalent fanboy rush. I see an $11 million weekend here, which will move it to about $185 million total, but the $250 million totals of a lot of their other films don't seem to be in the cards.