A-List: Recent Musicals Since Moulin Rouge!
By Sean Collier
July 17, 2008
BoxOfficeProphets.com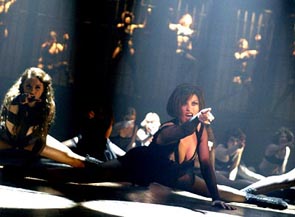 ---
By the late '90s, the movie musical was something of a lost art. Broadway was seen as the territory of sentimental theater buffs only, and no producer was betting that moviegoers would pay seven bucks to take in three hours of Sarah Brightman doing Phantom of the Opera at the local multiplex. Then, the first high-profile musical aimed at adults in years hit theaters, to critical raves and an Oscar nomination.

It was called South Park: Bigger, Longer, and Uncut.

Despite Robin Williams' inspiring live-action performance of "Blame Canada" at that year's Academy Awards, Kyle, Kenny, Cartman and Stan failed to revive the genre; it seems there's not much audience crossover between South Park and, say, Godspell. Two years later, however, Baz Luhrmann made a musical, and that changed things.

Moulin Rouge!, long irritating writers with its infuriating built-in exclamation point, is a fairly bizarre film. Long, imaginative, and soaked in absinthe, the film was something of an unlikely hit; while the film had a marquee cast, audiences were basically presented with a bunch of brightly-colored dancers and that cover of Lady Marmalade that had Lil' Kim in it, and told to come to the theater. Despite this, the film found its way to $57 Million in the US and around $200 million worldwide, and a handful of Oscar nominations.

As a musical, Moulin Rouge! is a misfit as well. Mostly comprised of intensely stylized medleys and renditions of pop hits, the music sometimes seems unrelated to the plot at hand, and at other times takes the place of conversation. At all times, however, it's impossibly cool and irritatingly catchy – if you don't already have that damned Can-Can song in your head, you do now. (I could've spared you that, but the thought of a bunch of random people wandering around humming that silly thing for the rest of the day because I wrote this is just too delicious to pass up. Have I begun to go mad with power? Check this column every two weeks to find out!)

After Moulin Rouge!, big-budget musicals started popping up in theaters fairly regularly. The list of misses is probably longer than the list of hits, but there have been a number of keepers in the past few years. In honor of Mamma Mia's ABBA-drenched bubblegum, and so that there is exactly one piece of content on this site unrelated to The Dark Knight this weekend, The A-List presents the best movie musicals since Moulin Rouge!

Hedwig and the Angry Inch

I'm cheating a little bit here, as this was released more or less right on top of Moulin Rouge!, but it's too good to pass up. Hedwig isn't just my favorite recent movie musical, it might well be my favorite musical ever, stage or screen, no exceptions. John Cameron Mitchell's beautiful film about a struggling ungendered rock star has brought legitimate tears to my eyes on more than one occasion. The music is perfect, delightful rock – one of the few musical soundtracks that never gets old – and the film is just as unique and engaging as the songs. Mitchell is just as talented as a director as he is as a performer (see his sexual fantasia follow-up film, Shortbus, as evidence.) If you haven't seen this film, you're missing out; find it now, whether you're a fan of musicals and drag queens or not.

Chicago

The critical high water mark of the bunch, Chicago rode near-universal acclaim to a Best Picture Oscar in 2003. While most people praised the performances by the unlikely trio of Richard Gere, Catherine Zeta-Jones and Renée Zellweger (as well as star-making supporting turns by Queen Latifah and John C. Reilly,) it's the music of Chicago that makes the film. Beautifully transferred from the stage by director Rob Marshall, Chicago's jazzy score carries the film capably.

The Saddest Music in the World

This offbeat black-and-white dark comedy flew miles under the radar, but is worth a look if you missed its lightning-quick theatrical release in 2003. Starring Isabella Rossellini and Mark McKinney, the film sees an eccentric beer magnate open an international competition to find (wait for it) the saddest piece of music the world has to offer. Director Guy Maddin turns depression-era Winnipeg into an evocative, expressionistic setting; the faux-'30s style of the piece can be distracting at times, but the unique story and beautiful music can't be denied.

Once

When I first saw this film, I thought that I would have a soft spot for it, having lived in Ireland for a time and feeling so connected with the music and location. However, it seems like everyone has a soft spot for Once. A slow and quiet star-crossed love story is the backdrop for Glen Hansard's gripping music – no scene is as strong as the early performance of "Say It To Me Now" alone on a Dublin street. The story has a happy post-script, too, in the form of a Best Song Oscar for the film's star songwriters. As a side note, if you watch the scene where they recruit the Thin Lizzy cover band, you can see this hotel in front of which I made out with a girl this one time. There's no reason for this to make you more interested in the movie, but she's a really cool girl.

Across the Universe

I didn't really appreciate Julie Taymor's film until a second viewing, and I think this is why: when you initially approach Across the Universe, you may make approach it like a normal film. This is a huge mistake. Approach this film as you would approach Fantasia: a delightful presentation of music and images, loosely strung together. Don't worry about the characters, or the plot, or the social commentary – all that just drives us from one song to another. Many of the interpretations of Beatles classics are worth your time and attention in their own right, most notably those performed by Dana Fuchs and Martin Luther – "Oh Darling!" and "Why Don't We Do it In the Road?" are my favorites.

Sweeney Todd: The Demon Barber of Fleet Street

Plenty of complaints were leveled at this film, but I don't buy them. Johnny Depp is, to me, a fairly perfect Sweeney, and Burton did an excellent job at the helm – no move was more prudent than cutting the more showtune-y numbers and letting the film stay focused on its characters and violence. Young Anthony and Johanna had trouble carrying their bit of the plot, but other than one too many reprises of that "I'll find you Johanna" song, they didn't detract too much. Never watch Sweeney Todd and Edward Scissorhands back to back, though. You'd fall unconscious and wake up in an elaborate Robert Smith costume.

One to Watch For

Usually, when I say "One to Watch For," I mean a film that should be a worthy addition to the list. This time, though, I must call your attention to a train wreck in the making. Set for a limited release later this year, Repo: The Genetic Opera is a science-fiction musical set in a time when human organs are in short supply, and are bought and sold by a stern corporation – and repossessed if payments can't be made. Not sound ridiculous enough yet? Well, Darren Lynn Bousman, director of Saw II through IV, is at the helm. Still not terrified? Paris Hilton is in the cast. So is Sarah Brightman. Run for your lives.