Weekend Wrap-Up
Hellboy II Devilishly Big; Dave Meets Doom
By John Hamann
July 13, 2008
BoxOfficeProphets.com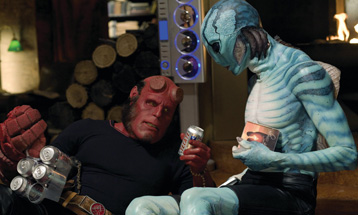 ---
It's one of those good news/bad news weekends at the box office, where things are good if you are a big red mutant, and bad if you're Eddie Murphy. We actually had three films go quite wide this weekend, something we haven't seen since the weekend of April 25th, when Baby Mama, Harold and Kumar 2 and Deception hit screens over the same frame, and Hellboy II: The Golden Army outgrossed all of those three openings combined. Other new releases this weekend included Journey to the Center of the Earth, a 3-D flick shown mostly in 2-D, and Meet Dave, Eddie Murphy's latest mega-flop.

The original Hellboy opened in theatres on April 2, 2004 and was no April Fool's joke. The Dark Horse Comic character ruled, earning $23.2 million from a little over 3,000 screens. It finished with only $59.1 million in domestic sales, and earned just short of $100 million worldwide, despite being 80% fresh at RottenTomatoes and 89% fresh from the nation's top critics. It then became a mega-hit on DVD, earning another $51 million (source: USA Today) from DVD sales alone. It was at this point that Universal picked up the rights to the Hellboy sequel, which was somewhat of a gamble considering the $60 million domestic gross of the original. Still, Universal often picks winners, and they certainly did with Hellboy. Back to direct came Guillermo del Toro, who is coming off the uber-successful Pan's Labyrinth, which has given del Toro theater cred throughout the world. Also returning are Hellboy himself, Ron Perlman, and the unlucky Selma Blair, who should have more hits than her resume holds.

Hellboy II: The Golden Army is our number one film of the weekend, getting past Will Smith's Hancock for the number one spot. The Hellboy sequel earned an impressive $35.9 million from 3,204 venues, marking a significant increase over the original's debut. Tracking was right on target, and despite not breaking out, this is a fantastic pickup for Universal, as the film should at least be a $100 million domestic earner, with another $100 million (or more) coming from overseas sales. According to IMDb, the budget for Hellboy II came in about $72 million, which suggests Universal will see a profit from this one theatrically, as they retained International rights.

Sentiment from critics for Hellboy II: The Golden Army was even better than that of the original, and it continues a summer of well-received blockbusters at our local cineplexes. 132 reviewers chimed in on Hellboy II, and only 17 of those were negative, leaving the red-horned devil with a super fresh rating of 87%. Most negative reviews were looking for some sort of large point from Hellboy II, instead of seeing it for what it is, a fanboy's wet dream.

Universal is now on a serious hot streak. The studio had some hefty misses early in 2008 with films like George Clooney's Leatherheads, which took in only $30 million domestically against a production budget of $60 million. They have turned it around through spring and summer, releasing Forgetting Sarah Marshall, Baby Mama, The Incredible Hulk, Wanted, and now Hellboy II. They have earned $350 million from the first four films in that list, and will bring that number up to $450 million with the addition of Hellboy II. Universal now has two releases left for summer 2008: Mamma Mia!, counter-programming against next week's Dark Knight, and the next Mummy movie (this time with Jet Li!) set for the August 1st weekend.

Pulling up in second is this summer's original superhero, Hancock. After pulling in $62.6 million over the three-day portion of last weekend's holiday frame, and $103 million over its first five days, Hancock actually did slightly better than expected as it earned $33 million. That puts the Will Smith starrer down 47%, which is an improvement over other big budget flicks like The Incredible Hulk and Wanted (60% second frame drop for both), despite much worse reviews, and potentially, word-of-mouth. Sony can thank Will Smith for that, as his name carries more power than critics at this point. They also had he advantage of a lower-than-normal Friday due to the July 4th holiday calendar configuration. The total for the $150 million-budgeted Hancock sits at $165 million, with $100 million being reached already in international sales. For a domestic total, I see Hancock reaching at least $225 million, but let's see what impact The Dark Knight has next weekend.

WALL-E and Journey to the Center of the Earth battled hard for third this weekend, with Journey coming out on top, probably due to an aggressive estimate by Warner Bros. and friends. The Brendan Fraser flick, shown in 3-D in about a third of its venues, grossed $20.6 million. The total venue count came in at 2,811, about 900 of which were equipped to project this one in 3-D. While not the $27.5 million that Beowulf opened to, this is still an okay start for a film like this, due to its tiny $45 million production cost (there are really only three actors in this one, two of whom are kids). Journey to Center of the Earth came in at 62% fresh, so Hollywood is going to have to work harder to make the 3-D movie stick.

That puts WALL-E fourth this weekend, and it at least has a better hold than it did last weekend. The Pixar masterpiece earned $18.5 million in its third frame and was off 43%, which is an improvement over last weekend's plunge of 48.5%. WALL-E was not a cheap flick to make for Pixar, as it cost $180 million to produce. So far, WALL-E has earned $162.8 million, and looks like it will finish above $200 million, but lower than its Pixar compatriots.

Dropping to fifth is Wanted, which eclipses $100 million in domestic sales. The James McAvoy, Angelina Jolie thriller earned $11.6 million over its third frame, and was off 42%, which is a big step up after last weekend's 61% meltdown. Wanted, another hot Universal property, has now earned $112 million against a $75 million budget, and will most likely finish with about $140 million in domestic sales, and $100 million in overseas sales.

Get Smart is sixth, and is another film to cross the $100 million mark in the last five days. The Steve Carell flick earned another $7.1 million and was off 36% compared to last weekend. It has now earned $111.5 million against an $80 million production budget.

Way down in seventh is Meet Dave, Eddie Murphy's latest mega-flop. This one didn't look quite as bad as the Adventures of Pluto Nash, but it behaved like it, earning only $5.3 million in its opening frame. 20th Century Fox put this one out to 3,011 venues and it had a venue average of $1,760. Pluto Nash actually did worse and cost more than Meet Dave. Pluto, with its $100 million budget, opened to $2 million and finished with less than $5 million. Meet Dave, on the other hand, cost $80 million, and might (emphasis on might) earn $10 million. All I can say at this point is that The Love Guru is extremely pleased to Meet Dave.

Eighth goes to Kung Fu Panda, which just missed finishing ahead of Meet Dave. Panda, now in its sixth weekend, earned $4.3 million and was off 41%. The Paramount/DreamWorks production has now earned $202 million, and is our third release this summer to cross the $200 million mark.

Ninth goes to Kit Kittredge: An American Girl, as the Picturehouse release hangs on to a top ten spot for one more weekend. Kit earned $2.4 million in its second frame in wide release, and has now earned $11 million.

Finally in tenth we have Indiana Jones and the Kingdom of the Crystal Skull, which narrowly got ahead of The Incredible Hulk for the bottom spot this weekend. Indy pulled in another $2.2 million, bringing its total up to $310.5 million. It's still a few million shy of Iron Man, but could pull ahead in the weekends to come.

This is a tough weekend to compare to last year. Over the same weekend in 2007, Harry Potter and the Order of the Phoenix opened to $77.1 million over three days and $140 million over its first five days. Last year, the top 12 films earned $172 million, a far cry from the $144.8 million this year's top 12 brought in. Now, all eyes are on next weekend as we all await the launch of The Dark Knight. How big will it be? How big can it be? $75 million opening? $100 million opening? More? Check back next weekend to find out.