Friday Box Office Analysis
By Tim Briody
July 12, 2008
BoxOfficeProphets.com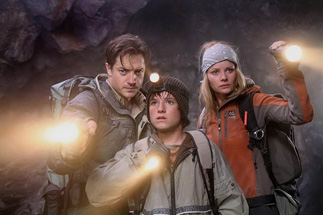 ---
Hellboy II: The Golden Army

Hellboy returns with a very solid $13.9 million on Friday, more than enough to lead the box office. Back in April 2004, the first Hellboy movie opened with a Friday of $8.7 million and had a fairly typical multiplier of 2.65, indicating a heavy Friday night rush. That feat should duplicate itself here, as I don't see Saturday topping that, though it should be close. That would give Hellboy II a quite good $36.1 million for the weekend, and it should stay on top of [tm:2256_]Hancock[/tm].

[tm:3208_]Journey to the Center of the Earth[/tm]

The 3-D action-adventure flick from Walden Media opens well on Friday, with $6.6 million. It's ahead of WALL-E for now, but they'll be neck and neck when the weekend estimates come in as they fight for family dollars. The gimmick here very well could have led to an inflated Friday, but I think it will hold pretty firmly over the rest of the weekend. Look for a weekend of $20.4 million.

[tm:1828_]Meet Dave[/tm]

Meet Dave, also known as Pluto Nash. The [bp:1064_]Eddie Murphy[/bp] bomb from 2002 is the worst kind of flop, one that isn't even remembered. Meet Dave will likely join it in obscurity as it opened to a mere $1.7 million Friday. There's a chance its gambit at being a family film wll help it to a slight degree, but it's not very likely. Meet Dave should finish the weekend with $4.1 million and vanish quickly.

Hancock

Last week's champ finds itself rudely bumped down to #2 by Hellboy, but that's how these things work now. It's off 43% from last Friday to $10.5 million, which sounds good, but keep in mind that last Friday was my birthday July 4th and box office was somewhat deflated so the rest of the weekend will show exactly what kind of legs the [bp:91_]Will Smith[/bp] vehicle will have. Saturday should be fairly impressive so it'll be awfully close to Hellboy II but probably won't overtake it unless the sequel produces an abysmal weekend multiplier. I expect a second weekend of $35.4 million for Hancock.