Weekend Forecast for July 11-13, 2008
By Reagen Sulewski
July 11, 2008
BoxOfficeProphets.com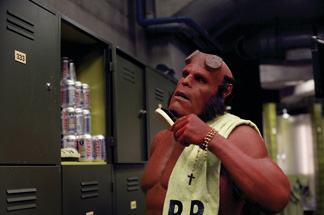 ---
We step back from the "one blockbuster per week" release strategy for a brief period as three middle tier summer films make their way to theaters. It's one of the few weekends of summer without a true "must-see" film, but one of the few with choices.

Guillermo del Toro is back with his twisted visual sensibility for Hellboy II: The Golden Army, the sequel to the 2004 Hellboy film. Picking up where he left off with the captured and reformed demon that fights otherworldly bad guys for a secret American government agency, he pits Hellboy against the mythical world, which is aiming for a take-over of this one.

A huge part of the appeal of Hellboy is the lovable-ness of the character, a gruff, blue-collar super-hero who just happens to be giant and red. As played by Ron Perlman, he's one of the more lighthearted and enjoyable comic characters to watch on screen, in contrast to the enemies he fights, which tend towards the "unspeakable horror" type.

Visually, del Toro seems to have upped his game as well, learning from and expanding on his ideas from Pan's Labyrinth. It's a much more interesting looking picture this time around, even if he does tend towards the grotesque. Curiously, the film's advertising is treating this almost as a reboot, hoping to reach a group of viewers who haven't heard of the character through the comics or his previous movie.

With a $23 million opening weekend and at $59 million total domestic gross, that's a lot of people. Why even make a sequel then? Well, it's one of those properties that's made a lot of money on video, and del Toro has many favors to pull in from his other successes. Which is not to mention that studios must look at the grosses of some lesser light franchise sequels like Resident Evil and Underworld, and think they can do better. It feels like they've done a good job in making the character a lot more accessible, upping the humor quotient while still having a solid mix of action. I see this expanding its audience significantly to about a $31 million opening weekend.

Meet Dave is the latest attempt for Eddie Murphy to try and make us forget that we ever thought he was funny. Its premise, which seems to seek to redefine "high-concept", has him star as "Dave", a human-sized spaceship/vessel that's piloted by a race of tiny humanoid aliens. Completely unfamiliar with human customs, they try to navigate their way around without attracting attention, but unwittingly cause a woman played by Elizabeth Banks to take him in and start to fall in love with him. Meanwhile there's a love drama of its own playing out on the ship between the captain and another alien played by Gabrielle Union.

It's probably a step or two up from Norbit, but it does bring to mind a film like Pluto Nash, an expensive sci-fi comedy that nearly destroyed Murphy's career. The hope here is that with the more physical elements of Murphy's acting in this that can help keep that kind of disastrous result at bay. They're probably, depressingly, right, even though Murphy is long removed from the days where he was a comedy lock. There's a real problem when the man who once did Raw and Beverly Hills Cop is reduced to getting laughs from awkward smiles.

Crucially, Meet Dave is aiming squarely at the children's market, which is the one real place that Murphy's been consistent of late. The poop jokes of Daddy Day Care took him to over $100 million, remember, though I don't think there are any of those in this one. I think we're looking at about $15 million here for its opening weekend. They probably should have added some poop jokes.

Also firing away at the kids market is Journey to the Center of the Earth. Starring Brendan Fraser in a telling of the Jules Verne novel, it's mostly notable for the way it was filmed, in a potentially revolutionary 3-D process. There's kind of a problem there though, as it's pretty difficult to get that across on TV, and the story the effects are in service of isn't that inspiring.

As it rips off just about every action-adventure movie from the last 25 years, Journey takes Fraser, an unorthodox scientist, and his young family deep into the bowels of a secret and fantastic world filled with strange creature, who presumably do a lot of popping out towards things. 3-D!

It's possibly quite a decent adventure film, and will do nicely with young boys, but the wow factor that Walden Media and Warner Bros. is hoping will come through just isn't there. Combine that with the fact that this looks pretty toxic to most adults without kids, and you've got the recipe for an expensive failure. I look for an opening weekend of just $13 million.

The slightly unconventional superhero film Hancock won the July 4th weekend with $62 million on the weekend proper, and $103 million in its extended five and a half day opening run. That's a solid if not spectacular figure, although less than some recent holiday blockbusters. It does seem to be getting to the point that the only huge mega openings are either sequels or adaptations of something, and Hancock may have been made to pay for its originality.

There's also a sense I have that the film's opening slipped a little away from Sony, to the tune of $30 or 40 million over this opening period. They seemed a little confused about how to market the film, switching from the comedy to the action at the last moment and mixing the message. In any event, I don't see tremendous legs here, with a second weekend of about $31 million.

Wall-E took a troubling drop in its second weekend, from $63 million to $33 million, something that hasn't traditionally happened for Pixar films. It seems as though they're finally starting to fall pray to the fanboy rush, although there's an additional factor of the calendar configuration to consider. July 4ths that fall on the Friday are usually bad for business and may have sliced a few million off its total. In any event, I expect it to have a slightly better weekend in terms of holdover this time around, with about $19 million.

Wanted fell off a cliff in its second frame, falling from $50 to $20 million, and I appreciate the nice easy round numbers. There's no mystery about why this happened – it was inherently a bit of a front-loaded film, and then it wasn't that good. That it didn't fall worse is a bit of a victory, albeit a bit of a backwards one. Even Angelina Jolie getting out of a bath couldn't save this film. Give it just $8 million this weekend.

Wanted will have crossed the $100 million plateau by the end of the weekend, a mark that Get Smart hit mid-week. It'll be down to about $6 million this weekend, though that's a pretty solid result for the Steve Carell-led comedy.

In other milestone news, Kung Fu Panda is just a dumpling or two away from the $200 million mark, while Indiana Jones and the Kingdom of the Crystal Skull is inching ever closer to the top mark for the summer, trying to maneuver past Iron Man's $311 (and counting, but not much) million, currently sitting at $306 million. It'll probably happen by the end of July, but if not by that time, then probably not at all.