A-List: Charlize Theron
By Sean Collier
July 8, 2008
BoxOfficeProphets.com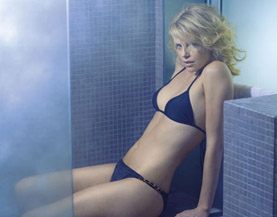 ---
Charlize Theron embodies the classic Hollywood success story. Born and raised in Johannesburg, Theron came from a wealthy but troubled childhood, witnessing the death of her abusive father at the age of 13. Given a check and a one-way ticket to Los Angeles, Theron found success almost immediately, and transitioned from South African farm girl to Academy Award winner in just over ten years.

Theron's career to date, however, has seen just as many clunkers as hits. Award darling though Charlize may be, she's also slogged through the likes of Æon Flux, The Devil's Advocate, and the unbearable remake of The Italian Job. I'd say that such films could be forgiven, though, in the light of her role in Monster – almost certainly the finest performance of the decade thus far, bar none.

On screen, Theron is simply captivating, no matter what she's doing. It's impossible to take your eyes off of a barely-recognizable Charlize in Monster – somehow, she's just as charismatic as the psychopath as she is as the bombshell. Which is to say nothing of the fact that she's devastatingly attractive; she's the currently reigning Sexiest Women Alive, a designation decided in an undoubtedly scientific and precise manner by Esquire Magazine.

If reviews (I haven't made it to the theater for Hancock yet) are any indication, Hancock might end up in Theron's misstep pile; however, I'm going to go ahead and bet it's not her fault. In honor of drunken superheroes and gigantic July 4th opening weekends, The A-List presents the best of Charlize Theron.

Tina in That Thing You Do!

Tom Hanks' rock nostalgia trip has always been a guilty pleasure for me, partially due to a cast full of underrated actors usually relegated to dreadful comedies (message to Tom Everett Scott and Ethan Embry – new agents. Now. Steve Zahn – okay, you were in a Herzog film, you're doing fine.) Aside from digging through thousands of submitted songs to find the title track, penned by alt-poppers Fountains of Wayne, Tom Hanks was also among the first to discover young Charlize, casting her in a small-but-memorable role as the hometown girlfriend of drummer Guy Patterson – at least until she's smitten at the dentist's office. This film was supposed to be the launching pad for Everett-Scott – instead, it was Theron's career that received the biggest boost.

Candy Kendall in The Cider House Rules

Here's the thing – I'm absolutely positive I've seen The Cider House Rules. I have the DVD right here. I even remember where I watched it. But somehow, I forget literally everything about this movie. I try to think about the plot, and Michael Caine just says "Good night, you princes of Maine," over and over again. But anyway. After That Thing You Do!, Charlize experimented with ill-advised comedy (Trial and Error,) ill-advised kiddie flicks (Mighty Joe Young,) and ill-advised overwrought drama (The Devil's Advocate.) The Cider House Rules and its two Oscars, however, pushed her firmly into the limelight.

Aileen Wuornos in Monster

It's impossible to praise this role enough. To say that Theron inhabits the mind and body of serial killer Aileen Wuornos is an understatement; it doesn't even seem like Charlize in there anymore. The aim of nearly every cinematic depiction of a human monster is to create some degree of sympathy for the devil; by the end of Monster, Theron has the viewer firmly entrenched in Wuornos' viewpoint, unable to believe in anything but her outlook and justification. When I saw this film, I wasn't able to stand up and leave the theater afterwards. If Charlize never made another film, she'd still be one of the finest actresses in recent memory for this role alone.

Britt Ekland in The Life and Death of Peter Sellers

The running theme of Stephen Hopkins' biopic of the late British superstar is that Sellers was never really a grown-up; in his comedy, in his anger, in his dealing with others, he almost always acted like a child in disguise. We are shown this immaturity ruining his first marriage with most-beloved Anne (Emily Watson;) when Sellers tracks down model Britt Ekland, based on a tip from a disingenuous psychic, Charlize's character seems the antidote. She's just as youthful and irreverent as he is, and doesn't have any of the worry that Anne carries in her face. Within a short period of time, however, Theron has completely transformed that youthfulness into rage at Sellers' carelessness. It's a tough switch, but she handles it gamely – she received Emmy and Golden Globe nominations for the role.

Josey Aimes in North Country

Released a year after Monster, North Country was Theron's bid for a second consecutive Oscar – and she did receive a nomination, but lost out to Reese Witherspoon's turn as June Carter in Walk the Line. (I thought neither role deserved it over Felicity Huffman, but so it goes.) Theron's tough mom with an ugly past was probably her finest performance outside of Monster, but the film didn't really come together quite right in the end – a bit too long, and running on anger and desperation as fuel without much of a heart at the center. Still, North Country is certainly worth watching for fine performances by Theron, Frances McDormand, Woody Harrelson, and the criminally underrated Jeremy Renner.

Detective Emily Sanders in In the Valley of Elah

The fall of 2007 might have been the peak of Tommy Lee Jones' career. Between No Country for Old Men and this, the first film written and directed by Paul Haggis since Crash, the veteran was in top form. Jones was the main attraction in Elah, but Charlize's Detective sympathetic to the old soldier's struggle breathed new life into the tired female-cop-single-mom role.

One to Watch For

Next year, Babel screenwriter Guillermo Arriaga offers his first directing effort in nine years, the family drama The Burning Plain. Charlize stars alongside Kim Basinger in another one of Arriaga's multi-layered ensemble flicks. Charlize plays Sylvia, daughter to Basinger's Gina; the two try to reconnect after time apart following Sylvia's difficult childhood. The part seems close to some of the real events of Theron's life; it'll be interesting to see if she inhabits this role as richly as she did for that of Wuornos.