Weekend Wrap-Up
Wall-E + Wanted = Wow
By John Hamann
June 29, 2008
BoxOfficeProphets.com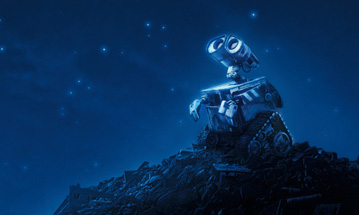 ---
When economic times are tough, people go to the movies - and this weekend, they hit the box office in droves. People had good reason to go, as two shining examples of summer movie gold were on display in the form of Pixar's WALL-E and its demographic opposite, the graphic-novel based Wanted from Universal, lords of the summer box office. Tracking was once again turned on its head, holdovers were forgotten, and The Happening got smacked around again, showing box office plunges not seen since the 1990s. Most importantly, a big record fell this weekend.

After about two hours of research, I can confirm that this is a record breaking weekend, as we have two openers above $50 million for the first time ever. Many times we have seen more than two $50 million films in the top two, but one of the films has always been a holdover, a blockbuster from a previous weekend. For example, the weekend that The Day After Tomorrow was released, it opened to $68.7 million, but had to settle for second behind the sophomore weekend of Shrek 2, which came in at $72 million. The closest we've ever come to having two $50 million openers was last Christmas, when I Am Legend opened to $77.2 million and Alvin and the Chipmunks debuted to a surprising $44.3 million.

Other close calls came in May 2005, when The Longest Yard ($47.6 million) opened ahead of Madagascar ($47.2 million). That weekend, Star Wars: Revenge of the Sith, enjoyed an even better second frame at $55 million to lead both. Other interesting one-twos are Casino Royale and Happy Feet ($41.5 and $40.8 million respectively), and American Gangster and Bee Movie ($43.5 and $38.0 million). Usually big films shy away from each other, with studios picking weekends they can control. This frame brings something unique, two films after diametrically opposite demographics: Wanted, the R-rated super violent and profane action flick, and WALL-E, the sweet, family-friendly cartoon from Pixar.

The winner of the unexpected behemoth battle, and our number one film of the weekend is Pixar's latest (and maybe greatest) film, WALL-E, the story of a lonely and often sad waste disposal robot. That's probably not a good way to get your story greenlighted, but this is Pixar, the studio that brought you journeying goldfish ($339 million domestic), and a rat that can cook ($204 million domestic). WALL-E earned a better-than-expected $62.5 million from 3,992 venues. This is a huge rebound from last year's Pixar outing, Ratatouille, which opened to $47 million over the same June weekend. While the opening for Ratatouille wasn't the usual for Pixar (between $60 million and $70 million is the norm) chef rat finished with over $200 million, Pixar's sixth consecutive effort to reach that plateau. No other studio in Hollywood can make this same claim, and now WALL-E is going to make that string of consecutive hits seven.

How can the Pixar brand keep pumping out quality releases? Planning. These movies are not made in three months, it's more like three years. Pixar has developed all of their films very carefully, taking painstaking time with story before moving on to the more creative animation process. The result, of course, is gold, and with all this money swirling around for Pixar, it would be nice if Hollywood would copy their model, and go with quality rather than mass. The other result for Pixar is extremely positive reviews, which this week created a huge buzz for WALL-E. At RottenTomatoes, only five reviews out of a possible 134 were negative, leaving the Andrew Stanton film with a fresh rating of 97%, percentages that are reserved only for Pixar and Oscar nominated films.

Tracking estimated the opening for WALL-E to be "more than $50 million", which really means they didn't know, as kid films are admittedly tough to track (I wonder how many 13-year-olds picked Wanted as their choice of the weekend). WALL-E performed better than expected because Pixar controlled the word-of-mouth this time out, with few reviews seven days prior to release (earlier reviews may have increased talk about the lack of dialogue in this picture). The legs for WALL-E may be more interesting than the opening, as this does sound like a thinking man's (or child's) film. Still, Ratatouille was a similar kind of movie, and its final domestic gross was more than four times its opening. Internationally, the lack of dialogue should help WALL-E's legs in the long run, and this one should end up with $750 million once all receipts are counted - not bad when the production cost came in at $120 million.

Our number two film is Wanted, another big tracking miss. Based on a graphic novel by Mark Millar and J.G. Jones, the movie stars Angelina Jolie, Morgan Freeman and James McAvoy. Wanted walloped tracking scores, opening to $51.1 million from a moderate 3,175 venues. Analysts were predicting an opening of $35 to $40 million, which makes them two for two on the miss side this weekend, and adds to a summer of ugliness in terms of tracking.

Who is to thank for the large success of Wanted? Universal mostly, but big thanks have to go to Angelina Jolie, who might be the leading female summer name working today. She added her voice to Kung Fu Panda, which opened to over $60 million only a few short weekends ago, got Mr. & Mrs. Smith above $50 million, and helped open Beowulf over $25 million. The woman embodies sex appeal, and brought males out in force for the aptly titled Wanted. Also, her adoptions and willingness to take on human rights issues ring true with women, which may have made the fairer gender more apt to check this one out (and James McAvoy would have helped in that department as well). McAvoy is turning into a star, and the above-the-title recognition for Wanted adds to the success he found in Atonement, and will find if he ends up in The Hobbit as Bilbo Baggins.

As stated, Wanted was once a graphic novel, and with a string of hits coming out of the graphic novel industry, this one won't be the last. The poster boy for the graphic novel is 300, the film that starred no one but looked cool, as it became a $70 million opener and a $210 million domestic finisher. Sin City opened to $29 million, finished with $74 million, and now has two sequels lined up for the near future. V for Vendetta also earned over $70 million domestically, and the list goes on. Graphic novels are the perfect fit for Hollywood films - they can be over-the-top, violent, and drip with good ideas. Hopefully, we will see many more in the near future.

Reviews for Wanted started out spectacularly as the week broke, but began to edge toward middling as the more conservative critics got their licks in. It finished positively and received an excellent grade for an R-rated action film. Wanted's fresh rating was 75%, with 100 critics liking it. Previously scheduled for March, Universal made the shrewd move to move this one up to summer, positioning it against WALL-E, instead of some similar summer action fare. Universal has always had a tight grip on summer; last year, they opened four films over the summer months to more than $30 million each, and had three consecutive $50 million plus openers in 2003. Still to come this summer for Universal are another Mummy movie, Hellboy 2, and Mama Mia!

Finishing third is Get Smart, last weekend's number one film. Get Smart earned $ 20 million and fell 48% - which isn't bad considering the top two movies grossed more than $120 million. Budgeted at about $80 million, Steve Carell, Anne Hathaway and Dwayne Johnson have now seen $77.3 million cross the till. Get Smart could cross the $100 million mark next weekend, and will be on its way to about $135 million.

Kung Fu Panda took its licks from WALL-E this weekend. The Paramount/DreamWorks release earned $11.7 million in its fourth weekend, and was off 46% from the previous weekend. This was an expensive effort for the studio, as Panda carried a production budget of $130 million, but it has topped that domestically with a $179.3 million gross so far. It will approach $200 million in the next two weekends. Additionally, Kung Fu Panda has also earned over $75 million overseas, and hasn't opened in many key markets.

The Incredible Hulk got blasted again, as it would have been another victim of the incredible top two scores this weekend. The Ed Norton flick earned only $9.2 million and was off another large 58% from the previous weekend, when it fell 60%. At least it did somewhat better than the Ang Lee version of The Hulk, as that one earned $8.2 million in its third weekend. Because these two films have grossed such similar amounts (The Incredible Hulk is at $115.5 million, The Hulk at $117 million), Marvel may have to make some hard decisions about how they use the big green guy in the future. At this point, they may have destroyed The Hulk brand.

Dropping to sixth - and unfortunately not further - is The Love Guru, Mike Myers' most recent mistake. The Love Guru earned $5.4 million and was off 61% from its $13.9 million debut last weekend. Why are people seeing this dreck? The amount stolen so far has reached $25.3 million.

Finishing seventh is Indiana Jones and the Kingdom of the Crystal Skull, which is already in its sixth weekend of release. Indy and friends earned $5 million this time out, will cross the $300 million mark tomorrow. Currently it sits with $299.9 million. It took Iron Man 48 days to achieve the same feat Indiana Jones managed in only 40 days.

Eighth goes to everyone's favorite whipping boy, The Happening, which fell three spots from fifth last weekend. After dropping 66% in its second frame, The Happening earned only $3.9 million and fell another 63%. After debuting to over $30 million, this one has only been able to double that score in the 14 days since. When the bad guy in a movie is the wind, I'm not sure how it can cost $60 million, but this one did. It has a gross so far of $59.1 million. Maybe next summer we will get a movie about M. Night Shyamalan transforming into Uwe Boll.

Ninth goes to Sex and the City, the same spot it finished in last weekend. Sex grossed $3.8 million, was off 42%, and brings its total up to $140.1 million.

Finally in tenth is one of Adam Sandler's weaker efforts, You Don't Mess With the Zohan. The big Z earned another small gross of $3.2 million and was off 57% from the previous frame. After opening to $38.5 million, the comedy has dropped by 58%, 54% and now 57%. The total for Zohan now sits at a puny-for-Sandler $91.2 million.

Box office totals are simply spectacular for this weekend, and things should only get better as we head toward the July 4th holiday. Last year, with Ratatouille at number one, the top 12 films at the box office earned $146.8 million. This year, the top 12 films did about $30 million better, turning in a top 12 score of $179.2 million. Next weekend, we get Hancock, the latest Will Smith entry, and while the anti-superhero film is currently not reviewing all that well, it will still be a force over the long holiday weekend, thanks to the Will Smith brand alone.