Weekend Wrap-Up
By John Hamann
June 22, 2008
BoxOfficeProphets.com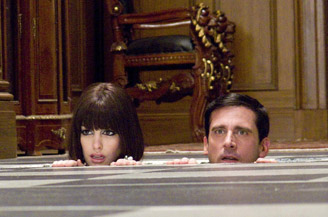 ---
With two comedies locked in for predictable box office results, some thought this might be a fairly boring weekend, but it wasn't to be. Yes, debuting comedies Get Smart and The Love Guru opened in the appropriate range for their good and bad expectations respectively, but it's the holdovers that will be the talk of the box office weekend. The Incredible Hulk and The Happening were eviscerated in their second frame, but the remaining quality movies released over the last month and a half were enough to once again get this year's weekend ahead of last year's.

The number one film, Get Smart, brings us Steve Carell's return to the big screen. It was exactly one year ago that the star of The Office was almost relegated to TV forever, after Evan Almighty limped out of the gate with a $30 million opening weekend against a production budget of $175 million. Get Smart is a different animal. Warner Bros., unlike Universal with Evan Almighty, managed expectations nicely. So, the opening of $39.2 million for a film with a much more conservative $82 million budget will be seen as a win, despite being only $9 million away in terms of opening weekend from Carell's big miss last year.

Yes, Don Adams would be quite pleased today, I think, as his much-loved TV series from the mid-to-late 1960s translated to the big screen successfully, without pandering to either critics or children. Warner Bros. opened Get Smart quite wide to 3,911 venues, and earned a venue average of $10,013. It had a solid weekend multiplier of 2.84, after a strong $13.8 million opening on Friday. While Get Smart didn't reach the lofty heights of The Simpsons Movie or Sex and the City, the original material is much older than these two. Get Smart is not quite the same sort of pop culture cotton candy that the girls from Sex (Google, I'm feeling lucky!) or Bart Simpson bring to the big screen. Compared to similarly dated products, Get Smart held up quite well. Charlie's Angels opened to $40.1 million in 2000, and the first Mission: Impossible film opened to $45 million in 1996. Both of these examples had a lot more going for them than Get Smart (for example, Tom Cruise prior to his insanity). So, with tracking being trounced (again), this is an all-round victory for Carell, his fellow cast members and Warner Bros.

Get Smart was not a cheap endeavour, but with this opening, the investment for Village Roadshow and Warner Bros. is going to pay off quite quickly. There must have been concern at some point, as Get Smart is listed as an $82 million dollar production, but really cost more. It's no secret that Get Smart has been turning around in Hollywood for years, as Carell was approached for the Maxwell Smart role before The 40 Year-Old American Virgin and The Office. Leading up to release, the reviews for Get Smart weren't great, but its score improved as more reviews came in. Currently at RottenTomatoes, the comedy has 62 positive and 59 negative reviews for a not-so-fresh rating of 51%. For a product like Get Smart, I think that's a decent score. This kind of comedy has those hit and miss jokes you are either laughing at or smacking your forehead over.

Casting was strong and smart, which clearly helped with opening weekend. Anne Hathaway is no slouch at the box office, with hits like The Devil Wears Prada ($124.7 million finish) and The Princess Diaries 1 and 2 ($108.2 million and $95.1 million respectively). Hathaway again would have brought out the young female demographic. Dwayne "The Rock" Johnson brought the action fans, and Alan Arkin and Terence Stamp would have interested the older folks. There is no pure comedy on the summer movie horizon (although Will Smith's Hancock might be arguable), so legs aren't completely out of the question. Get Smart could be Steve Carell's sixth $100 million film, which isn't bad considering he has only been doing films for about five years.

Kung Fu Panda chops his way to second place again, and only has a stronger hold than the 44% it dropped last weekend. This time out, Kung Fu Panda earned $21.7 million, and was off 35%. It's hard to complain about $155.6 million in box office receipts so far. Panda had a $130 million budget, a figure Paramount and DreamWorks will be quite happy they paid for this one. Look for Kung Fu Panda to finish with about $200 million and the most successful non-Shrek DreamWorks Animation project yet. It needs less than $38 million to surpass Madagascar.

Finishing third is The Incredible Hulk, but much like its 2003 predecessor, things aren't so happy in Big Green Man Land. After opening to a completely respectable $55.4 million in the last frame, the Marvel/Universal effort was grounded this weekend, earning $21.6 million. That equals a drop from last weekend of 61%, and while large, the good news is that it didn't drop the 70% that the Ang Lee/Eric Bana version did. Still, one has to wonder what it is about the Hulk that is keeping second weekend business so low. I think the problem is that there isn't a lot one can do with The Hulk. He gets mad, turns green, smashes things, and turns back into Ed Norton or Eric Bana or whoever happens to be playing him at the time. Then, you repeat the scenario. Whatever the case, I think Marvel has to wonder about the franchise possibilities with the Hulk. So far, this version of The Incredible Hulk has earned $96.5 million, and looks to finish with about $150 million. I bet someone is wishing they had included the Walkin' Away music.

I think The Love Guru should be more than happy with fourth, as I picked it to do even worse, opening under $10 millions, and much further down in the top ten. The Mike Myers comedy brought in a sad $14 million and a per-venue average of $4,648, as the once mighty Austin Powers star is having his Guru handed to him. I know I'm not the only one that was avoiding The Love Guru like the plague, as the trailers and TV ads were more akin to a warning than an advertisement. I felt embarrassed for Myers when he appeared on American Idol; I changed the channel when the ads came on TV; and I sat through the trailer in pain, begging for someone to kill me. Critics agreed as The Love Guru's score at RottenTomatoes is one of the worst of the year at 16% fresh, and the nation's "top critics" hated it even more, with a nasty rating of 7%.

Mike Myers should be able to do better than this. Sure, he stunk up the children's classic Cat in the Hat, but was still able to get that one above $100 million. The Austin Powers films were quite funny, but I thought Austin Powers in Goldmember was The Love Guru kind of bad. Shrek, Wayne's World are examples of comedies that have been successful for Myers, and someone obviously told him The Love Guru character was funny (that person should run). This one should have been shelved (a la Sprockets), despite the $60 million that Paramount dropped into it. Luckily, next weekend we have Wall-E and Wanted, two films that should review well, so at least the bad taste of The Love Guru should be washed from my summer movie palate. Really, it's like that stinky cheese.

The Happening could have beaten The Love Guru this weekend, but it sucked really badly as well, and audiences are getting off this Titanic in a big, big, hurry. After earning a surprising $30 million last weekend, it tanked in its second weekend, falling an almost inconceivable 67%, while earning only $10 million. This, ladies and gentlemen, is word-of-mouth at its finest, as those suckers lured by a fantastic marketing campaign last weekend warned their friends heading into the second weekend, and hence the drop. The Happening has now earned $50.3 million, and will beat its production budget of $60 million, but not by much.

Indiana Jones and the Kingdom of the Crystal Skull falls only one place to sixth this weekend, despite two new openers. The Crystal Skull pulled in another $8.4 million in its fifth frame, but tumbles 43% compared to last weekend. It's going to be close, but I don't think it's going to catch the Iron Man total. Currently, Indiana Jones sits with $290.8 million, and will be at $300 million by this time next week.

Seventh goes to Adam Sandler and You Don't Mess With the Zohan, which has fallen very quickly from its second place debut only two weekends ago. Zohan earned $7.2 million in its third frame and was off 56%. It had a per venue average of only $2,196 - which means it's going to hemorrhage screens next week. It looks like Zohan will challenge I Now Pronounce You Chuck and Larry as his lowest comedy earner since Little Nicky. The hairdressing flick now has a total of $84.1 million.

Sex and the City finishes in eighth place, as the girls try to recover from their 54% plunge last weekend. This time out, Sex earns $6.5 million, and drops a much better 34%. The total for the $65 million New Line production sits at $132.4 million, and should finish with about $150 million.

Ninth this weekend goes to Iron Man, which has now been in theaters for eight weekends. Iron Man earned another $4 million, after crossing the $300 million mark on Wednesday. Iron Man now has a total of $304.8 million, and should get ahead of Pirates of the Caribbean: Curse of the Black Pearl ($305 million finish) and Independence Day ($306 million finish) by this time next weekend.

Our tenth place finisher is the surprise horror hit The Strangers. It made $1.9 million and will exit the top ten after this week, but no one ever expected it to do this well. Its grand total of $49.6 million is quite strong - and by the time it's done, it should come pretty close to matching the much higher-budgeted The Happening's domestic take.

Overall, things aren't as hot this weekend as they have been over the last two months. Even so, this frame was still ahead of last year, when Evan Almighty got off too a slow start, and John Cusack's 1408 surprised. During the same weekend last year, the top 12 films earned about $124 million versus this year, when the top 12 earned a much more solid $136.9 million, and increase of about 10% over 2007. Box office revenue for 2008 is at exactly the same amount as it was this time last year with $4.4 billion. Ticket sales are down 2.3% because of inflation, however. As I mentioned earlier, next weekend brings us Angelina..... I mean the weekend brings us Pixar's Wall-E and Wanted, the graphic novel-based action movie, making for what should be a very strong weekend.