Daily Box Office Analysis for June 17, 2008
By David Mumpower
June 18, 2008
BoxOfficeProphets.com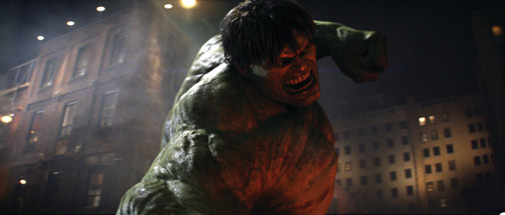 ---
Nothing messes up a good plan like the unexpected. I bitterly realize this today at the exact moment when I look at Tuesday's box office top ten. As I had mentioned yesterday, I had planned to chronicle the exact moment wherein The Incredible Hulk's weekday numbers overtook The Hulk's weekday numbers. I had expected that to happen on Tuesday or Wednesday, as long as we didn't inflate the 2003 movie's receipts for box office inflation. In yesterday's column, I pointed out that the 2008 release earned $6.0 million, a total within an eyelash of the 2003 release's $6.1 million. The expectation would be for The Incredible Hulk to not depreciate as much on day two as its predecessor did, and I was prepared to explain what this meant in terms of future performance for the Edward Norton film. It was a good plan...right up until the unexpected happened.

After a brilliant Monday holdover from the weekend, The Incredible Hulk fell 20.1% to $ $4,801,850, still a respectable performance relative to expectations. The problem is that - wait for it - this is a steeper decline than The Hulk had on its first Tuesday. That title earned $5.07 million, a total reflecting a decline of 17% from its aforementioned Monday total of $6.1 million. I honestly did not see that happening. After all, the Ang Lee title had criminally poor legs and Tuesdays are ordinarily the best day out of the box office weekdays. So, a 20% decline for a title with much better word-of-mouth than its predecessor, a film with a 17% decline, is...disappointing. Does this mean The Incredible Hulk is in a world of hurt? Of course not. This is probably just a momentary blip on the radar. Is there cause for concern? That answer is unfortunately yes.

In comparing the performances of the two Hulk movies thus far, what's clear is that there are similarities to be drawn with regards to box office behavior. The Hulk debuted with $24.9 million on its first Friday then fell 13% on Saturday to $21.5 million. On its initial Sunday, it fell a steep 24% more to $16.3 million and followed that up by dropping off the table Monday with a 63% decline. For a June release, this is troubling behavior, and I am surprised to say that The Incredible Hulk is mimicking it an uncomfortable amount thus far.

The 2008 version of Hulk started with $21.5 million on its first day before dropping 14% to $18.4 million. On Sunday, its drop was 15% to $15.6 million followed by a 61% decline Monday to $6.0 million. With yesterday's events established, a $4.8 million Tuesday represents 22% of its Friday business. The Hulk was at 21% after the same time frame. What we see here is that the new movie is doing better than the disaster film from 2003, but it isn't doing a LOT better. In fact, it's pretty much in the same position as the first Bruce Banner movie. This is not what anybody would have predicted given the fact that the word-of-mouth on the new film is quite positive.

At this point, we have to at least explore the possibility that a significant percentage of the people who were willing to give a Hulk movie reboot a chance have already done so. The others may not be swayed by word-of-mouth, choosing to wait for home video release instead. We'll have a good idea whether this is true or not by Sunday, but the numbers to keep in mind for tomorrow are that The Hulk fell another 14% on its first Wednesday with box office receipts of roughly $4.3 million. If The Incredible Hulk is in the $4.2 million range or lower tomorrow, there is potential trouble a-brewing.

The news for The Happening is not much different that the worrisome information above. M. Night Shyamalan's latest proof that he is woefully out of touch fell 21.7% to $2,450,829, giving it a running total of $36,099,325. If Hulk's decline of 17% is alarming, an even steeper drop is obviously...well, indicative of a movie that got a D grade from Cinemascore. That's like getting slapped down by Regis Philbin. A B- is a bad grade. A D is...well, it uncomfortably reminds me of college. Variety published a story indicating that Shyamalan had a juicy deal in place with Fox that gave him a full half of the profits on any money the movie makes theatrically beyond its negative cost. At this point, M. Night, I wouldn't plan on buying a yacht. Or even a Vespa. A couple of books on screenwriting might not be a bad idea, though.

The other interesting news in the top ten this week is that Kung Fu Panda leapfrogged Sex and the City to become the fifth most successful movie of 2008 in terms of domestic receipts. Panda currently stands at $125,599,476 while Sex and the City is at $122,671,710. Next up for the Panda is The Chronicles of Narnia: Prince Caspian. For all of that film's criticisms relative to budget, it does currently hold fourth place on the year at $132,810,122. It will probably get passed by Sex and the City in another couple of weeks as well as Hancock, The Dark Knight and several other titles. Even so, Prince Caspian might wind up in the top 15 for box office in 2008, a point that would probably win you some free drinks on bar bets.

Overall box office revenue for the top ten yesterday was at $18,447,962. This total represents depreciation of 10.4% drop from Monday's total of $ 20,586,002. In terms of actual dollars, it is almost exactly the amount of difference between the Monday and Tuesday performances of The Incredible Hulk ($1.9 million). It is a 2.8% increase from last Tuesday's total of $17,952,226 as well as a 17.9% increase from the first Tuesday of June's $15,649,178. The good news from the perspective of distributors and exhibitors is that only four films in today's top ten earned less than a million dollars. You may recall from prior summer daily box office discussions that 2006 and 2007 had some rough weeks in early June where it wasn't unusual for over half the top ten to be barely hanging on. We don't have quite so many stragglers right now, which speaks to the quality of the first half of the summer's lineup.