Friday Box Office Analysis
By David Mumpower
June 14, 2008
BoxOfficeProphets.com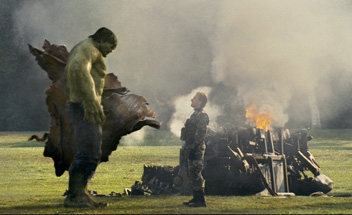 ---
Hulk smashes on his first day, but not as much as he did in 2003.

The Incredible Hulk

The Incredible Hulk earned an estimated $21 million on its first Friday. This result is solid, but it falls short of the $24.9 million Ang Lee's version made on June 20, 2003. In case you're wondering, that number inflation adjusts to $29.4 million in terms of 2008 dollars. This means that Friday ticket sales are down roughly 29% from the last outing.

Some might feel that this is a lackluster opening for a comic book film; however, given how badly the 2003 movie destroyed the franchise before it really even had a chance to get off the ground, The Incredible Hulk's Friday result was exemplary. It's a similar situation to the debut of Batman Begins in 2005 after Batman & Robin and its Joel Schumacher nipple suits ruined that series several years prior to its release. Audiences were skeptical to come back, and Batman Begins earned $15.1 million in its first day. The Incredible Hulk beats that number handily, so it is off to a good start out of the gate. It's a bit different from Batman Begins in that the Dark Knight's film had stellar reviews, though. The Christopher Nolan title sits at 84%, quite a bit better than The Incredible Hulk's still good 64%.

Looking forward to what can be expected over the weekend, if The Incredible Hulk follows the pattern of the 2003 release, it will experience a significant Saturday decline. Ang Lee's title fell 13.7% on its second day to $21.5 million (a number that still slightly surpasses what The Incredible Hulk has done on day one). Overall, the 2003 version of The Hulk had a lousy internal multiplier of 2.49, but given the better reviews for the 2008 Hulk, I'm expecting a slightly better holdover this weekend. A 2.65 multiplier would give it a $55.7 million weekend.

The Happening

M. Night Shyamalan has been introducing The Happening in all of the commercials, and his smug confidence has indicated that he was certain audiences would ignore Lady in the Water, giving him another chance. In some ways, it's kind of like The Incredible Hulk in that The Happening is trying to compensate for a previous disaster project, and in that regard, it succeeds. Its first Friday nearly doubles Lady in the Water's $6.9 million first Friday with an estimated $12.8 million. However, this number still falls well short of The Village's $20.4 million opening day. With regards to recent behavior for M. Night Shyamalan movies, The Village had an internal multiplier of 2.49 and Lady in the Water surprisingly had one of 2.63. While BOP does not believe that word-of-mouth ever significantly impacts internal behavior over opening weekend, the reality is that The Strangers had an internal multiplier of 2.72 two weekends ago. Therefore, the 2.5 to 2.75 range appears to be the safe spectrum for weekend expectations. A 2.6 multiplier will be a $33.3 million weekend, a strong result for a title with an estimated $57 million budget, particularly for a film that was this critically reviled.

Notable Holdovers

Kung Fu Panda earned an estimated $10 million, a decline of only 51% from last Friday's $20.3 million. As we have chronicled on BOP in the past, June animated releases have a tendency to exhibit fanboy rush behavior on their first Fridays. The fact that the Panda has managed to avoid a 60% plus decline bodes well for its legs. Kung Fu Panda will go over $100 million sometime today.

The news for You Don't Mess With the Zohan is not nearly so glowing. Adam Sandler's latest smell-my-feet comedy fell 63% to $5.4 million, thereby having its smelly feet cut out from under it.