Weekend Forecast for June 13-15, 2008
By Reagen Sulewski
June 13, 2008
BoxOfficeProphets.com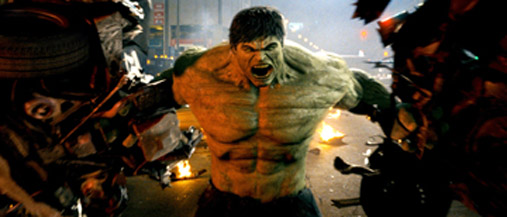 ---
If you thought last weekend's releases were interesting, wait until you get a load of this week's. Both come in with significant questions, to the point that many moviegoers are likely asking, "why were these films made?"

Released in the second wave of the comic book movie renaissance, 2003's Hulk should have been a slam-dunk. One of the more popular characters in the history of comics, with one with the most action packed stories, there should have been no doubt about it being one of the biggest movies of that year. Then Ang Lee happened. Turning one of the more straightforward comic characters into a plodding psychological study with dodgy FX, it was met with one of the more negative reactions ever for a blockbuster film (for the record, I kind of liked it). It limped to $132 million domestic and appeared to kill the franchise in its cradle.

Let's skip to five years later, though, with Marvel taking more control over the movie versions of its properties. One of their first choices to revisit: Hulk, this time with more Hulk Smash, and less daddy issues. Somewhere between a reboot and a sequel, it takes some of the key points of the first film and carries them through, but with an entirely new cast. Eric Bana is wiped away for Edward Norton, Jennifer Connelly becomes Liv Tyler and Sam Elliot becomes William Hurt. The new director is Louis Leterrier, who has helmed such illustrious films as The Transporter 2 and Danny the Dog.

Norton's Hulk is now on the run from the US government, trying to hide and control his abilities/curse, wherein excessive rage turns him into a giant green monster. After the government tries and fails to find him, they decide the best way to catch a monster is with one of their own, which is entry #26 in the Bad Ideas Hall of Fame, right after reading something called the Book of the Dead. Tim Roth plays Emil Blonsky, transformed into The Abomination via the same process that gave us the Hulk. Suddenly Hulk doesn't look so bad, and he's called upon again to fight for the good guys (through one of the least hid cameos in recent years, Tony Stark/Iron Man from the insanely successful film that started this summer).

Some of the uglier effects problems seem to have been fixed with this edition of Hulk, and Leterrier probably doesn't even have the foggiest idea of how to go about exploring the larger psychological issues of being a huge green guy, even if he wanted to. Critical reception is surprisingly strong, though I detect a strong tone of "at least it doesn't suck like the last one" to them. The ads recently have been, if not outstanding, at least enticing, and the recent inclusion of Iron Man seems destined to drive a few million more to the box office. What remains to be seen is how much audiences are willing to forgive the previous film. The Batman franchise took a tremendous hit in its reboot, and it certainly looked better than this does. However, Marvel and Universal have done a fantastic job of selling this and it could easily wash out the sour taste of that previous film. Watch for a strong opening weekend of about $66 million.

It's difficult to come up with someone whose career has gone from boom to punch line in such a dramatic fashion as M. Night Shyamalan. After breaking through with The Sixth Sense in 1999 as a combination of the next Hitchcock and the next Spielberg, Shyamalan rode this wave through another three or four films (depending on how you count/your personal taste) until around 2006, when his ego developed sentience and tried to wrest control of the ship. Spurning his long-standing relationship with Disney after they didn't fully support Lady in the Water, he proceeded to launch an epic stink bomb, a horror/fairy-tale that took open shots at his critics and was generally incoherent. It grossed just $42 million, a tremendous step down for a guy who's been used to his films grossing $150 million or more.

Now comes The Happening, which might be a second straight stinker. Heavily hyped as his first R-rated film (somehow that's supposed to be significant), it's almost a self-parody of Shyamalan's previous films. A mysterious "happening", is occurring, you see, and it's causing a shutdown of all the communication networks and what seems to be a rash of suicides. We experience it on the ground level, a la Signs, which is also a time honored Twilight Zone trope, but with the ads being so deliberately vague about what it actually is, it seems impossible to build up any suspense. I'm reminded of Bart Simpson's comments about The Raven – "You know what would have been scarier than nothing? ANYTHING!"

Clips for the film are legendarily bad, with leads Mark Wahlberg and Zooey Deschanel faring particularly poorly with stilted dialogue and oddly framed shots. Critics are savaging the film, with even the positive reviews calling it "entertaining nonsense". I think audiences are getting burned out on Shyamalan's act, and he's going to have to find a new one pretty soon – it's rare to have a director become box office poison, but here you have it. I predict an opening weekend for The Happening of just $21 million.

Returning films include last weekend's champ, Kung Fu Panda. Starting out with $60 million, it shows a lot of promise for the coming weeks as an entertaining family option. It's an uncommonly good film for DreamWorks Animation, who have floated by for too long on the substandard but pop-culture laden Shrek movies. It's only got one more week to establish itself before Pixar potentially knocks it out of the sky, but it very well could stick at $38 million or so for this weekend.

You Don't Mess With the Zohan surprised many with a $38 million opening weekend, showing that Adam Sandler has one of the more loyal fan bases out there. I mean, they'd have to be loyal, right? Playing a Mossad agent who moves to New York to be a hairdresser, Sandler tested the limits of high concept comedy last weekend, and came out the victor. Watch for a second weekend of $22 million.

Indiana Jones and the Kingdom of the Crystal Skull stayed viable in the 2008 Summer Box Office Championships with a $22 million third weekend, and sliding past the $250 million mark. It's just a little over $30 million behind the clubhouse leader, Iron Man, but is already starting to shed screens. It should find another $13 million this weekend.

Sex and the City took an expected enormous tumble, losing almost two-thirds of its opening weekend business in its second frame. Of course, that was an artificially-inflated figure in the first place (insert your own plastic surgery joke here), and I don't see a reason it'll be repeated this weekend, at least not to quite the same degree. The film's audience has been mostly exhausted, but any way you slice it, with over $100 million in the bank, it's already a winner. Give it $9 million for weekend number three.

The Strangers had an underwhelming second weekend after surprising with its $20 million open, but again, this is a film that's already ensured itself a spot in the black ink. Even a fall to $5 million this weekend can't stop that. Long live the cheap horror film.

Iron Man, as mentioned, keeps chugging along, and is oh so close to $300 million. It won't happen this weekend, but it could happen as soon as mid-week next week. Put it around $4.5 million for this weekend, its seventh in the top ten.