Movie Review: Kung Fu Panda
By Matthew Huntley
June 11, 2008
BoxOfficeProphets.com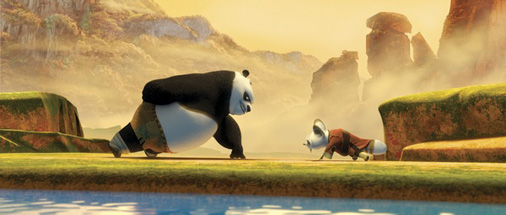 ---
Not since Robin Williams' exuberant take as the genie in Aladdin (1992) has there been an actor so fitting for an animated role as Jack Black in Kung Fu Panda. I'm willing to bet Black was always the first choice to voice Po, the tubby, jovial panda who dreams (sometimes literally) of becoming a kung fu master. With his ginormous belly, wide smile and large, black patches around his eyes, Black and Po are practically interchangeable, in a manner of speaking, and perfectly suited for each other.

I expected Kung Fu Panda to be light, goofy and colorful, and it is, but I didn't expect it to be these things in such an artistic way. The filmmakers behind this magical movie allow the digital animation to stand out, which isn't so easy these days given the nimiety of the medium. In fact, what makes it so appealing and memorable is the way it utilizes animation to full capacity. This is a movie about animals who know martial arts. They jump, flip, glide, kick, punch, swing, duck, spin, etc. This is common for any animation, I know, but the makers of Kung Fu Panda go into extra detail and it soars. They know animation gives them the ability to do things they couldn't do in real life and they take it all the way.

But the animation would merely be a technical exercise (although a very good one) if there weren't such a winning and funny story to go along with it. It makes me happy to tell you about this movie's punchy sense of humor and big heart. The story is perhaps not as sophisticated as, say, Ratatouille, but it's told in an equally sophisticated way. Adults (and even kids) will know where exactly where Kung Fu Panda is going the entire time, but it will be hard for them not to enjoy themselves on its way there.

Following an uproarious opening dream sequence in which the words "legendary" and "awesomeness" are used to brilliant comic effect, we're introduced to Po, a stocky panda who dreams of joining the Furious Five, a group of warriors who train and protect his small Chinese village from atop an overlooking mountain. Po is the son of a noodle restaurant owner, Mr. Ping (voiced by James Hong), who, as a crane, isn't exactly the same species as his son, but never mind. This little tidbit results in an amusing payoff on its own.

Ping wants Po to inherit the family noodle business, but Po would rather learn kung fu. That's why he's so anxious to hear whom Oogway (Randall Duk Kim), the town's oldest kung fu master, will choose as the Dragon Warrior, whose destiny it will be to protect the town from Tai Lung (Ian McShane, pitch perfect), a ferocious tiger who escapes from prison and desires the infinite power contained within the sacred Dragon Scroll.

Master Shifu (Dustin Hoffman), who trained the Furious Five - Tigress (Angelina Jolie), Monkey (Jackie Chan), Mantis (Seth Rogen), Viper (Lucy Liu) and Crane (David Cross) - must prepare Po, but he thinks it's hopeless. What can he do when the fat panda can't even swing a decent punch!

But then Shifu discovers a way to reach him. I won't reveal what this is, but the sight of Po doing a split between two cupboards has forever imprinted itself on my mind as one of funniest images I've seen in a long time.

The character of Po must have been written for and catered to Jack Black. All his mannerisms, dialogue (including his muttering), nuances, enthusiasm - these things scream "Jack Black!" And luckily, Black is not one of those annoying actors whose overzealous energy gets on your nerves, or at least not here. He makes Po so unbelievably wholesome, lovable and cheerful I felt like giving him a big hug. He reminded me of an ebullient pet, who simply loves to be around people, so curious, owl-eyed and excited. Even as I write this review, all I can do is smile. Po ranks among the most memorable of animated characters.

But directors John Stevenson and Mark Osborne, along with their talented team of animators, deserve credit for utilizing Po and the other characters with all the treasures of animation. Not only are the fight scenes wonderfully designed and choreographed, able to provide a rush and admiration from even the most hardcore kung fu fans, the play between the characters and their surroundings gives it an energy and spirit that keeps it moving.

Despite its traditional and predictable story, I left Kung Fu Panda glowing. It's enormously entertaining and fun. A great deal of effort was put into marrying the animation with the story because the two find perfect sync. This is sure to put DreamWorks back on the cutting edge for animation and I've no doubt it will earn them an Oscar nomination for Best Animated Feature, and I stress "animated."

NOTE: Like many movies these days, there's an extra scene that plays after the end credits. It's a heartwarming treat well worth the wait.