Weekend Forecast for June 6-8, 2008
By Reagen Sulewski
June 6, 2008
BoxOfficeProphets.com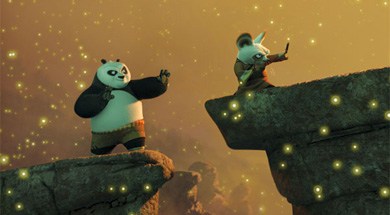 ---
And now the box office starts to get interesting. After a few foregone conclusions making most of May a fait accompli, we start to get into some films where their fates seem genuinely in doubt.

Leading the way this weekend is Kung Fu Panda, the first truly animated film of the season (Speed Racer almost counts, but not quite). It's a quasi-spoof of the kung fu genre, with the five major styles of kung fu represented literally by their animals; Tiger, Crane, Viper, Monkey and Mantis. Add to these, the Panda (voiced by Jack Black), who while the laziest animal in the forest, still dreams of being a kung fu master someday.

After the escape from prison of a villainous snow leopard threatens the peace of the Eternal Valley, an ancient scroll points to the panda as the one who will save them all, which wouldn't be a problem, if only his kung fu wasn't hopeless. Can he be trained in time to develop his own style to save them all?

Kung Fu Panda looks like gleeful chaotic fun, in a sort of Looney Tunes meets Jackie Chan (who, not so coincidentally voices Monkey) kind of way. A lot will depend on your general tolerance of Jack Black, who does seem a lot more so as just a voice, especially in the guise of a cuddly panda. The cast also includes a host of famous voices, including Angelina Jolie, Dustin Hoffman, Seth Rogan, Lucy Liu, Ian McShane and David Cross, though you'd be hard pressed to identify any of them from the clips – it's Black's show here.

The animation in Panda looks crisp and colorful, and overall it seems to be quite free of gratuitous pop culture jokes, something that's plagued DreamWorks animated movies recently. This seems like a huge and natural winner for kids, with at the very least a significant adult audience, which is what you really need to make an animated film a true hit these days. Give it $57 million on the weekend for an easy win.

There are times when Adam Sandler's career seems like he's trying his best to alienate every single portion of his audience in turn. After turning into one of the biggest comedy stars in the business based on playing to frat boy audiences, he's made mediocre family man dramas/comedies, a drama about a 9/11 widower and then taunted his core audience by making a comedy that involved gay marriage. To date, his audiences have mostly followed him along for the ride. You Don't Mess With the Zohan could test that even further.

In some senses, Zohan is generally in line with a lot of his other zany comedies, but this one takes the high-concept football and tries to run it 100 yards for a touchdown. Sandler plays the title character, a legendary Israeli super-soldier who wants to quit the IDF to pursue his real dream – becoming a hairdresser.

After faking his death, he travels to New York to get a job in a salon, where his outlandishly impossible physical skills somehow manage to come in handy. Things get really interesting when his enemies from the Middle East follow him and try to kill him, something that's essentially impossible, given his Chuck Norris/Jack Bauer/Cole Hamels-esque power.

At first viewing, I thought we were perhaps heading for Little Nicky territory, with some painfully unfunny bits – you know the ones I'm talking about, they largely involve feet – leading the way in the ads. Although I haven't personally come around on how I feel about it, I think that the average Sandler fan will probably still go with him on the zaniness. If he hadn't shaken them with I Now Pronounce You Chuck and Larry, this probably won't either. I think it'll dip a little below some of his recent films, but still come in with about $30 million for the weekend.

The Sex and the City movie was a monumental hit, earning $57 million in its opening weekend. How it did was extremely telling about its future chances, or at least those relative to that opening weekend. With $27 million on its first day, $17.5 on Saturday and $12.5 million on Sunday, it was a classically front-loaded film, although unique in that it was a female-targeted movie exhibiting this behavior. Opening night viewing parties seemed to tell the story of the weekend, but once those happened, a large amount of its fanbase was exhausted. It's still nothing to shake a stick at for a film led by Sarah Jessica Parker and three other actresses who are lucky to get roles outside of made-for-TV movies these days. HBO can be quite happy with the results, even if they may be largely unrepeatable. Look for a second weekend of $24 million, which should still get it over the $100 million mark overall.

Indiana Jones and the Crystal Skull took a little bit of a tumble in its second frame, falling from a $100 million three day total to $44 million and change. Though this looks troubling for Spielberg, Lucas, Ford and company, there are a couple things to keep in mind. One, it opened on Memorial Day Weekend, and it's a rare (read: basically nonexistent) film that can navigate the waters of the post-Memorial Day weekend safely. Two, weekday results are set to kick up to impressive amounts very, very soon. I foresee a third weekend of $27 million, which would get it over the $250 million plateau and make it the highest grossing film of the series, even if the previous record for it was set all the way back with the first film in 1981.

Last weekend was a very good one for films that didn't have traditionally strong leads. The Strangers, with just Felicity's Scott Speedman, and Liv Tyler to show for star power, opened to $21 million. Of course, it wasn't Mr. Underworld and Arwen who sold this film, it was some disturbing and effectively creepy footage in the ads that did it. Despite this strong start, horror in general doesn't carry over too well in following weeks, especially in crowded summer marketplaces. This feels very much like a one and done film, but with nothing to be ashamed of if that happens, based on its single digit millions budget. Give it $9 million this weekend.

Iron Man continues to cruise along with a rarely seen consistency for blockbuster film, having decreased its decline in each consecutive week. It's a couple weeks away from $300 million, but it will get there, and it's one of the more remarkable stories of the summer for doing so. Give this $8 million for its fifth weekend. Meanwhile Prince Caspian is struggling to hit even half the total of the first Narnia movie, having started slow and then shed audiences in droves, something not easy to do for a family film. Disney and Walden media miscalculated a little with this one, not realizing how limited in scope the Narnia fanbase was. With $7 million this weekend, it will get to "just" $127 million or so.