Women Want Their Sex
Weekend Wrap-Up
By David Mumpower
June 1, 2008
BoxOfficeProphets.com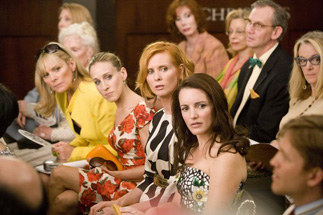 ---
The last time a popular television show was adapted into a theatrical release, The Simpsons Movie earned a whopping $74 million, effectively matching the title's $75 million budget in a matter of three days. As recently as ten days ago, a debate existed about whether Sex and the City would prove a strong enough draw to justify its $65 million budget. Sure, the film seemed likely to open well enough, but a lot of people felt that a title that actively alienated 49% of its possible audience would be in some trouble. They were wrong. Way wrong. Wrong wrong wrong.

We knew this by the middle of the week. The New York Post ran a story indicating that a surprising percentage of its pre-weekend sales were from women and that polling demonstrated large groups of them would be attending Sex and the City at first opportunity. No one was prepared for Fandango's next statement on the subject, however. By Thursday afternoon, a full 92% of people making purchases were buying tickets to see Sex and the City. That's right. More than nine out of every ten ticket sales went toward Sex and the City. That's a better percentage than Iron Man or Indiana Jones and the Kingdom of the Crystal Skull managed, and those two films averaged a $100 million opening weekend. Finally, MovieTickets.com released a story indicating that Sex and the City had moved into its all-time top ten for pre-release ticket sales, putting it on a par with the Star Wars, Lord of the Rings, and Harry Potter franchises. So, the entire industry has been anticipating a huge number for Sex and the City. The only question was how high it could get without any support whatsoever from straight men.

The answer is unbelievably high. Sex and the City debuted with an estimated $55.7 million from 3,285 venues, a marvelous per-location average of $16,968. The Sarah Jessica Parker sex comedy debuted with $26.9 million on Friday, effectively matching the entire weekend total of its only true historical comparison, The Devil Wears Prada. The Meryl Streep release earned $27.5 million in its first three days on its way to final box office of $124.7 million. Sex and the City was helped along by roughly $3 million worth of midnight sneaks on Thursday, meaning it had a true Friday performance of $23.9 million.

Given the unprecedented anticipation by women in metropolitan areas for this release, Sex and the City was expected to be hugely front-loaded, as indicated by BOP's own Tim Briody in his column yesterday. Sure enough, this was the case. Sex and the City's estimated Saturday box office of $19.3 million represents a 29% decline from its announced Friday performance of $26.9 million. When we take out the $3 million worth of sneaks, the actual daily depreciation is 19.3%. This is similar to The Simpsons Movie's 22.6% Friday-to-Saturday drop and almost identical to X-Files: Fight the Future's 19% decline. Those films had weekend multipliers (weekend box office divided by Friday box office) of 2.40 and 2.39, respectively. So, Sex and the City's weekend result of $55.7 million is right in line with this sort of behavior.

The $55.7 million question is how Warner Bros. managed this result with a property much less ubiquitous than The Simpsons. Sex and the City approached that film's $74 million opening weekend despite the dramatic difference between the two titles in terms of overall customer awareness. The key is that The Simpsons Movie appealed to anyone who had seen the show to at least some degree. Due to its lessening reputation in recent years, however, it did not have the "Gotta See It in a Theater" push it might have if the show not been currently running on Fox. Sex and the City, on the other hand, had overwhelming awareness with the one target audience it needed - women. It also had been off the air for four and a half years now, making a movie property involving the title feel like a one-time special event to consumers.

The end result was that women planned parties around visits to the theater, making the viewings of Sex and the City almost secondary to the celebrations surrounding it. It became the very definition of an event film, a title that women planned entire evening gatherings around. The film behaved as a different version of The Passion of the Christ, getting people into theaters who otherwise haven't gone in the past several years. It also has performed in a fashion best described by BOP's James Wood as a female Star Wars: Episode One - The Phantom Menace, creating singularly unprecedented demand amongst an otherwise completely ignored target audience. Metropolitan women had to see Sex and the City and they preferred this to happen Friday night. That means the title will not demonstrate the legs of the aforementioned The Devil Wears Prada, which earned a factor of 4.5 beyond what it made on opening weekend. Even so, that title's $124.7 million worth of final box office appears to be within striking distance for Sex and the City, even if it is as heavily front-loaded as expected. Warner Bros. has a spectacular win with this, the most surprising box office development of the summer and possibly the year.

The news is not glorious for Indiana Jones and the Kingdom of the Crystal Skull. It obviously was upset in its second weekend by the upstart release, Sex and the City. Both major industry resources, Variety and Hollywood Reporter, had relayed industry expectations indicating this would not happen. The fourth installment of the Harrison Ford franchise fell 54% to $46 million. When evaluating the depreciation, it's important to consider that last weekend's $100.1 million result was holiday-inflated.

Even so, in terms of actual dollars, Crystal Skill has failed to match the second weekend performance of its primary contender for the summer box office crown (at least until The Dark Knight gets here), Iron Man, the fourth place finisher this week. The Robert Downey film accumulated $51.2 million in its second weekend, $5.2 million ahead of Indy. Then again, Indy's 11-day total of $216.9 million puts it ahead of Iron Man's $181.7 million in the same time frame. As we move further into June, however, Crystal Skull may have spotted the Marvel title too much of a lead to make up the difference. Another solid drop of only 32% gives Iron Man $14 million this weekend as well as a running tally of $276.6 million. While Crystal Skull is celebrating its crossing the $200 million barrier, it is no longer certain to earn north of $300 million. Iron Man, on the other hand, appears quite likely to accomplish this feat.

Slotting neatly between the two biggest releases of 2008 to date is Universal's The Strangers, a film I had dismissed on Friday as a box office non-factor. I was wrong. Wrong wrong wrong. There's a lot of that going around this weekend. The Strangers, from Universal's Rogue Pictures arm, earned $20.7 this weekend, a total that roughly triples its tracking. It has not been a good start to the summer for people who perform movie tracking data for a living. Then again, I thought they were high on this one, so I'm experiencing a glass house/rock throwing scenario here. The news is particularly good for Universal when we consider the film's minuscule budget of $9 million. Even factoring in marketing and print costs, this film is going to be in the black before it leaves theaters. Apparently, people in masks are creepy. Who knew?

The last entry in the top five this week is The Chronicles of Narnia: Prince Caspian. Off another 43% from last weekend, the Disney/Walden release's $13 million gives it a running tally of $115.7 million after 17 days. The good news is that it crossed the $100 million barrier last Wednesday. The bad news is that it's still a financial disaster for Disney. CEO Robert Iger even acknowledged as much the other day, indicating that the title's move from the comfy Christmas season to mid-May was a mistake. BOP is a strong proponent of the premise that any quality product will do well at any point in the release schedule. As such, we do not completely buy the notion that this would have done substantially better in December, but we called into question the decision to swap out of the holiday season the instant it was announced way back when. The Narnia films are Christian family films and they should be exhibited during that holiday season. It doesn't mean a difference in the $100 million or more that would be needed for this box office result to be satisfactory. Any little bit would have helped, though.

In sixth and seventh place this week are two hit comedies, each of which is showing tremendous legs. What Happens in Vegas fell 25% to $6.9 million, giving it a running total of $66.1 million against a budget of only $35 million. While Cameron Diaz has had bigger hits, this will become Ashton Kutcher's biggest non-animated hit by this time next week, replacing Guess Who's total of $70.0 million. Meanwhile, Baby Mama, a production with an even smaller budget of $30 million, earns another $2.2 million, bringing its tally up to $56.1 million. Perhaps in hindsight, this female-centric title was an early warning signal that women were ready to flex their new-found muscle at the box office.

The rest of the top ten is again comprised of also rans. All of them fall into the two million dollars or less range again, just as has been the theme throughout May. The best performer of the bunch is Speed Racer, whose race to the bottom of box office relevance has almost concluded. Off another 46%, its $2.1 million means it's almost finished making money at $40.1. How pathetic. Next up is Sony's Made of Honor. The Patrick Dempsey vehicle drops 40% as it brings in another $2 million, giving it an okay $43 million. Speed Racer's Rounding out the top is the well-reviewed Forgetting Sarah Marshall, an underrated crowd pleaser that will find a comfortable home on cable and DVD. Off 41%, another $1 million gives it $60.4 million against a budget of only $30 million. The one aspect of box office behavior during an economic recession that has not changed from previous cycles is that comedies still prove themselves to be the safest of bets. If you look at all of the success stories listed above, save for The Strangers, they each share the trait of offering laughs for consumers seeking escapism from their financial woes.

The top 12 films at the box office saw a huge increase from last year. Earnings of $164.8 million are not only a 28% increase from the same weekend in 2007, but also an actual dollar improvement of almost $36 million. For the year to date, box office is still down from last year's $3.82 billion at this point. We currently stand at $3.7 million, a difference of 3% in terms of revenue and 6% in terms of ticket sales. Next week sees the release of Adam Sandler's most recent comedy, You Don't Mess with the Zohan, as well as DreamWorks' latest animated project, Kung Fu Panda, a title that should perform at least as well as Sex and the City has.