Weekend Forecast
Sex and the Weekend Box Office
By David Mumpower
May 30, 2008
BoxOfficeProphets.com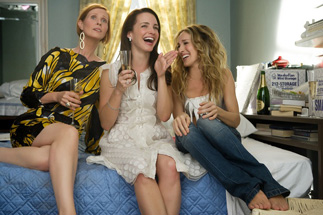 ---
Unless you live at a monastery and have no daily contact with members of the fairer sex, you know what opens this weekend at the local Cineplex. Sex and the City, the theatrical adaptation of the 1990s HBO series, has undergone a dramatic transformation in terms of box office expectations in recent weeks. Originally viewed as a novelty title, a lesser version of The X-Files if you will, Sex and the City now stands as a true box office heavyweight.

In recent days, Reuters wire reports have grown from sporadic comments about the title's unique appeal to ones marveling at its drawing power. On Tuesday, 74% of women surveyed by Fandango indicated that they would see the film with a large group of female friends. By Thursday, those facts were verified as the nation's largest online ticket retailer reported 92% of their sales were Sex and the City purchases. With mega-titles Iron Man and Indiana Jones and the Kingdom of the Crystal Skull in wide release, the latter of which only in its second weekend, this is a remarkable statistic. If you had asked any box office analyst a month ago if they believed such a feat to be possible, they would have laughed in your face. For that matter, the producers of Sex and the City might have.

So, we know that women are going to show up by the SUV load to watch Sex and the City this weekend. If you are wondering why, the answer lies in the tsunami of demand created by Hollywood's woeful under-serving of the demographic. Simply consider the fare Hollywood normally delivers 51% of their potential consumers. Try to name the last film release that was not a romantic comedy, something that could feature Emma Roberts or Amanda Bynes, a Jane Austen/Atonement type of period piece, or some voyage of self-discovery that may or may not occur in Tuscany. Face it. There are more women than men in this world yet Hollywood excludes them as a part of their basic modus operandi. I could go so far as to make an argument that many of the women who will see Sex and the City in a theater this weekend were last specifically targeted by such a major production all the way back in 1998 when they made Titanic the biggest movie ever. It's either that, the Grease re-release or an obscure 2002 gross-out comedy called The Sweetest Thing.

That last title, a female answer to There's Something about Mary, appears all the more remarkable in hindsight for somehow acquiring a $43 million budget. I honestly believe (and cordially invite readers to correct me if I'm wrong) that this was the last non-teeny bopper/period piece/romantic comedy to specifically target women. It just doesn't happen often. In point of fact, the normal writer of this column, Reagen Sulewski, humorously points out to me that when he did the forecast for The Sweetest Thing in 2002, the title was so novel that the only comparison he had for it was...wait for it...television's Sex and the City. We've come full circle now.

With so much information about pre-sales and sellouts in major metropolitan areas, it would be fair to say that if this were Major Title X instead of Sex and the City, people would have even higher expectations for it. There are two major catches, however. The first is that the only straight men going to this movie are either henpecked or trying not to get dumped. The second is that the very nature of this R-rated, urban release as defined in its title is that it is exclusive to larger areas. There remains some debate as to how it will play in Middle America. To date, all of the reported sellouts have occurred in major metropolitan areas.

Also, the primary difference between this title and tentpole releases is that it by definition does not appeal to all four quadrants of the movie customer base. Then again, the same was true of 300, a film primarily for dudes, and it still opened to $70.9 million. Of course, for my money, an even better comparison is The Passion of the Christ, a film that is diametrically opposed from Sex and the City philosophically. In terms of audience demographics, however, the one thing the titles have in common is that they are reaching out to customers who would otherwise not be going to see a movie this year. Since 2004, movie execs have been going nuts trying to duplicate the Mel Gibson title's feat of luring in consumers who otherwise eschew the Cineplex. Due to the massive group peer pressure being exhibited by hoards of women nationwide, Sex and the City is accomplishing just this feat.

A month ago, I would have been considered one of the biggest proponents of Sex and the City. In point of fact, I tried to trick a couple of folks into betting me whether it would open to $40+ million. At the time, a lot of people felt I was crazy-high on the film. In the interim, much has changed. I have now moved to the low end of expectations for the title, believing that at least some of its hype has been spun out of control. Exhibited in 3,285 venues and showing ultra-wide with as many as four prints in larger Cineplexes, Sex and the City is poised to earn a spectacular $52.3 million this weekend. A larger total would by no means surprise me; a lesser opening would, though. Also, and perhaps even more impressively, Sex and the City appears likely to make the fourth Indiana Jones title a one-and-done box office champion.

There is also a horror film released this weekend. It is called The Strangers. Given the generic title, the generic nature of these exchangeable horror releases, and the lack of anyone more famous than Liv Tyler in the production, it barely merits discussion. I project this to make an $8 million opening weekend and for it to become a good bar trivia question years from now when people what the studio gods sacrificed in tribute to Sex and the City on the weekend of its release.

In terms of returning titles, the only one up for discussion is Indiana Jones and the Kingdom of the Crystal Skull. Currently standing at an impressive $165.6 million, Harrison Ford's last box office hurrah has been closely following in the footsteps of last year's big Memorial Day Release, Pirates of the Caribbean: At World's End. That title had $167.2 million at the same point in time on its way to a second weekend decline of 61.5% to $44.2 million. I am of the opinion that Indy holds up a bit better since it has better word-of-mouth and is more likely to draw in people who would otherwise be unlikely to head out to the theater. I expect a total of $47.5 million for Indy, which is a great second weekend but it won't be enough to edge out Sex and the City.