Trailer Hitch
By Eric Hughes
May 28, 2008
BoxOfficeProphets.com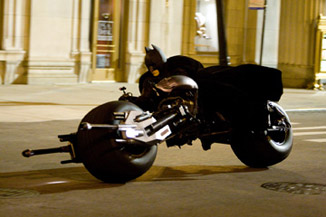 ---
Welcome to Trailer Hitch, BOP's look at the latest movie trailers to hit the Internet. This week: Anticipation for more Batman continues to escalate, Will Ferrell finally breaks away from sports and, what's new, Seth Rogen gets high.

The Dark Knight – Opens July 18th

The follow-up to 2005's Batman Begins, The Dark Knight, appears to be absolutely chilling. The late Heath Ledger has his version of The Joker nailed down, maybe even more so than the masterful Jack Nicholson in 1989's Batman. His voice, his stares, his licking of the lips, and let's face it, his unexpected death this past January surely adds another dimension to his already sick character. In this one, Christian Bale returns for a second outing as the man behind the dark mask. After making major headway against local crime in Gotham City, a criminal mastermind (Ledger) brings about a new kind of chaos across the city, leaving Batman with no choice than to confront the guy with all he's got.

Based on the success of Batman Begins, coupled with this film's unique marketing campaign and kick ass trailer -- and, of course, the anticipation! -- I wouldn't be surprised in the least if this one claims the summer 2008 box office crown, surpassing even the lucrative revival of Indiana Jones.

Step Brothers – Opens July 25th

Will Ferrell and John C. Reilly are in a new film together. And this one, thankfully, looks not a thing like 2006's Talladega Nights: The Ballad of Ricky Bobby, a comedy I quite frankly couldn't stand. This time, the pair play unemployed, livin'-with-the-'rents men (Ferrell, 39 and Reilly, 40), who become step brothers after their parents get hitched. At first, they let their aggressive energy get the best of them, nearly tearing the family in two. The boys then have to not only bring the family back together, but devise a plan to finally get out of the house as well.

The duo share a some good lines in the trailer, including a sophomoric game that convinces the men that they must be friends, to Ferrell's job interview at an irrelevant office. And it's good to see Ferrell is finally taking a break from sports comedies. From NASCAR racing to figure skating to basketball, it was time to pursue something else.

The Mummy: Tomb of the Dragon Emperor – Opens August 1st

Jet Li's acrobatics look impressive - as per usual - but they don't appear to be enough to save The Mummy: Tomb of the Dragon Emperor, yet another silly installment of The Mummy franchise. This one, the series' first since 2001's The Mummy Returns, once again stars Brendan Fraser as explorer Rick O'Connell, who must stop Qin Emperor (Li), a mummy recently awoken from an old curse who threatens to take over the world.

At least the trailer serves up plenty of cheesy dialogue. My personal favorites have to be Fraser's exasperated "There's a mummy on the loose!" or Luke Ford's "I hate mummies! They never play fair!" Man, I can smell the Oscar noms already.

Pineapple Express – Opens August 8th

The 40 Year-Old Virgin, Knocked Up and Superbad. Quite frankly, Seth Rogen has a fairly attractive film resume. So naturally, I was delighted to hear he would be teaming up with funny man Judd Apatow yet again, only this time appearing in a supposed misfit stoner comedy alongside James Franco. However, after watching the trailer with heightened expectations - because I have come to expect nothing less than brilliance from Apatow - it appears Pineapple Express may in fact be lamer than Dubya's final year in office. Pneapple Express, which stars Rogen as a man who witnesses a brutal crime while high, and spends the remainder of the film being chased by the evil-doers alongside buddy Franco, didn't arouse a single laugh from me. Not a chuckle, nor even a smirk. And that saddens me. Although to be fair, Superbad didn't appear to have any substance either, and that one turned out to be one of 2007's best reviewed comedies.

The Sisterhood of the Traveling Pants 2 – Opens August 8th

I always like it when movie executives merely slap a generic number next to the title of a new film and call it a sequel. Seriously, The Sisterhood of the Traveling Pants 2? Even worse, these films are adaptations of a four-part novel franchise by author Ann Brashares, each with a distinctive name - at least, more distinctive than a number. So the blandness of the sequel's title really bears no excuses.

OK, now that I have that out of the way, it must be said that this one looks like it could earn some green for Warner Bros., so long as it remains true to Brashares' novels, which, of course, are very popular among various reading circles. Traveling Pants 2, about four young women who must test the strength of their friendship while embarking on separate paths for the first time, is said to borrow heavily from the fourth book in the series, Forever in Blue: The Fourth Summer of the Sisterhood. It's an ambitious effort, considering that parts two and three are being skipped over entirely, much like that mysterious goo in school cafeterias.