Weekend Wrap-Up
Indiana Jones Rescues May Box Office
By John Hamann
May 25, 2008
BoxOfficeProphets.com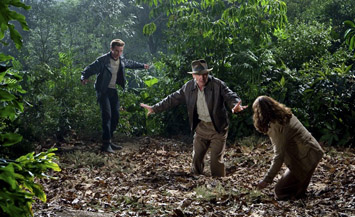 ---
We all knew Indiana Jones and the Kingdom of the Crystal Skull was going to be big at the box office. The question was how big. Memorial Day Weekend is upon us, bringing back Harrison Ford, Steven Spielberg and George Lucas, just like it was 1981 all over again. It's been almost 20 years since Indiana Jones was last onscreen, and the cost of making one of these pictures has risen from $50 million to $125 million. Would the weekend box office see a similar increase? Would box office records fall in the midst of one of the world's favorite action heroes? You know the drill: Read on to find out.

Indiana Jones and the Kingdom of the Crystal Skull hit screens on Thursday, ushering in a sure to be busy weekend at the nation's movie theaters. As BOP's David Mumpower reported on Friday, the Thursday figure came in at a very strong $25 million, as it beat the struggling Prince Caspian by a full $23 million. The Friday gross came in at a solid, but nowhere near as spectacular $31 million, only a 20% increase over opening day. The Friday figure was the 15th biggest Friday of all time, and the fourth biggest Friday for a film opening on a Thursday. It finished behind only Pirates of the Caribbean: At World's End's first Friday of $42.9 million, Revenge of the Sith's Friday gross of $33.5 million, and Matrix Reloaded's first Friday take of $31.3 million. Simply put, Indiana Jones was off to a very solid start, but it didn't look to be breaking any of the big records.

The weekend performance for the Crystal Skull was going to come down to how it played on Saturday. At World's End fell 12% on Saturday compared to Friday, pulling in $37.7 million over the 2007 Memorial Day Weekend. Indiana Jones managed to do the opposite, significantly increasing its take from Friday-to-Saturday, as it pulled in a gross of $38.7 million on its third day, an increase of 25%. Sunday was estimated at $31.4 million, and thus the weekend estimate is $101 million. This tells us that The Kingdom of the Crystal Skull performed more like a family film than a sequel, and bodes well for the weekends to come. It also becomes the 11th film to open to $100 million or more.

With this information, we know that Indiana Jones and the Kingdom of the Crystal Skull finished its first four days with $126 million. ERC is estimating $151 million from its release through Memorial Day. BOP will provide an updated Memorial Day gross tomorrow, which may paint an even rosier picture.

Is this a record setter? It's tough to accomplish such feats on Memorial Day weekend because it is one of the biggest movie going weekends of the year. Spider-Man 3's three-day gross of $151 million was never in jeopardy; however, the three-day Memorial Day Weekend record of $128 million (including Thursday previews) certainly was. That was set by the oft-mentioned Pirates of the Caribbean: At World's End over Memorial Day last year. It must be said that At World's End was only 'previewed' on Thursday, and was released to 'only' 3,100 venues, when it made $13.2 million.

What makes At World's End a good comparison film is that not only did it also open over a Memorial Day weekend, it basically tied Indiana Jones over Thursday and Friday. As I mentioned above, At World's End earned $42.9 million on its first Friday, giving it a $56.1 million for its first two days, which is almost exactly what Crystal Skull achieved. At World's End earned $153 million from its Thursday evening release through Memorial Day, meaning Crystal Skull is estimated to have effectively matched it with $151 million. Given that At World's End fell 12% on Saturday to $37.7 million while Indiana Jones spiked 25% with a superior total of $38.9 million, there is reason to believe Indy's estimate is too conservative and actuals will reveal an even better performance, meaning it may yet pass At World's End.

The Harrison Ford starrer opened at 4,260 venues for Paramount, making it the third biggest release of all time in exhibitions behind At World's End (4,362) and Harry Potter and the Order of the Phoenix (4,285 venues). The Kingdom of the Crystal Skull ended the weekend with a Friday-to-Sunday venue average of $23,709. The weekend multiplier for the three-day, Friday-to-Sunday gross was 3.27, which is a sensational figure when considering that this film made $25 million on Thursday night. This could have/should have lowered its weekend multiplier. Before you point out that its internal multiplier is inflated by the holiday, keep in mind that Paramount is only estimating $31.4 million on Sunday, a number that is probably low by several million. The long weekend gross for Indiana Jones may not be a record breaker for Paramount, but it does put Indy squarely on the path toward $300 million, a figure it should have no problem surpassing.

Paramount did a smash up job rolling out Indiana Jones and the Kingdom of the Crystal Skull. Marketing was perfect with the peak coming at the right time, right around when the film unspooled at Cannes to positive results. The Cannes premiere put Indy into the mainstream news and created a big buzz and big excitement. They followed that with fair reviews - 79% fresh from all reviews combined, but only 63% fresh from "the nation's top critics". Some may accuse Indiana Jones of stepping into all-too-familiar territory, but the gross this weekend says that young and old came out for this one in a big way, and will for many weeks to come.

For Harrison Ford, Indiana Jones and the Kingdom of the Crystal Skull delivers a much needed career boost. Not seen since the ineffective 2006 release Firewall, Ford ends a three-film skid that may have been career ending. After What Lies Beneath opened to $30 million in 2002, Ford took on three misses. The first, 2002's K-19: The Widowmaker opened to only $12.8 million. In K-19, Ford was panned loudly for his brutal Russian accent and the film finished with $35.2 million against a production budget of $100 million. He then chose comedy in the form of Hollywood Homicide, which cost $75 million to make, opened to $11 million and finished with $30 million. Finally in 2006, Firewall hit screens and opened in fourth place, earning $13.6 million. It finished with a slightly better $48.8 million. Those three films combined barely match the production budget of K-19 on its own, and this was from the man who brought us 11 films that earned over $100 million each at a time when $100 million films were few and far between. The Kingdom of the Crystal Skull puts Ford back on top in a very big way.

Finishing way back in second this weekend is The Chronicles of Narnia: Prince Caspian, which is quickly turning into a disaster. Over the Friday-to-Sunday portion of the long weekend, Prince Caspian earned $23 million, and was off a large 58% despite the holiday inflation. Usually, films that open the weekend prior to Memorial Day get the long weekend 'bounce', meaning that percentage drops are lower due to the holiday in the second frame. Films basically enjoy two Saturdays over weekends with a holiday Monday. Caspian has now earned $91.1 million, theoretically a solid figure on its own; however, the first film in the series, The Lion, The Witch and The Wardrobe had a ten-day gross of $113.2 million, and wasn't padded by a long weekend. The key difference between the two is that as a December release, Wardrobe earned another $40 million in its next seven days. It is no longer certain Caspian will earn $40 million in the rest of its domestic release. That total, $150 million, would represent only half of Wardrobe's $291.7 million domestic total. And this is despite the fact that Prince Caspian had a much larger budget of $200 million.

Finishing third is Iron Man, which had another stellar frame in its third weekend of release. Iron Man earned another $20.1 million over the three-day portion of the weekend, and was off 37%, which is pretty good considering this one had already made $232 million heading into the long weekend. My math for Iron Man has it finishing around $310 million, which would put it into the top 25 biggest domestic grossers of all time. Currently, it has earned a whopping $252.3 million so far.

Fourth (and what is really last) goes to What Happens In Vegas, which is quickly becoming a decent sized hit, and will be the staple example of counter-programming for years to come. Vegas earned $9 million over the Friday-to-Sunday portion of the weekend, and was off 35% compared to the previous frame. The Fox film with Cameron Diaz and Ashton Kutcher has now earned a surprising $54.2 million against a budget of $35 million. Wouldn't Speed Racer love a budget to domestic gross ratio like that?

The rest of the top ten is comprised of also-rans, the leftovers that are basically speed bumps to Indiana Jones. Speed Racer is our number five film this weekend, and I imagine at this point Warner Bros. would not like to hear about it anymore. After grossing only $8 million in the last frame, Speed Racer followed that up with a $4 million take this weekend, and was off 51%. This $120 million production (not including the huge costs involved in prints and advertising) has now earned a pathetic $36.2 million, and I imagine pink slips are being prepared for many involved.

Made of Honor falls one spot to sixth, as Patrick Dempsey failed to keep this one afloat. Made earned $3.4 million and was off 28%. Currently, it has a total of $39.1 million.

That means Baby Mama, which is enjoying a longer run in the top ten than it has any right to, finishes seventh. Now in its fifth weekend, Baby Mama earned $3.3 million and drops a slim 29%. The Tina Fey comedy has now earned $52.1 million against a budget of $30 million for Universal, so we should be seeing more films from the 30 Rock star very soon.

Forgetting Sarah Marshall clings to a top ten spot, as the Judd Apatow production earns another $1.7 million over the Memorial Day frame. It was off 40%, and now has a total of $58.2 million against a budget of $30 million.

That leaves us with Harold and Kumar Escape from Guantanomo Bay in ninth with $915,000 and a running total of $35.9 million. Harold and Kumar have proved to again be an excellent investment as this one cost only $15 million to make. Tenth again goes to The Visitor. That one earned a small $781,000 and has a total now of $4.4 million.

Last year, the top ten films were even more top heavy than they were this year, but the top 12 had huge totals for the weekend anyway. Pirates of the Caribbean: At World's End earned $114 million from Friday-to-Sunday, and the fourth place film, Bug, earned only $3 million. The top 12 films last year earned $199 million over three days. This year, with Indiana Jones earning $101 million from Friday-to-Sunday, the top 12 films earned a remarkable $168 million. Next weekend should be huge again, as Sex in the City opens along with the very creepy looking The Strangers.