Weekend Wrap-Up
By John Hamann
May 18, 2008
BoxOfficeProphets.com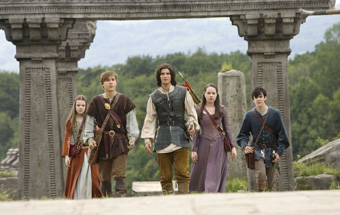 ---
Box office expectations can be a tricky thing. Disney and Walden Media's The Chronicles of Narnia: Prince Caspian was the lone opener and had a lot going for it heading into its opening frame. Speed Racer had flopped, and Iron Man was getting dusty. Caspian was all alone on the schedule, a sequel to an almost $300 million domestic earner, and earned glowing reviews. Because of this, some analysts thought $100 million was in play for the weekend, some were more conservative with $85 million estimates, and BOP's Reagen Sulewski was pretty much alone with a $68 million estimate. In the end, Prince Caspian opens to less than $60 million, and raises the famous question, what makes a disappointment at the box office?

Prince Caspian toyed with the line between successful blockbuster and opening weekend disappointment before it fell into the latter category. Its weekend gross came in at $56.6 million from 3,929 venues. Given the already stated tracking expectations north of $80 million, the 35% difference in actual gross versus expected gross has to break the hearts of the folks at Disney, Walden Media and anyone else involved in the franchise. A second consecutive where the biggest opener fails to match predicted tracking also may be an indicator of what's to come this summer.

The key point here is that the opening weekend figure is lower than the original, as The Lion, The Witch and Wardrobe opened to $65.5 million in December of 2005. Most sequels, and especially one like the Narnia films, should add to their totals with the second film. For example, Lord of the Rings: Fellowship of the Ring opened to $47.2 million, The Two Towers followed that with an opening of $62 million, and Return of the King debuted with $72.6 million. Star Wars follows that trend as well: The Phantom Menace opened to $64.8 million, Attack of the Clones debuted with $80 million, and Revenge of the Sith started with $108 million. On the other hand, Harry Potter started with $90 million for Sorcerer's Stone before moving to $88 million with the second film, Chamber of Secrets.

My biggest problem with this opening is that Prince Caspian had everything going for it - at least in theory. Reviews were not as good as they were for The Lion, The Witch and The Wardrobe (75% fresh) but did come in at a better than average 69% fresh, with 73 reviewers out of a possible 106 giving the movie a good grade. Marketing was fair but not outstanding, as Disney and Walden seemed to be letting the first film do a lot of the marketing work. One of the problems that Prince Caspian may have run into is that its target audience is getting assailed by this kind of kid lit/magic movie, and results are starting to dwindle. An example is The Spiderwick Chronicles, a book-based fantasy movie that was supposed to launch a franchise. Instead, it opened to a small $19 million, and swung under its $92.5 million budget with a final domestic gross of $71.2 million. The Golden Compass, supposedly a sure-fire winner, opened to only $20 million and finished with a domestic take of only $70 million, despite a $200 million budget. Another example is Walden Media's flop The Seeker: The Dark is Rising. This one opened to just $4 million and finished with less than $10 million, proving that not everyone is Frodo or Harry Potter.

Where does Prince Caspian go from here? The oft-predicted $300 million figure is definitely out; in fact, $200 million is far from a sure thing. Several prominent publications have been discussing Caspian's finish prior to the opening, which is never, ever, a good idea. The Lion, The Witch and The Wardrobe did gross $291.7 million after a $65 million start, but it debuted almost a month before Christmas, so it was able to repeat as the number one film four weekends into its run. Is that going to happen this time around? Not a chance, with Indiana Jones, Sex and the City and Kung Fu Panda hitting screens in the next few weekends. Prince Caspian is already established as a weaker-than-expected performer, and it will lose screens quickly to titles with more upside. Voyage of the Dawn Treader has its work cut out for it now.

Number two is Iron Man, as it slips from the number one spot it held for two weekends. Iron Man bounced back somewhat from its 50% drop last weekend, as it grossed $31.2 million, giving it a better 39% drop in its third frame. Iron Man crossed the $200 million mark on Friday, its 15th day of release, and will have a shot at $300 million if it can continue its upward trend of percentage drops. The Paramount/Marvel release should finish as the fourth biggest comic book movie, behind three Spider-Man flicks, but ahead of Batman's $250 million haul. Currently, Iron Man has pulled in $222.5 million, which puts Paramount is in a nice position. They will have both Indiana Jones and Iron Man in the top three next weekend, and then follow that up with Kung Fu Panda and The Love Guru before the end of June.

Third spot goes to What Happens in Vegas, as the Ashton Kutcher/Cameron Diaz flick is working as perfect counter-programming against the summer blockbusters. What Happens in Vegas earned a surprising $13.9 million, giving it a slimmer than expected drop of 31%. The comparably tiny $35 million dollar film is now a lock to gross more than Speed Racer, and currently sits at $40.3 million. This is also a nice surprise for Fox, given that their summer season doesn't really start until June 13th, when M Night Shyamalan's The Happening hits screens.

Fourth goes to the sad story of Speed Racer, as it continues to languish badly. Speed Racer grossed only $7.6 million, and was off a nasty 59% from its revised weekend total in the last frame of $18.5 million. Speed Racer has had a rough time of it, from a slow opening last Friday, to a poor weekend exacerbated by a sloppy and disingenuous estimate from its studio (Warner Bros.) to a brutal sophomore weekend. Remember, the production cost alone here was $120 million, and upwards to $250 million once production, marketing, and a huge print cost are tallied. Speed Racer will be lucky to reach $55 million, and is sure to go down as one of the bigger flops of the summer. So far, it has grossed a sad $29.8 million.

Fifth place goes to Baby Mama, which earned $4.6 million, falling a very slight 26%. This movie has become a minor hit for Universal, as it has easily exceeded its budget and is looking at a bunch of gravy once it hits DVD. The current total for the Tina Fey/Amy Poehler comedy sits at $47.3 million.

Falling all the way down to sixth place is Made of Honor, the under-performing, three-weekend-old chick flick from Sony. After chucking 45% of its audience last weekend, Made of Honor earned $4.5 million this weekend, and was off by 45%. After a $127 million effort in Enchanted, Patrick Dempsey isn't as lucky with this one. So far, Made of Honor has earned $33.7 million against a production budget of about $40 million.

Forgetting Sarah Marshall sits in seventh place for the weekend. Sarah Marshall earned $2.5 million in her fifth weekend, and drops a nice 34%. So far, the comedy has earned $55.1 million, making this another great Judd Apatow investment, this time for Universal.

That makes Harold and Kumar Escape from Guantanamo Bay the eighth place finisher. Harold and Kumar earned $1.8 million, and now has $33.9 million. It was a fine investment for its studio, as the budget was a mere $12 million and it has more than doubled that amount.

Ninth spot goes to The Forbidden Kingdom, as it manages a top ten spot. The Jet Li Jackie Chan martial arts fest grossed a meager $1 million, and brings its total up to $50.3 million.

Tenth goes to The Visitor from Overture Films. It's rare that a movie finishes in the top ten with less than $1 million, but here we have it in a movie written and directed by Thomas McCarthy, who previously brought us the wonderful Station Agent. This is grim, grim news for the box office in general, but Overture Films should be extremely proud of this finish.

Overall, the box office never really had a chance unless Prince Caspian broke out. With Caspian doing the opposite, and Speed Racer absolutely no help, the top 12 films at the box office earned $125.5 million, which is about the same as Shrek 3 made in its first weekend last year as it grossed a shocking $121.6 million. The top 12 for 2007 earned $173.6 million. That's roughly a $50 million dollar difference. Next weekend, Indiana Jones goes up against Pirates of the Caribbean: At World's End, which opened to $114.7 million last year.