Weekend Wrap-Up
Iron Man Solid to Start Summer
By John Hamann
May 4, 2008
BoxOfficeProphets.com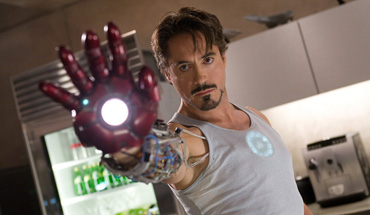 ---
Like it or not, it's time for the summer box office season, which is sure to unleash some mega-budget no-brainers to the masses. Paramount's Iron Man went against the grain, getting superlative reviews, and peaking with a fantastic marketing plan right at release. Tracking was way off this weekend - analysts thought the opening weekend might come in at $70 million, with BOP thinking $88 million; however, Iron Man broke out even further, earning an estimated $104.25 million since its opening (with $100.8 coming in the Friday-to-Sunday period) and seriously surpassing expectations.

Iron Man is officially huge. After an extremely strong marketing campaign, the Marvel and Paramount got exactly what they were looking for - a big start to the summer movie season. Iron Man launched to sneak previews on Thursday, and earned $3.5 million, indicating that a strong weekend lay ahead. Originally, estimates had Thursday at $5.5 million, but the studio has officially listed the performance at the $3.5 million number, presumably to add some of that initial total to weekend numbers so that it might cross the $100 million threshold. On Friday, Iron Man rang up a huge $35 million, and because of the breadth of its target audience, it grossed another $37.5 million on Saturday. Sunday is estimated at $28.2 million.

With a $100+ million opening weekend, Iron Man is in some rare company, which is particularly impressive when you consider that the character is a far lesser-known quantity than Spider-Man or Harry Potter. Although Super Bowl ads did nothing for Drillbit Taylor and Will Ferrell's Semi-Pro, Iron Man created decent buzz with an extremely strong ad for the big game, and never looked back. The marketing campaign was then anointed by extremely positive reviews, which set up a potentially huge weekend for Marvel and Paramount. Critics called it smart, something I certainly wasn't expecting, and Iron Man is now a movie I wasn't planning on seeing that is now right up there on my to-do list. At RottenTomatoes, Iron Man earned 146 positive reviews out of a possible 155 for an overall fresh rating of 94% at the time of this writing. The "nation's top critics" score was 92%, which is a huge home run for Marvel and Paramount, as this goes completely against the grain for a comic book movie. Sure, the first two Spider-Man movies came in at 90% and 93% respectively, but the third dipped to 62%. The X-Men franchise saw similar scores, with the first two movies receiving 80% and 87% ratings and the third film dipping to 56%, which indicates to me it's time for new blood in movie comic book land.

We have an unlikely hero in Robert Downey Jr., who, after years of hard living, becomes a superstar as Tony Stark in Iron Man. Like the marketing campaign, Paramount and Marvel put together a perfect team for this potential franchise, taking a chance on Downey, and putting Gwyneth Paltrow, Jeff Bridges and Terrence Howard in as supporting players. The studios also went out on a limb by hiring director John Favreau, who had a big hit with Elf, but a fairly serious miss with Zathura.

Iron Man finishes the weekend with the tenth biggest opening weekend of all time. It had the ninth biggest opening in terms of playdates with 4,105 venues (and a venue average of $24,543). Iron Man is the eighth biggest May opener ever, and this is the biggest opening ever for the first weekend in May - at least for films that don't have 'Spider-Man' in the title. It's also the second $100 million earner in 2008 - after just a few days.

Iron Man wasn't a cheap endeavor. There was a lot riding on its success as Marvel Studios was self-financing for the first time on Iron Man, with Paramount strictly a distributor and paying for prints and advertising. The Hollywood Reporter says the budget on Iron Man was $150 million, and with prints and advertising, the total was over $225 million. With the domestic success and a whopping $96.7 million coming from international markets this weekend, Iron Man looks to be a huge win. On the domestic front, $250 million is certainly in play to due to positive word-of-mouth, and overseas totals should be even higher. It will be interesting to see how Iron Man performs against Speed Racer next weekend, but Iron Man will definitely be a speed bump for the Warner Bros. release.

Finishing second is Made of Honor, which is really My Best Friend's Wedding with McDreamy playing the Julia Roberts part (it's not a great weekend for opening film creativity). Made of Honor, which was supposed to be counter-programming against Iron Man, did okay as it earned $15.5 million from 2,729 venues. Made of Honor is the opposite of Iron Man in more than just title and subject matter, it also reviewed poorly, receiving an ugly 14% rotten rating at RottenTomatoes. Considering the strength of Iron Man, this shadow dweller should be happy with its weekend total as it limps toward a long shelf life at Walmart.

Third spot goes to Baby Mama, as it competed for the same female demographic that would go to Made of Honor and Forgetting Sarah Marshall. After finishing first last weekend with $17.4 million, Baby Mama dropped 41% to $10.3 million, a respectable gross considering the competition from Iron Man and the other chick flicks. The Universal release has now earned $32.3 million against a production budget of $30 million, so this is another win for Lorne Michaels.

Forgetting Sarah Marshall drops to fourth and has a larger than expected decline from last weekend. The Judd Apatow production earned $6.1 million. Often Apatow's flicks have excellent legs, but with a 38% drop followed by this weekend's 44% drop, $100 million is certainly out of the question. Sarah Marshall's current gross sits at $44.8 million, and could earn $75 million.

Fifth spot goes to Harold and Kumar Escape from Guantanamo Bay, last weekend's number two film. Harold and Kumar got stoned, grossing only $6 million and dropping 60%. The first film in the franchise dipped 42% in its second frame. Escape was made for only $12 million, so a gross so far of $25.3 million isn't the end of the world, especially with what should be a rich life on DVD.

Sixth goes to Forbidden Kingdom, as the Jet Li and Jackie Chan pair-up is beginning to lose steam. The martial arts flick earned $4.2 million and was off 63%. Its total now sits at $45.1 million.

Seventh goes to the Jodie Fosters kids flick Nim's Island, which is in its fifth weekend in the top ten. Nim's Island earned $2.8 million and drops 40%. It has now earned $42.5 million against a production budget of $37 million.

Still hanging on to a top ten spot is Prom Night, as it manages to only fall two spots from sixth last weekend. Prom Night 'earned' $2.5 million this weekend and drops 45%. It's total has reached $41.4 million.

21 is our number nine film this weekend, as the blackjack movie that could starts to slow down. 21 earned $2.1 million, was off 48% and has a gross so far of $79.0 million.

Finally in tenth is the horrible 88 Minutes. The Al Pacino flick that should have gone straight-to-DVD earned $1.6 million and was off 55%. It will finish with less than $20 million.

Overall, there is good news and bad news at the box office. The bad news is that this weekend failed to stay ahead of last year's totals; the good news is that it never had a chance and did better than expected. This year, the top 12 films earned $151.1 million, well back of last year's $181.3 million, but solid nonetheless. What a strong film like Iron Man does is bring patrons into theatres, where the marketing takes over for the rest of the summer crop. Next weekend brings Speed Racer, which isn't going to find Iron Man's size of success.