Weekend Wrap-Up
Comedies Rule Pre-Summer Box Office
By John Hamann
April 27, 2008
BoxOfficeProphets.com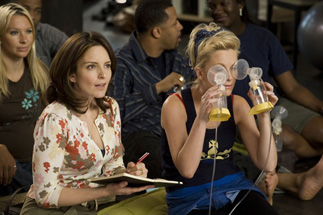 ---
It was the weekend before summer box office season, and all through the theater, many comedies were stirring but not breaking out. Yes, BOP and box office fanatics, we are almost to May, when at least one film (Indy 3) will earn more than the current top ten films earned. This weekend, though, is the time for comedy, as the top five films contain three laughers. Openers include Baby Mama with Tina Fey and Amy Poehler (and smelling like Lorne Michaels all the way), and Harold and Kumar Escape from Guantanamo Bay, the anticipated sequel from the White Castle boys. The rest of the top ten are just waiting for Iron Man and Speed Racer to completely annihilate them.

The weekend was set to be close, as two competing comedies, Baby Mama and Harold and Kumar 2, were vying for box office dollars. The winner of the weekend by a nose is Baby Mama, the latest super-stretch of a could-be Saturday Night Live skit. Baby Mama thrived, earning $18.3 million from 2,543 venues. It had an average of $7,185, the best in the top ten. For a late April release, with no big stars, Universal has to be pleased with this effort, especially considering Baby Mama is going to work well with Forgetting Sarah Marshall as counter-programming against Iron Man and Speed Racer over the next couple of weekends (unless Made of Honor really steps up).

Tina Fey and Amy Poehler aren't big stars, but they were big enough to draw crowds out. Poehler has appeared in more films than Fey, and while she has made some good picks, she is usually well down the casting line-up. Both Fey and Poehler appeared in Mean Girls ($24.4 million opening), but on her own, Poehler is currently appearing in Horton Hears a Who!, and appeared in Mr. Woodcock, Blades of Glory, and Shrek the Third. Tina Fey has only been in one film that has earned more than $1 million (Mean Girls, which she also wrote). On the other hand, Tina Fey is the bigger TV star than Poehler, appearing in and writing for 30 Rock, which has won a handful of Emmys and Golden Globes over the last few years. The real person behind Baby Mama though is producer Lorne Michaels, as Broadway Video (Saturday Night Live) is the producing studio (in association with Relativity Media, which has brought us The Forbidden Kingdom, 21 and Vantage Point this spring). Reviews for Baby Mama were better than I expected. At Rotten Tomatoes, the chick flick comedy managed to stay just fresh, like the bread that's been on the shelf for a while that you examine for green spots (but I digress). Of the 92 reviews counted at RT, 55 were fresh, leaving this one with a 60% fresh rating. I thought the concept and the fact that Fey didn't write this one might leave reviews in the dirt, but it managed to hold its head above water. While there is no budget data currently available, a good guess puts the production cost on this one around $30 million, so Baby Mama will be a decent win for Universal and Broadway Video.



Finishing second is Harold and Kumar Escape from Guantanamo Bay, the follow up to the very funny (and somewhat strange) Harold and Kumar Go to White Castle. Harold and Kumar earned $14.6 million this weekend, which is a tad short of what the White Castle film did over its entire run ($18.2 million total). Like Baby Mama, the venue count wasn't huge at 2,510, so Harold and Kumar escape with a venue average of $5,805. So why does a movie that opened to $5 million and only earned a domestic total of $18.2 million get a sequel? DVD sales. The original flick, after quietly disappearing from theaters, ended up with $60 million in DVD sales and rentals, which officially raised the status of Harold and Kumar to cult heroes. Now, both Harold (John Cho) and Kumar (Kal Penn) are turning into big stars. Escape from Guantanomo Bay will help both; however, Penn has already appeared in two Van Wilder movies, Superman Returns, and is now a regular player on the TV series House. John Cho is all about the future. Cho plays Sulu in the upcoming JJ Abrams take on Star Trek, due for release in 2009.

Review-wise, Harold and Kumar was another quiet surprise this weekend. The first film in the series was a very surprising 72% fresh, an out of this world rating for a stoner flick. The second film couldn't keep up with the first, but still did well nonetheless, especially considering the comedy hammers at the neo-cons throughout the movie. Escape from Guantanamo Bay finished with a 58% rating, but the top reviewers came in at 61% fresh. Some sites list the production budget for this one at only $6 million, but even at $15 million, this is still a big win for distributor Warner Bros., who picked it up when New Line went in the toilet.

It was a duel for third between last weekend's debuting films, Forbidden Kingdom and Forgetting Sarah Marshall, despite a $4 million spread after totals were counted last frame. Third goes to Forbidden Kingdom, the martial arts flick with Jet Li and Jackie Chan. Forbidden Kingdom picked up another $11.2 million and was off a hefty 48% from its debut. For Jet Li, the drop may be hefty, but it's much better than some of his previous films like Unleashed/Danny the Dog (62% second weekend drop), War (57% drop), and Cradle 2 the Grave (60% drop). Forbidden Kingdom should finish with about $60 million.

Fourth, of course, is Forgetting Sarah Marshall, which had a much better hold than Forbidden Kingdom. Sarah Marshall, the latest Judd Apatow comedy, earned $11 million in its second weekend and was off a decent 38%, which isn't bad considering Baby Mama entered the fray, taking the female audience with it. The drop is better than Superbad's (45% second weekend drop), is similar to Knocked Up's 36% drop, but higher than that of The 40 Year-Old Virgin (24%). Whatever the drop, this is still a big win for a $30 million film, as the gross so far has reached $35.1 million, and where it goes from here is really anybody's guess, but $75 million isn't out of the question.

The rest of the top ten is dreck, a typical last-weekend-in-April phenomenon. Fifth goes to Nim's Island, a film than never seems to do well, but never goes away. Now in its fourth weekend, the Jodie Foster kid flick earned $4.5 million and was off a small 20%. Like almost everything in the top ten, Nim's Island was made with costs in mind ($37 million), and has a gross that meets or beats the production figure ($40 million so far).

Number six is the laughable remake of Prom Night. The Screen Gems release earned $4.4 million in its third weekend, dropping 49%. That's much better than last weekend's plunge of 58%, and brings the total gross for Prom Night (and its 9% fresh rating) up to $38.1 million. Not bad for a film that cost only $20 million to make.

Landing in seventh is 21, the Sony gambling flick that is now in its fifth weekend of release. 21 earned $4 million and was off 28%. 21, with Kevin Spacey and Kate Bosworth, was made for $35 million, and has now earned an impressive $75.8 million.

Al Pacino and 88 Minutes manages to hold on to a top ten finish. 88 Minutes earned $3.6 million in this frame after debuting last weekend with $7 million. That gives this two-year-old film a drop of 48%, and raises the total for this one to $12.6 million.

Top ten stalwart Horton Hears a Who! finishes ninth, which tells us the spring box office is coming to a close. Horton, now in its seventh weekend, earned $2.4 million, and was off 31% from the previous frame. The $85 million film has now earned $147.9 million, and will disappear now that blockbuster season has arrived.

Finishing tenth is the new release no one has heard of, despite a big cast. That film is Deception, and stars Hugh Jackman, Ewan McGregor and Michelle Williams. Moviegoers ignored this one despite its 2,001 venues, as it earned only $2.2 million. The reason for its failure could include the fact that Fox forgot to market this one, its 11% fresh rating, or that it was made in 2006 and audiences could smell the dust. Whatever the case, this one is dead, and Fox will deal with a $25 million corpse.

Overall, things were quite good compared to last year, but the box office may want to enjoy it while it lasts. The top 12 films this weekend pulled in a solid for late April $80.2 million, which is well ahead of last year's totals of $62.1 million. Next weekend Iron Man faces off against Spider-Man 3 from last year, when the webslinger earned an amazing $151 million. Good luck beating those totals.