Weekend Wrap-Up for April 18-20, 2008
Jet, Jackie and Judd Dominate Box Office
By John Hamann
April 20, 2008
BoxOfficeProphets.com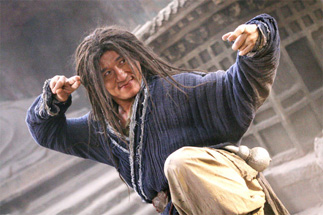 ---
Thanks to the first time team up of Jet Li and Jackie Chan, as well as a new product from Judd Apatow, the top 12 films at the box office actually have something to celebrate, something it hasn't been able to do a lot of over the last few months. New films included Forbidden Kingdom, the martial arts kids flick from Lionsgate, Forgetting Sarah Marshall from Universal, and the extremely forgettable 88 Minutes with Al Pacino. Holdovers were devoured, but combined numbers were strong for a weekend this far into April.

Our number one film of the weekend is Forbidden Kingdom, mostly sold as the first team-up of Jackie Chan and Jet Li, but also as a martial arts flick for the younger set, as it carries a PG-13 rating. Forbidden Kingdom did the business that tracking was expecting, plus a little more. Out to 3,151 venues, The Forbidden Kigdom pulled in $20.8 million and carried a venue average of $6,623. Produced by Casey Silver Productions and the all of a sudden super-hot Relativity Media (21, Vantage Point), Forbidden Kingdom is being distributed in North America by Lionsgate, who now has two $20 million plus openers in 2008, the other being Tyler Perry's Meet the Browns. Forbidden Kingdom wasn't cheap to produce, as the production cost came in at $70 million, which meant a $20 million opening was necessary if the domestic finish was going to match the production budget.

Reviews were better than I thought they would be, and Lionsgate mounted an impressive marketing campaign around the two stars - these were big factors in the opening weekend success of Kingdom. At RottenTomatoes, Forbidden Kingdom just managed to hang on to a fresh rating, with 54 out of 87 reviewers handing out a 62% fresh rating. What might surprise older audiences is the mostly un-marketed story, about a white kid who travels back in time to ancient China. It sounds a bit too much like a Last Action Hero sort of premise, and may cause some excessive drops at the box office in the weeks to come. For now, and especially for April, this is a solid opening, and a great career move for both Li and Chan.

Finishing second is Forgetting Sarah Marshall, the latest raunch-fest from the current King of Comedy, Judd Apatow. Sarah Marshall, just like Forbidden Kingdom, opened almost exactly where tracking had placed it this weekend, with a weekend take of $17.3 million. After two small slip-ups with Drillbit Taylor ($30 million domestic total) and Walk Hard: The Dewey Cox Story ($18.3 million total) producer Judd Apatow is back in his wheelhouse, delivering a raunchy R-rated comedy involving relationships. Like Knocked Up and The 40 Year-Old Virgin, Apatow sweeps nothing under the rug, this time adding full frontal male nudity. Critics love Apatow, and Sarah Marshall is no different. 115 reviewers tuned in to this one, and 98 gave it a thumbs up, leading to a fresh rating of 85%.

Judd Apatow only takes the producer credit on Forgetting Sarah Marshall, but he has obviously surrounded himself with friends throughout the production. The comedy is directed by Nicholas Stoller, who wrote episodes for Apatow's under-seen TV series Undeclared; Sarah Marshall was written by and stars Jason Segal, who had a smaller part in Knocked Up, and appeared in Apatow's Freaks and Geeks and Undeclared; and Seth Rogen, Paul Rudd (40 Year-Old Virgin) and Jonah Hill (Superbad) again have cameo roles. Obviously, the King of Comedy is having fun, and making studios like Universal a whole bunch of money. A betting man says the production budget for Sarah Marshall came in around $40 million, a figure this one will have in the bank by the start of its third weekend.

Finishing third, but a long way from where it started, is last weekend's winner Prom Night. After debuting last weekend to $20.8 million, Prom Night did the usual second weekend plunge for horror, and grossed $9.1 million. That gives it a completely expected drop of 56%, but brings its total up to a respectable $32.6 million. This one cost only $20 million to make, so anything past opening weekend is gravy for Sony and Screen Gems.

Despite laying an egg and living on a shelf for literally years, Al Pacino's 88 Minutes still manages to finish fourth with a weekend gross of $6.8 million from 2,168 venues. Despite starring one of the greatest actors ever, 88 Minutes got some of the worst reviews of the year. This one was only 5% fresh at RT, with most critics wondering why a real time thriller called 88 Minutes clocks in at over an hour and a half. Made in 2005 for about $30 million, this one is going to disappear very quickly.

Nim's Island, a tightly budgeted holdover, finishes fifth. The Jodie Foster family flick earned $5.7 million in its third frame, and was off an okay 38%. Made for $37 million, Nim hasn't dominated, but it does have a current total of $32.9 million.

Sixth goes to previous multi-weekend champ 21, the gambling movie starring Kevin Spacey and Kate Bosworth. Now in its fourth weekend, 21 earned $5.5 million and was off a slightly larger than expected 47%. The Sony flick with the $35 million budget has now earned an impressive $70 million.

Surprisingly, the big drop of the weekend doesn't go to Prom Night, it goes to Keanu Reeves and company in the cop drama Street Kings. After debuting last weekend to $12.5 million, Street Kings got hammered, earning only $4 million. That equals an embarrassingly high drop of 68%, and a gross so far of $20 million. The production budget for this one is supposedly $20 million, but I think you'd agree, with a film starring Keanu Reeves, Hugh Laurie, Forrest Whitaker, and a strong list of others, you have to wonder.

Eighth spot goes to Horton Hears a Who!, the six-week-old kids flick from Dr. Seuss. Horton earned another $3.5 million, and drops 41%. The CGI animated blockbuster has now earned $144.4 million, and is Jim Carrey's seventh film to gross more than $125 million at the domestic box office. It recently crossed the $100 million mark at overseas cinemas as well.

Expelled: No Intelligence Allowed is a film that I am going to decline comment on. It earned $3.2 million from 1,052 venues.

Finishing tenth is George Clooney's Leatherheads, a gamble that didn't pay off. Leatherheads earned $3 million in its third weekend, and falls 52% after losing 51% last weekend. It has a total now of $26.6 million, but carries a budget of $60 million.

Overall, the box office is up over last year, but even that's not much to crow about. The top 12 this weekend earned $82.1 million, which isn't all that great, but is ahead of 2007's embarrassing total of $73.1 million. The problem is that in 2006, the top 12 earned just over $100 million without any huge films. Next weekend could be interesting, as Harold and Kumar Escape from Guantanamo Bay, and Tina Fey brings her comedy skills to the big screen with Baby Mama. Those two comedies will face off against the second weekend of Sarah Marshall, so it will be interesting to see how it all plays out.