Weekend Wrap-Up
Box Office Brutal in Early April
By John Hamann
April 6, 2008
BoxOfficeProphets.com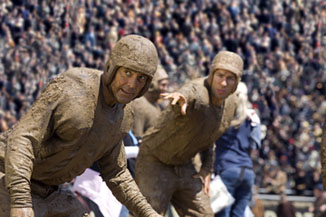 ---
The box office stunk it up this weekend, as a trio of what should have been big new releases missed badly. Opening films included Leatherheads, George Clooney's screw/foot ball movie; Nim's Island, starring Jodie Foster, Abigail Breslin and 300's Gerard Butler; and The Ruins, the new horror flick from producer Ben Stiller. All things new got buried this weekend under the weight of 21, the blackjack movie that has no business being a second weekend winner.

The number one film of the weekend is Sony's 21, the gambling flick based on the book Bringing Down the House. 21 took the last frame quite handily in the last frame with an opening weekend gross of $24.1 million from 2,648 venues. This weekend, the Kevin Spacey flick earned $15.1 million as Sony added five venues to bring the count up to 2,653. 21 had a venue average of $5,692, and dropped 37% from the previous frame. This is a fairly big win for Sony, considering 21 is only 31% Fresh at Rotten, and the above-the-title actor turns 50 this year. The best news for Sony is that 21 cost only $35 million to make, and has already earned $45.5 million after two weekend of release. While still somewhat of a long shot, 21 still has a chance at $100 million, due mostly to the somewhat soft drop this weekend.

Finishing second is Leatherheads, the George Clooney flick in which he acted, directed, and mainly promoted. Despite being everywhere over the last week, Clooney couldn't make it happen for this one, and Leatherheads had to settle for an opening frame of $13.5 million this weekend from 2,777 venues. It had a venue average of $4,870 - which is at least better than other opener Nim's Island. Considering this football comedy from Universal is a throwback to the slapstick era, one might be pleased with the opening. However, with a cast that included Clooney, Renee Zellweger, and John Krasinski from The Office, this had enough star power to open better than it did. For director George Clooney, this is a big success, considering his first two directorial features grossed a combined $47 million at the domestic box office (Confessions of a Dangerous Mind, Good Night, and Good Luck). I'm looking for Leatherheads to disappear quite quickly, unless word-of-mouth at Senior Citizens Centers picks up quick.

Third place goes to Nim's Island, the new family film with Jodie Foster, Abigail Breslin and Gerard Butler. Nim was the type of film that just needed to launch with slight success, and then enjoy the kind of legs reserved usually for young people. It got off to a fair start, as Nim's Island finishing just below Clooney's Leatherheads and earning $13.3 million from a huge 3,513 venues. It had a venue average of $3,786.

Nim's Island didn't review well at 47% fresh, but this could be the kind of feature that gets positive word-of-mouth at the schoolyard. I'm thinking that tween girls will thrive on this picture, especially considering the star power that mom and dad will like, especially mom. For Walden Media, the main production arm behind Nim and 20th Century Fox (Fox-Walden), this is their third release that has failed to overwhelm the box office. The duo has also released The Seeker: The Dark is Rising ($3.7 million opening, $8.8 million finish) and Mr. Magorium's Magic Emporium ($9.6 million opening, $32 million domestic finish). Next up for Fox-Walden is City of Ember with Bill Murray and Tim Robbins - its set for release in October 2008.

Fourth brings us to Dr. Seuss and Horton Hears a Who!, which didn't have a great time of it in its fourth frame. Horton, now a month old, earned $9.1 million and was off a larger than expected 49%. Nim's Island may have had a small impact on Horton's gross, but won't slow its march toward $165 million. So far, the Jim Carrey voiced feature has earned $131.1 million.

Fifth place goes to our last new film of the weekend, the horror film The Ruins. The Ruins looked like it had better production values than some of its compatriots, but audiences didn't care, as the Ben Stiller produced flick earned only $7.8 million in its debut frame. Out to only 2,812 venues, the Paramount/DreamWorks flick had a venue average of $2,788. With Prom Night coming next weekend, The Ruins run could be over quite quickly.

The rest of the top ten reeks because its garbage that's been sitting on the curb way too long. Sixth goes to Superhero Move, the ill fated Blank Movie miss. Superhero Movie, from MGM and the Weinstein Boys, earned $5.4 million in its second weekend and was off an expected 43%. So far, this one has earned $16.9 million.

Tyler Perry's Meet the Browns finishes seventh, making it hard to believe it opened to $20 million plus only two weekends ago. Meet the Browns earned $3.5 million in its third frame, dropping 53%. The Lionsgate feature has now earned $37.8 million.

Eighth goes to Drillbit Taylor, Judd Apatow's second consecutive miss. Drillbit earned $3.5 million this weekend and was off 39%. The comedy has now earned $25.6 million, and Apatow's fans will be happy to hear that his next film, Forgetting Sarah Marshall, is already seriously fresh at RottenTomatoes.

Ninth goes to Shutter, Fox Atomic's take on Japanese horror. Shutter earned $2.9 million this weekend, and fell 45%. Really, this one has no good business being in the top ten after three weekends, but has managed a gross so far of $23.2 million.

The pain ends with tenth as 10,000 B.C. manages one more weekend in the top ten. The highly forgettable Roland Emmerich flick earned $2.8 million and was off 44%. The domestic total for the prehistoric throwback has now reached $89.3 million.

Overall, the pain for studios and exhibitors is overwhelmingly evident. Last year the box office was quite hot in early April, with Blades of Glory, Meet the Robinsons, Grindhouse, Are We Done Yet?, and The Reaping all taking in more than $10 million. The top 12 last year grossed a powerful $110 million, which improved on the 2006 take of $102 million when Ice Age 2 was on top. This year, the top 12 films could only manage $80.9 million, and things don't look to be improving next weekend. Up for offers next weekend are Street Kings, with Keanu Reeves and Forest Whitaker; the remake of a film better left alone in Prom Night, and Smart People with Ellen Page and Dennis Quaid. Think the top ten will beat last year's $100 million haul? Don't count on it.