Friday Box Office Analysis
By Tim Briody
March 29, 2008
BoxOfficeProphets.com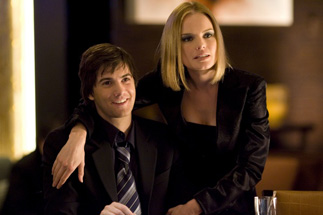 ---
21 most certainly does not bust at the box office this weekend.

21

The slick adaptation of the book Bringing Down the House scored big with moviegoers Friday, pulling in an impressive $8.6 million. The most likely reason for the success is the fact that it's drawing adult audiences who've been starved for much of anything at theaters lately. It should perform well over the remainder of the weekend, though I wouldn't give it much staying power beyond here. Still, $26.6 million for the weekend is a solid figure.

Superhero Movie

So here's a head-scratcher for you. January's Meet the Spartans opens with $6.8 million on Friday on its way to $18.5 million for the weekend. Superhero Movie should come in somewhere around that, right? Especially with the dead-on parody of the Crazy [bp:145_]Tom Cruise[/bp] Scientology Video, which we at BOP believe sets a record in spoof turnaround time.

Anyway, Superhero Movie only earned $3.4 million on Friday. Not that we're disappointed to see this underwhelm at the box office - it does mean the trend dies out faster. It just goes to prove that past performance is no guarantee of future results. Give it $9.1 million for the weekend.

Stop-Loss

Stop-Loss, MTV Films' attempt to make a successful film about the Iraq War, only earns $1.6 million on Friday. This is the latest in a line of war-based films that the general public just doesn't care about. Expect a weekend of $4.3 million.

Run Fatboy Run

The Simon Pegg film should just fall short of the top ten for the weekend after earning $770,000 on Friday. Thus, it behaves like a good little cult film should. Call it $2.2 million for the weekend.

Notable Holdovers

Meet the Browns takes a traditional second weekend plunge that awaits all Tyler Perry films, this time to the tune of 73% to $2.2 million on Friday. They bounce back a little bit over the remainder of the weekend, but $7.7 million is still a bit of a drop from its opening.