Weekend Wrap-Up
Horton Hears the Footsteps of Tyler Perry
By John Hamann
March 23, 2008
BoxOfficeProphets.com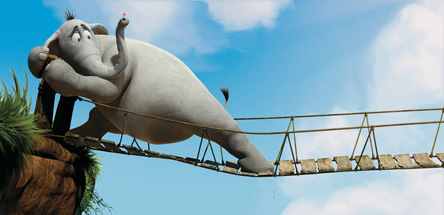 ---
The Easter weekend has never been huge for releasing movies, but this frame had a shot at pulling down some big dollars, thanks to a fairly impressive line-up of new films and one big returning movie in Horton Hears a Who!. New films this weekend include the always popular Madea returning to another Tyler Perry comedy, this time called Meet the Browns. Also opening this weekend is Drillbit Taylor with BOP fave, Owen Wilson, and one of those idiotic horror films, Shutter. Last year, Easter didn't arrive until April, and the Easter Bunny delivered bad news to three new openers. Would the same thing happen this weekend?

Our number one film is Horton Hears a Who!, as kids continued to come out in force for the Dr. Seuss adaptation. After opening last weekend to an impressive-for-March $45 million, 20th Century Fox will be pleased with a second weekend gross of $25.1 million and a drop of 44%. Easter can be a funny weekend, especially for a kids flick. Friday has the kids out of school, which tends to front-load a weekend, then a normal Saturday occurs, but it's followed by a Sunday that tends to be weaker than normal.

Is Fox happy with the hold for Horton? I think so. The original Ice Age was in its third weekend of release when Easter hit, and it dropped 40%, moving from $30 million to $18.1 million. Also in its third frame over Easter, Ice Age 2 fell a very similar 41%, moving from $34 million to $20 million. Both the Ice Age franchise and Horton are from Fox Animation and Blue Sky, so they obviously have a strategy of matching high profile family films to the spring break and Easter. Horton Hears a Who! looks like it's on its way to at least $150 million, if not closer to $200 million. With a budget of "only" $85 million, this is going to be another big win for Fox, Blue Sky and Dr. Seuss. Its total so far is $86.5 million.

Finishing a very strong second is Tyler Perry's Meet the Browns. The Kind of Urban Family Cinema scored again this weekend as Meet the Browns earned $20 million from only 2,006 venues. The return of Madea had a venue average of $9,975, which is way ahead of Horton's average of $6,337. While this isn't the $30 million that Madea's Family Reunion opened to, we have to remember that Reunion wasn't up against the second weekend of a Dr. Seuss movie. Meet the Browns is right in line with some other Tyler Perry flicks, notably his first Madea movie, Diary of a Mad Black Woman, which opened to $21.3 million, and his 2007 flick, Why Did I Get Married?, which opened to $21.4 million. This makes three $20 million plus openers for Perry, and four $10 million plus openers for the 38-year-old writer/director/actor. While the distributor for Meet the Brows continues to be the super savvy Lionsgate, the production company is now Tyler Perry Productions, without any partners. While no budget data is available, if the Perry pattern holds, Meet the Browns was probably made for less than $15 million, and is most likely profitable for Perry and Lionsgate by the end of the week. Reviews are the usual for Perry, not great, but the message is positive, so I have trouble dumping on the results of his films. The man knows his audience and his message, and has found a way to make some big money while doing it. This one will likely finish between $50 and $60 million, and make another $40 million on DVD. Next up for Perry is The Family That Preys, which sounds like another Perry film with a similar message, but this time has the very pale Kathy Bates (Misery) amongst the cast.

Third goes to Shutter, another of these idiotic horror films aimed at kids who don't know any better (did they spell Shudder incorrectly?). Shutter earned $10.7 million from 2,753 venues and had a venue average of $3,887. Distributed by Fox, this gives the studio two films in the top three, both with a run time of less than 90 minutes. Shutter is another retelling of an Asian horror flick, and obviously, audiences are tiring of the concept. Critics are also tired of the concept, as only Shutter has only one positive review out of 16 at the time of this writing, and the one positive review came from someone rooting for the ghouls. Probably made for less than $20 million, Shutter should finish with about $25 million.

Fourth spot sees the return of Owen Wilson in Drillbit Taylor, a highly forgettable, Shutter-like comedy. Drillbit had a passable score this weekend, earning $10.2 million, mostly due to the fact that the rest of the top ten is full of tired holdovers. Out to an ultra-wide 3,056 venues, Paramount was obviously looking to earn as much as possible over opening weekend, as critics lined up against this one, delivering a 24% fresh rating at RottenTomatoes (Meet the Browns was the best-reviewed opener of the weekend at 33%). Maybe most surprising here is that Drillbit is from producer Judd Apatow, who now has two questionable entries to go with his big hits. Drillbit does better than Walk Hard: The Dewey Cox Story (domestic total: $18.3 million), but will still most likely tap out around the $30 million range. Drillbit was written by Apatow alumni Seth Rogen, who also writes Apatow's next project The Pineapple Express, starring Rogen and James Franco. Will it be three in a row for Apatow? I hope not.

Falling to fifth is 10,000 B.C., but it has a better weekend than expected. The Roland Emmerich flick earned $8.7 million in its third weekend, and dropped 48%. How this one has avoided a 60% plus decline leaves me scratching my head. So far, 10,000 B.C. has earned $76.1 million, and still has a long way to go to match its production budget of $105 million.

Never Back Down falls from third last weekend to sixth this weekend. The mixed martial arts flick earned $4.9 million in its second weekend and dropped 43%. Considering this one was only 25% fresh, and looks like a retread of The Karate Kid, the hold is not as terrible as it might have been. So far, Summit Entertainment has earned $16.8 million against a budget of about $20 million.

College Road Trip moves from fourth to seventh, as it earns $4.6 million in its third frame. The comedy with Martin Lawrence and Raven-Symone dipped 41% and now has a total of $32 million.

The Bank Job falls from sixth last weekend to eighth, but holds extremely well for the second straight weekend. After dropping only 15% last weekend, the Jason Statham thriller earned $4.1 million and dropped only 19%. While this one was never going to be huge, it has earned a respectable $19.4 million so far, and will most likely be a small hit on home video.

Vantage Point drops to ninth after five weekends in the top ten. The leggy thriller earned $3.8 million and drops a respectable 30%. The total now for the $40 million film has reached $65.3 million for Sony.

Tenth goes a bit of a surprise in the limited release Under the Same Moon, which features television's Ugly Betty, America Ferrara. It did a fantastic job of reaching its niche Hispanic audience, coming in with $2.6 million on only 266 screens. That number puts it neck and neck with Meet the Browns for per venue average, as Under the Same Moon's total was $9,782. Look for the Weinsteins and Fox Searchlight to expand this to more locations in the coming weeks.

Overall, the top 12 at the box office continued to struggle against results from last year. In 2007, the March 23rd - 25th weekend was led by TMNT, and had five films gross more than $10 million. With a strong top five, the top ten last year earned a strong $121 million. This year, with Easter causing issues, the top ten finished with $98.8 million. Next weekend brings another questionable crop of openers, which include 21, Run Fat Boy Run, Superhero Movie, and Stop Loss.